Tokyo 2020: 50 reasons to watch the Paralympics
A selection of moments that audiences should stay tuned for summer's competition
28 Jun 2021
Imagen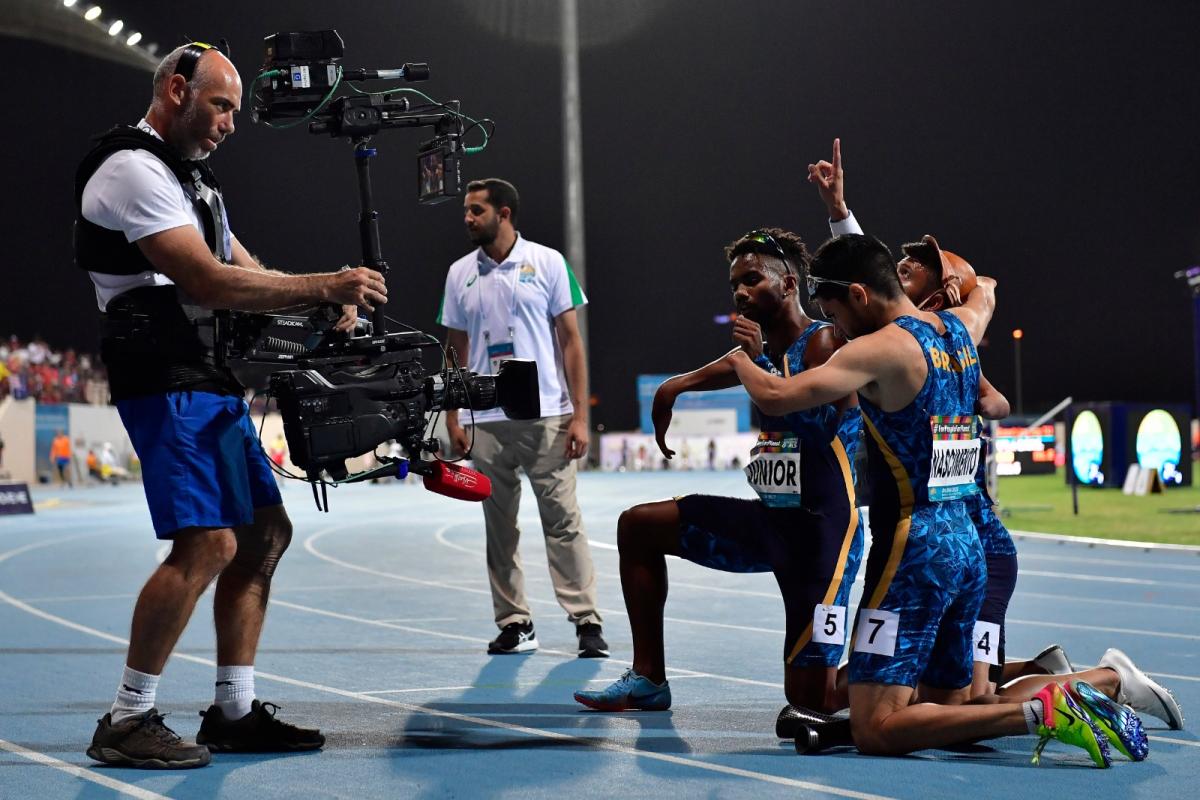 ⒸLuc Percival for World Para Athletics
By IPC
As we celebrate 50 days to go until the Tokyo 2020 Paralympic Games, here are 50 storylines that could steal the headlines once the competition begins. 
1. As the defending Paralympic wheelchair rugby champions, world No. 1 Australia will be coming into Tokyo as the heavy favourites for gold. However, they will need to perform at their very best to overtake Japan, who beat the Aussies in the 2018 World Championships final and will have the home crowd support at Tokyo 2020.
Ⓒ Getty Images

2. Omara Durand is the undisputed queen of the track. The Cuban is the world's fastest Paralympian, holds the world records in the 100m (11.40sec), 200m (23.03sec) and 400m (51.77sec) T12, and is hoping to add three more golds to the five Paralympic titles and 11 world titles in her resume.
Ⓒ Getty Images

3. Brazil have won every football 5-a-side gold medal since the sport joined the Paralympic programme at Athens 2004. While they are again strong candidates to top the podium in Tokyo, they will face tough-opposition from South American arch-rivals Argentina, who are gunning for revenge after losing to Brazil in the 2018 World Championships and Lima 2019 Parapan American Games finals.
Ⓒ Lima 2019

4. Para badminton and Para taekwondo will be the two sports making their debut at Tokyo. With the first champions being crowned this summer, competition promises to be a thriller with home favourites and World Championships title-holders facing talented newcomers.
Ⓒ Dong Jiong

5. China have been one of the female goalball powerhouses for over a decade, but have failed to deliver at the biggest stage of all. Between 2008 and 2016, they have made it to three consecutive Paralympic finals losing to USA, Japan and Turkey, respectively. Led by their goalscorer Chunhua Wang, China hope to turn the tables and claim the elusive gold.
Ⓒ Anthony Edgar/OIS Photos

6. The home crowd are hoping to celebrate Paralympic gold across multiple sports, with wheelchair tennis being top of the list. World No. 1 Shingo Kunieda, arguably history's best male player ever, and eight-time women's Grand Slam singles champion and world No. 2 Yui Kamiji are two strong favourites for the top honours in their backyards.
Ⓒ OIS Photos
 
7. The R9 (mixed 50m prone SH2) shooting Para sport event is the newest addition to the Paralympic programme. Serbian Dragan Ristic will start as favourite following his gold medal-performance in this event at the 2019 World Championships in Sydney, Australia.
Ⓒ Narelle Spangher

8. After a glittering career that saw him winning 24 Paralympic medals, including 14 golds, 31 World Championships titles and 22 Parapan American golds, Daniel Dias has announced that he will retire after Tokyo 2020. The Brazilian swimmer is hoping to do it on a high note, adding more medals to his incredible tally.
Ⓒ Getty Images

9. Following the sport's debut at Rio 2016 with just kayak events being contested, Tokyo 2020 will welcome va'a events for the first time as part of the Para canoe competition. Athletes will compete across VL2 200m (women & men) and VL3 200m events. 
Ⓒ ICF

10. Alison Levine became the first woman to become the world No. 1 in the boccia world rankings in the BC4 category. However, she has struggled at big competitions, ending outside the podium at every one of them. That may change in Tokyo, where the Canadian aims to win not one but two golds in the individual and pairs events. 
Ⓒ Sportingwales

11. Sandrine Martinet achieved her career dream of clinching gold in judo at Rio 2016 in the women's up to 52kg having settled for silvers at Athens 2004 and Beijing 2008. The Frenchwoman decided to move down to the up to 48kg ahead of Tokyo 2020 and it would be interesting to see if she will be able to emulate her performance in a different category.
Ⓒ Getty Images

12. Egyptian powerlifting legend Sherif Osman has already heralded about his chances saying: "Tokyo 2020? I am so confident I am already planning for Paris 2024! That is my target. I want to eventually get to six Paralympic golds." Osman is halfway through his goal as he holds three Paralympic titles at the moment. If he performs at his very best, he will very likely add a fourth one to his tally in Tokyo.
Ⓒ Hiroki Nishioka

13. Sanne Voets has a clear goal in her mind: to win the Para equestrian triple-triple of golds in the team, freestyle and individual grade IV events. The Dutch rider could very well achieve such feat considering she is the world and European reigning champion in all three events and has won almost every competition she has taken part in since 2019.
Ⓒ Liz Gregg/FEI

14. Paralympic archery champion David Drahoninsky is looking to impress again on the world's biggest stage. The Czech has consistently been one of the best in the sport since taking Paralympic gold at Beijing 2008. Most recently, Drahoninsky took bronze at the 2019 World Championships.
Ⓒ Getty Images

15. Netherlands are enjoying their best female wheelchair basketball generation ever. In 2018, and after claiming successive Paralympic bronze medals at London 2012 and Rio 2016, the Dutch team sealed its first world title. Led by Mariska Beijer, widely considered one of the world's best players, the Netherlands have established themselves as heavy favourites for a historic gold at Tokyo 2020. 
Ⓒ Mathilde Dusol

16. US wheelchair racer Tatyana McFadden is hoping to achieve a feat like no other - win seven golds in her seven events to overtake Canadian legend Chantal Petitclerc as the most decorated female in athletics.
Ⓒ Bob Martin for OIS

17. It has been almost a decade since Jingdian Mao made a name for herself in the Para table tennis international scene. At only 17 years, the Chinese showed tremendous maturity en route to gold in the women's class 8 at London 2012. Mao successfully defended her title four years later in Rio. As the reigning Paralympic, world and Asian champion, few have doubts that she will again top the podium at Tokyo 2020.
Ⓒ Getty Images

18. The rowing rivalry between Erik Horrie and Roman Polianskyi in the men's single sculls (PR1M1x) is one to keep an eye on. While the Ukrainian upset then-world champion Horrie at Rio 2016, the Australian quickly bounced back to take the 2017 and 2018 world titles. But Polianskyi won it again in 2019 and will start as favourite in Tokyo.
Ⓒ FISA

19. As the reigning sitting volleyball world and Paralympic champions, Iran are looking to prove their class again at Tokyo 2020 led by the tallest Paralympian Morteza Mehrzad (2.46m). But arch-rivals and two-time Paralympic gold medallists Bosnia & Herzegovina are not a team that can be written off lightly and will certainly be tough to beat.
Ⓒ Getty Images

20. Teresa Perales has won a staggering 26 medals including seven golds, nine silvers and 10 bronze across five editions of the Paralympic Games. At Tokyo 2020, the veteran Spanish swimming legend will be looking to swell that medals tally further.
Ⓒ Getty Images

21. Grigorios Polychronidis made his Paralympic debut at Athens 2004 but has so far failed to take gold in an individual BC3 event. The Greek did come close at Beijing 2008 and Rio 2016, but ended with silver on both occassions. This time round, Polychronidis feels his efforts will bear fruit at Tokyo 2020, especially following the morale-boosting 2018 World Championships win.
Ⓒ Getty Images

22. Khothatso Montjane seeks to continue creating history after becoming the first African wheelchair tennis player to compete in all four Grand Slams in a calendar year and the first Black female to do it at Wimbledon. With 39 singles titles to her name, the South African is hungry for more success as she prepares to compete at her fourth Paralympic Games.
Ⓒ Getty Images

23. Enkhtuya Khurelbaatar is confident she can become Mongolia's first taekwondo Paralympic champion. The 2017 world champion and former world No. 1 will be a gold medal favourite in the women's up to 49kg K44 at Tokyo 2020. But she is hoping her impact will extend outside the field of play and inspire people, including those with disabilities, to "find the right way in their lives."
Ⓒ Enkhtuya Khurelbaatar

24. Since announcing herself on the world stage at Rio 2016, where she took gold in the individual foil B, wheelchair fencer Bebe Vio has become one of the most popular faces in the Paralympic Movement. The Italian went on to win multiple competitions and build a social media fanbase of millions. She will try to successfully defend her title on Japanese soil. 
Ⓒ Augusto Bizzi | IWAS

25. Lauren Steadman was the heavy favourite for Para triathlon PT4 gold at Rio 2016, but an error in her swim cost her the victory and she had to settle for silver behind USA's Grace Norman. Even after regaining the world title in 2018, the Brit's redemption would come only with a gold at Tokyo.
Ⓒ Getty Images

26. What else is there to say about Lucy Ejike? As the gold medallist from Athens 2004, Beijing 2008, and Rio 2016, as well as runner-up from 2000 and 2012, the legendary powerlifter has become one of Nigeria's most successful Paralympians. Once she enters the arena in Tokyo, she will be hoping to defend her women's up to 61kg title, as well as to break her own world record of 142kg.
Ⓒ Mark Metcalfe/Getty Images

27. Slovakia's Veronika Vadovicova is one of shooting Para sport's all-time greats as she has consistently won numerous titles, including three Paralympic golds, in a career spanning over two decades. But Ukrainian Iryna Shchetnik seems ready to assume Vadovicova's mantle as the top rifle in SH1 events.
Ⓒ Narelle Spangher | Sydney 2019

28. As a cross-country skier, Birgit Skarstein competed at the PyeongChang 2018 Winter Paralympics and even carried Norway's flag at the Opening Ceremony. The dual-sport Paralympian then turned her attention again into rowing, in which she holds the world title in the women's single sculls (PR1W1x). Skarstein has not lost a regatta since finishing fourth at Rio 2016 and seeks to claim her maiden gold in Tokyo.
Ⓒ Getty Images

29. When Markus Rehm is competing, you know history is about to be made. The German set a new world record in the men's long jump T64 with impressive 8.62m at this year's European Championships, longer than the marks achieved by the Olympic champions at the last six Games. With Tokyo 2020 fast approaching, Rehm is hoping to jump even further. 
Ⓒ Luc Percival | For World Para Athletics

30. For the first time, Para rowing will use the same distance as their Olympic counterparts – 2,000m. Adopted in 2017, this rule change doubles the distance used at the 2016, 2012, and 2008 Paralympic regattas.
Ⓒ FISA/Igor Meijer

31. Brazil's march to the very top of the male goalball rankings has been quick. After not qualifying for the 2010 World Championships, they won the following two editions in 2014 and 2018, and claimed their first Paralympic medal - a bronze at Rio 2016. Winning gold at Tokyo 2020 would be like a 'cherry on the top' for the most successful generation of goalball players in the South American country.
Ⓒ Lima 2019

32. The Chinese female sitting volleyball team had enjoyed a winning streak since the sport was introduced at Athens 2004 until London 2012. But the USA prevailed in the Rio 2016 gold medal match, putting an end to their total dominance. As one of the most established rivalries in Paralympic sport, another thrilling match-up is expected in Tokyo.
Ⓒ Getty Images

33. 'Judoman' two-time Paralympic champion Eduardo Avila Sanchez is hoping for the perfect end to his career in the birthplace of judo. The Mexican had a serious back injury after Rio 2016 but he produced an epic comeback at a Tokyo 2020 qualifier in 2019, securing gold and a spot at his fourth (and last) Games.
Ⓒ Getty Images

34. Coming off her first winter Paralympic medals in cross-country skiing at PyeongChang 2018, US star Oksana Masters has turned her attention to Para cycling. She slightly missed the podium at Rio 2016 by finishing fourth in the road race H5 and fifth in the time trial H4-5, but seems determined to take one medal home from Tokyo.
Ⓒ Getty Images

35. Aged just 15, swimmer Sophie Pascoe was the youngest member of the New Zealand team at Beijing 2008 where she took three golds and one silver. Pascoe has not stopped winning accolades ever since, becoming her country's most decorated Paralympian with 15 medals overall, including nine golds. Heading into her fourth Games, she aims to continue making history.
Ⓒ Simon Lodge for OIS/IOC

36. Gustavo Fernandez has been a force to be reckoned with in the men's wheelchair tennis rankings in recent years. The Argentine became the first Latin American player to top the world rankings and won five Grand Slam singles titles apart from numerous other competitions. He now seeks to add the Paralympic gold, after losing in the quarterfinals five years ago in Rio.
Ⓒ Getty Images

37. Yujie Li became China's first Para taekwondo world champion in 2019, when she beat Serbia's Marija Micev in the women's up to 58kg K44 final. She aims to take Paralympic gold in Tokyo, although Li will need to be at her very best to defeat Denmark's world No. 1 Lisa Gjessing.
Ⓒ Turkey Taekwondo Federation 

38. Tomoki Sato left Rio 2016 with a bittersweet taste. He was close to winning the 400m T52 and 1,500m T52, but ended up claiming silver in both events. The Japanese has however improved, taking gold in both events at the 2017 and 2019 World Championships. The home crowd expects to celebrate through him in Tokyo.
Ⓒ Getty Images

39. Double archery Paralympic gold medallist Zahra Nemati is gearing for her third back-to-back women's individual recurve open title at Tokyo 2020. But while showcasing her very best on the field of play, the Iranian also wants to use the Paralympic platform to continue advocating for disability and women's rights on a global scale.
Ⓒ Getty Images

40. A former Para swimmer, Luca Mazzone won his first Paralympic golds in cycling when he ended first in the men's time trial H2 and mixed team relay H2-5 at Rio 2016. Fresh from securing a hat-trick of titles at the 2021 Road World Championships, the Italian is hoping to shine again at this Games.
Ⓒ NPC Italy

41. A Refugee Paralympic Team made up of six athletes will participate in Tokyo 2020. Ibrahim Al Hussein (Syria-born), Alia Issa (Syria), Parfait Hakizimana (Burundi), Abbas Karimi (Afghanistan), Shahrad Nasajpour (Iran), and Anas Al Khalifa (Syria) will compete across Para athletics, Para canoe, Para swimming and Para taekwondo events. They will be led by Chef de Mission Ileana Rodriguez, a refugee from Cuba who represented the USA at London 2012. 
42. Tamara Leonelli's dream of qualifying for a Paralympic Games has come true. The Chilean will make her debut in the women's Para table tennis class 5 in Tokyo thanks to her gold medal-performance at the 2019 Parapan American Games. Despite flying to Japan as an underdog, Leonelli is hoping to stun the world and reach the podium.
Ⓒ NPC Chile

43. Tokyo 2020 will see a new chapter in one of Para triathlon's fiercest rivalries between Germany's Martin Schulz and Canada's Stefan Daniel. Schulz won the sport's first Paralympic gold in the men's PT4, with his main opponent coming in second. But Daniel has improved since then, following his Rio 2016 silver medal-performance with three World Championships titles.
Ⓒ Binh Truong / DBS

44. Patrick Anderson, one of the greatest wheelchair basketball players ever, will return to represent Canada for a fifth Paralympic Games after stepping away from the team before Rio 2016. With his exceptional talent, the now 41-year-old led his country to Paralympic gold at Sydney 2000, Athens 2004 and London 2012, as well as silver at Beijing 2008. Without Anderson headlining Canada's roster, the team ended in 11th place at the last Games. But with his return, the team is confident its glory days are not behind just yet.
Ⓒ Lieven Coudenys

45. The Rwandan female sitting volleyball team booked their place at their second consecutive Paralympic Games after winning the 2019 African Championships in Kigali. Their aim in Tokyo 2020 will be to outdo their performance five years ago in Rio, when they failed to qualify from the group phase for the knockout stage.
Ⓒ Getty Images

46. Morocco sent their first football 5-a-side team to the Paralympic Games at Rio 2016. They ended last in group A but earned valuable international experience, even scoring a goal against eventual champions Brazil in a 3-1 defeat. Ahead of Tokyo 2020, the reigning African champions are confident about taking another leap forward, qualifying for the semi-finals and fighting for a medal spot.
Ⓒ Bina Foundation

47. Peter Pal Kiss is one of the young rising Paralympic stars. The Hungarian Para canoeist stunned Italian title-holder Esteban Farias to win the men's KL1 title at the 2019 World Championships at just 16 years. Despite little international experience, Pal Kiss will arrive in Tokyo as one of the favourites.
Ⓒ ICF

48. While still world No. 5, the Canadian wheelchair rugby team, in recent years, has not been the force it used to be. Canada missed the Paralympic podium for the first time in 16 years at Rio 2016, and only ended sixth at the World Championships in 2018. But as hope is the last thing ever lost, Canada are still hoping to relive their glory days on Japanese soil. 
Ⓒ Getty Images

49. It was thanks to Piers Gilliver that Great Britain won at Rio 2016 their first wheelchair fencing medal since Barcelona 1992. The then-22 year old secured silver in the men's epee category A. He now seeks to take another leap forward going into Tokyo and claim the coveted gold.
Ⓒ Getty Images

50. China seek to top the medals table for a fifth consecutive time at a Paralympic Games. The last time they did not end in first place was at Sydney 2000 when hosts Australia finished atop the standings, with China coming in sixth.
Ⓒ Bob Martin