Tokyo 2020: Takeaways from goalball
Incredible displays of speed, skill and strength that showed the very best of the sport
24 Sep 2021
Imagen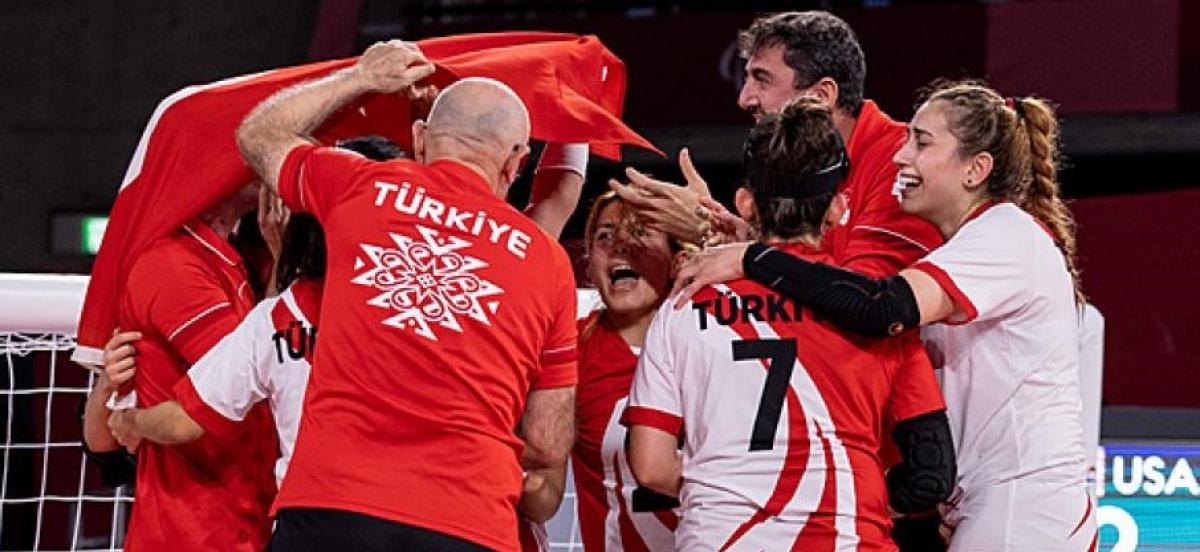 ⒸOIS Photos
By Sam Harris | For IBSA
The goalball competition at the Tokyo 2020 Paralympics was intense; here are four takeaways from the event held at the Makuhari Messe.
As the only remaining member of Turkey's Rio 2016 gold medal winning side, there was a lot of pressure on Sevda Altunoluk. Not that you would have known it from her performances. 
Her talent has never been in question, scoring 36 goals in Turkey's Paralympic debut five years ago and backing it up by finishing top scorer at the 2018 World Championships and 2019 European Championships with 46 and 39 goals respectively.
In Tokyo, her goals and experience helped Turkey top their group and bounce back from their first, and so far only, defeat in the Paralympics when they were edged out by the USA. 
She then stepped up a gear in the knockout round, netting all but two of Turkey's 10 in their quarter-final before scoring all eight goals in a semi-final win over Japan. Altunoluk went one better, netting nine goals in the final against the USA as Turkey became only the second country after Canada in 2004 to retain their women's Paralympic title. 
At 27-years-old, the star of Turkish goalball will have a couple more Paralympics left in her to help guide an inexperienced but talented side with the other members, including her sister Sevtap, having an average age of 20. 
Ⓒ Getty Images
 
Australia are a rising force 
Coming into Tokyo 2020, the Aussie Belles had previously picked up four points across the Atlanta 1996, Sydney 2000, London 2012 and Rio 2016 Paralympics and had never progressed past the group stages. 
Their latest campaign started slowly with heavy defeats against Israel and China, the first of which was a mercy defeat. 
This meant they needed to beat Canada to keep their historic quarter-final hopes alive and they claimed a 4-3 victory for their first win at the Paralympics since Atlanta 1996. 
In their last match, knowing a repeat performance could see them make the knockout rounds for the first time ever, they took on world champions, the RPC (Russian Paralympic Committee). In one of their most impressive ever performances, the Belles won 4-1. 
After the match, Tyan Taylor said: "We've been dreaming of reaching the quarter-finals for a long time and we couldn't have enjoyed it any more. You can look out for the Aussie Belles in future Paralympic Games, we're not done here."
The run was ended in the quarter-finals, but not after they had given eventual champions Turkey a scare, narrowly losing 10-6 prompting Altunoluk to say: "It was a really tough game. They are in the quarter finals where no games are easy. They fought really well.
"Australia are improving day-by-day. We saw their improvement during the match – last time we played them it was much easier, so we congratulate them."
The debutant Belles, Amy Ridley and Brodie Smith impressed along with the experienced Meica Horsburgh, who netted nine times in their two victories. 
Age is but a number
Goalball is a sport for anyone whatever their age and this was highlighted in the gold medal winning Turkey side, silver medalists the USA and men's bronze medallists Lithuania. 
The former had a squad including 17-year-old Fatma Gul Guler and 19-year-old Reyhan Yilmaz while their final opponents boasted 42-year-old Lisa Czechowski in their ranks. The youngest member of Lithuania's side was 29-years-old. 
The tournament also showed the longevity of goalball players with Czechoswki, teammate Aysa Miller and Lithuania's Genrik Pavliukianec, who had come out of retirement for the Games, collecting their fourth Paralympic medals to equal the all-time record of the USA's Jen Armbruster. 
On claiming that historic medal, Czechoswki said: "It's an honour to achieve this milestone. I have played with so many amazing goalball athletes from the United States, and competed against so many more. I'm so proud to be a part of Team USA and a part of our team."
In fact, many sides had players competing in their third or fourth Games but there were also impressive maiden performances from the likes of Yilmaz, Smith and the USA's Calahan Young.
USA's Lisa Czechowski Ⓒ Getty Images
 
Always adding depth
There were countries in both competitions making their debut at the Paralympics with Egypt in the women's and Ukraine in the men's experiencing the Games for the first time.
Egypt lost their four matches in the group stage but gained invaluable experience for future Games.
Ukraine came into the men's competition off the back of a stunning run. Having only been promoted to the top flight in 2018, and then winning European silver, they eased to an 11-5 win in their first match against regional title-holders Germany. 
They eventually progressed to the quarter-final and like their fellow debutants, led the USA at the break before losing, this time in overtime. 
Hosts Japan also had a men's team at the Paralympics for the first time and they reached the knockout stages in style, recording stunning wins over the USA and Lithuania, the defending champions, before losing to China in the last-eight. 
Japanese men's goalball team Ⓒ Getty Images