Veteran Pavliukianec answers the goalball call at the age of 45
'I don't have a job. I had spent a long time with my family, and then I got bored'
24 Aug 2021
Imagen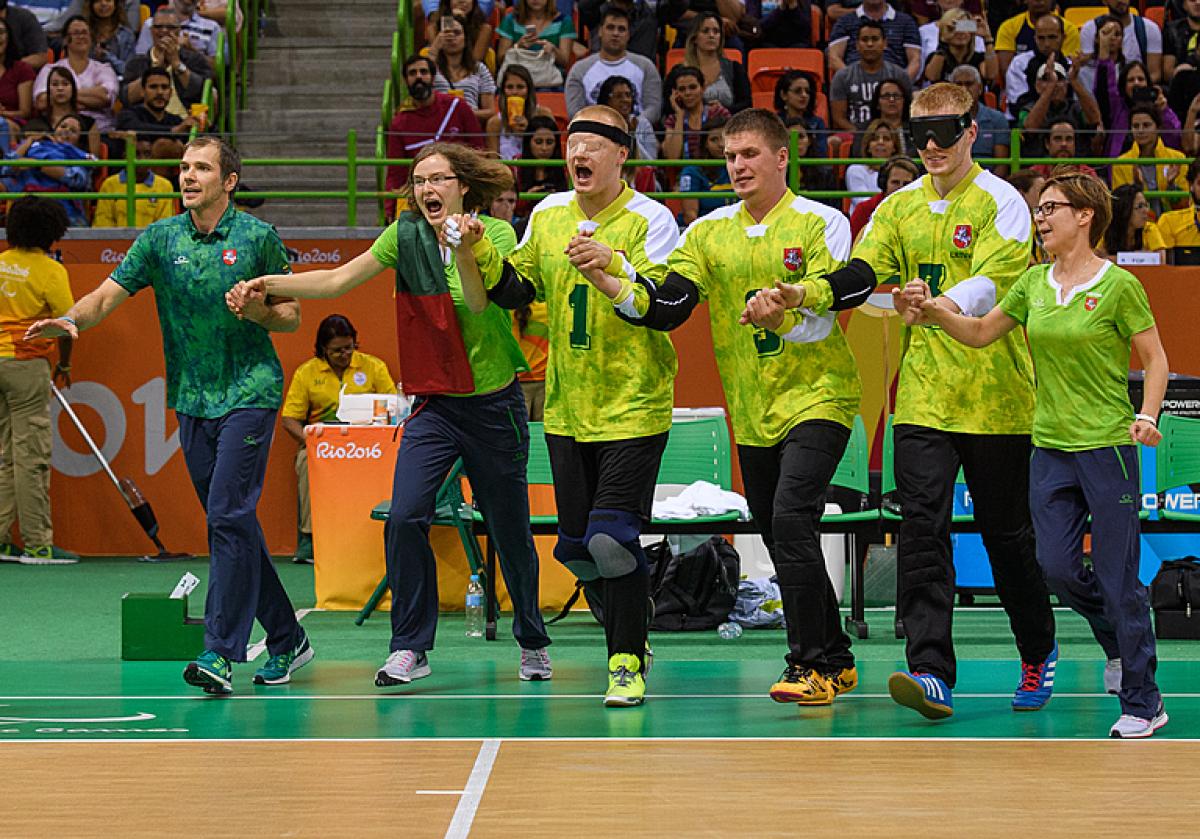 ⒸOIS/Anthony Edgar
By IPC/OIS
Lithuania's goalballers are going down a tried and tested route in their campaign to make it back-to-back Paralympic gold medals.
The 45-year-old Genrik Pavliukianec has been tempted out of retirement and can look forward to beginning the competition on Wednesday at Makuhari Messe Hall when Brazil are the opening round opponents.
Pavliukianec is one of four athletes at Tokyo 2020 Paralympic Games going for a fourth goalball medal. The others are Chen Fengqing and USA teammates Asya Miller and Lisa Czechowski.
Pavliukianec was in the team which beat USA in the final at Rio 2016, his fifth Paralympic Games and had called it a day. Instead he is back.
"There was no doubt for me because I was tired of my free time," he said. "I don't have a job (at home). I had spent a long time with my family, and then I got bored.
"I went back to the court to play with veterans, with older players, but I was hungry for goalball at the Games, and so I said yes immediately."
Should the defending champions go on to finish on the podium, it will be his fourth medal at the Paralympics, which would equal the record set by Jen Armbruster for the most goalball medals by an athlete at the Games.
"It's not about my personal ambitions. I came to help the team and I will do my part, but everything depends on the team and not only me."
"It's about the team and what the team wants, and what the team wants is obvious because they are champions."
Miller and Czechowski were part of the USA women's team that won bronze five years ago, having missed out on the gold medal match courtesy of an 11-1 thrashing at the hands of eventual champions Turkey in the semifinals.
USA will have a chance to redress the balance for that defeat when they meet Turkey in the final game of the overall group stages on Monday, 30 August.
"Revenge? No. But redemption, for sure," said Miller. "Definitely redemption. Ever since that moment we've been so focused on that not happening again, and just being prepared and training properly."
USA have won 12 men's and women's medals of the 60 that have been handed out since the sport made its debut at Toronto 1976.
Germany are hoping to make inroads after a long period in the doldrums. Their fortunes have been transformed by Oliver Hoerauf.
Germany became European champions in 2019 and in the 2018 World Championships finished on the podium for the first time in 28 years, taking silver behind Brazil, which earned them their place at Tokyo 2020; enough to send out warning signals to their rivals.
"I believe that we will definitely return home with a medal. The one-year delay gave us an advantage with another year of training," said Hoerauf, who used his parents' garage to train during lockdown.
At the Tokyo 2020 Paralympic Games, goalball will take place from 25 August - 3 September 2021 in Makuhari Messe.
The competition begins on 25 August with Brazil against Lithuania in the men's Group A preliminaries.