From Tokyo to Tbilisi: Amalia Perez
Legendary Mexican Para powerlifter is a synonym for the Paralympic success, winning six medals in six appearances at the Paralympic Games
14 Nov 2021
Imagen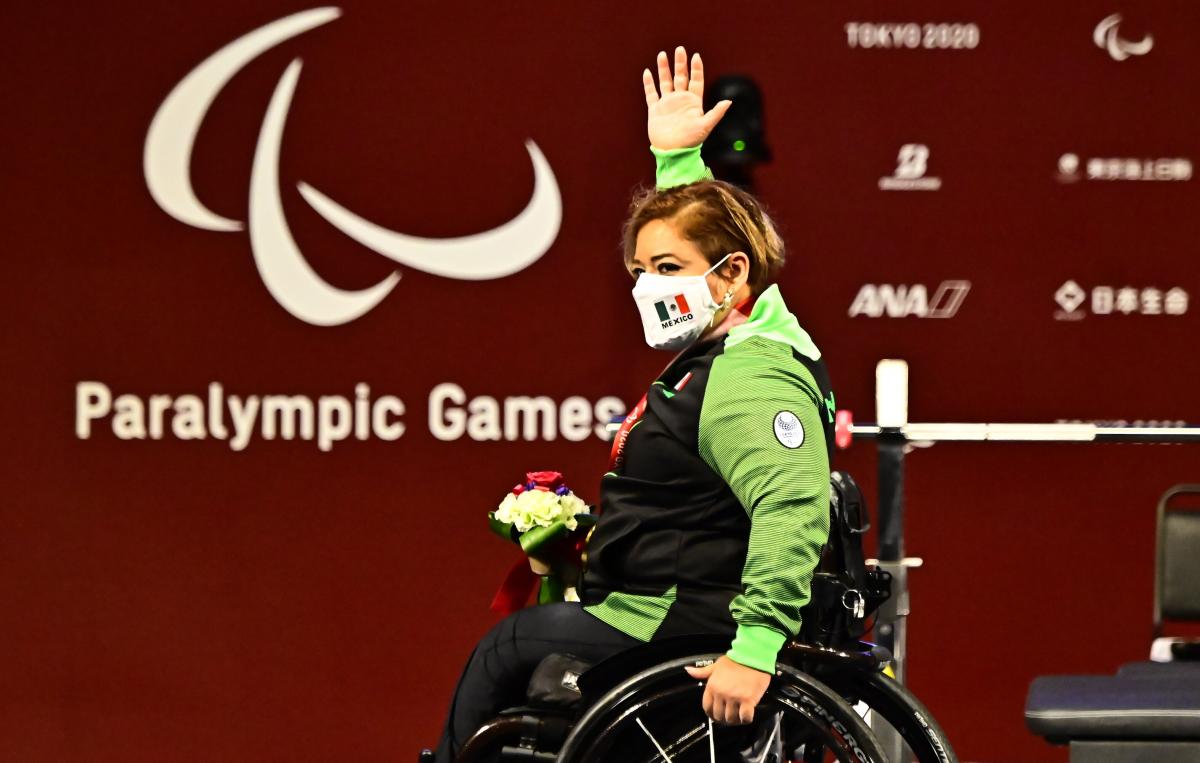 ⒸHiroki Nishioka/WPPO
By World Para Powerlifting
The Tbilisi 2021 World Championships is less than two weeks away and World Para Powerlifting continues to look at the stars heading to Georgia in the From Tokyo to Tbilisi series.
The largest Para powerlifting event of the year starts on Saturday, 27 November, with a one-day Junior Worlds followed by the World Para Powerlifting Senior Championships from 28 November – 6 December.
Mexican legend and a six-time Paralympic medallist Amalia Perez is the next athlete in line.
Amalia Perez, Mexico
The 48-year-old Para powerlifter born in Mexico City won her fourth consecutive Paralympic gold at the Tokyo 2020 Paralympics in a dramatic style.
The women's up to 61kg category was one of the most highly anticipated in the whole Games as both Perez and Nigeria's Lucy Ejike were battling out for a fourth Paralympic gold.
The Mexican opened the competition lifting 125kg and 126kg in her first two attempts. That was enough for her to take the second place before the final round.
As the penultimate athlete taking the stage for her third attempt, Perez dropped to fourth place behind Egypt's Fatma Korany, Uzbekistan's Ruza Kuzieva, and Ejike.
Then the Mexican veteran raised the bar to 131kg for the title in her third and final lift at the Tokyo International Forum.
Ejike failed in her second and third attempt of 135kg and had to settle for bronze (130kg) behind Kuzieva (130kg but lower body weight) who made her Paralympic debut in Japan.
Empowering other women
After winning her sixth medal in as many Paralympic appearances, Perez was asked to rank the gold from Tokyo among all the other accolades.
"This is my sixth medal, and my fourth gold, but since these Games were the most desired of all for me, I will put this medal in first place," said the Mexican athlete whose legacy is already unparalleled in Para powerlifting.
"I hope that I will empower other women and other generations that come behind me in Paralympic sport. We can do anything."
Although she made her international debut 23 years ago, Perez has big plans in sight for the future and one of them is the participation in Tbilisi for the ninth edition of the Para powerlifting Worlds.
"I will return to Mexico and start preparing for the World Championships in Georgia and my classification for Paris 2024 Paralympic Games," reckoned Perez.
"I will keep working and competing as long as my body tells me I can. From my first Paralympics at Sydney 2000 I have been waiting for God and my body to tell me when to stop, but that hasn't come yet so I am going to keep going."
Major championships results
Perez first experienced the taste of an international competition in 1998 when she competed at the World Championships in Dubai, United Arab Emirates. The Mexican athlete presented herself to the world winning a gold medal.
During the next six years, Perez made two Paralympic (Sydney 2000 and Athens 2004) and one World Championships (Kuala Lumpur 2002) appearance winning three silver medals.
In the coming years, Perez rewrote the Para powerlifting record books triumphing at three consecutive Paralympic Games (Beijing 2008, London 2012, and Rio 2016) and winning four World Championships medals on the way (two golds and two silvers).
The Mexican legend also has won four consecutive Para Pan American Games titles together with two golds from the Americas Open Championships.
In 2018, Perez competed at the Asia-Oceania Open Championships in Kitakyushu, Japan, and again took home the gold medal.
At the last edition of the World Championships in Nur-Sultan, Kazakhstan Perez experienced the biggest disappointment of her long career. She did not complete a successful attempt in the women's up to 55kg category and left the Worlds without a medal.
Two years later, Perez washed away the disappointment with her fourth Paralympic title and will be searching for more gold in Georgia.
Competition day in Tbilisi
The women's up to 61kg category will take place on day three of the World Para Powerlifting Senior Championships in Tbilisi.
It is scheduled as the third competition on Tuesday (30 November) starting at 20:15 (local time).
Unlike in Tokyo, Perez will not go up against Lucy Ejike and Ruza Kuzieva. Nigeria's three-time Paralympic champion will compete in the women's up to 67kg category with the Uzbek athlete not coming to Tbilisi.
The two-time Worlds bronze medallist Rayisa Toporkova from Ukraine is looking like the strongest opponent to Amalia Perez in Tbilisi.
Complete schedule, results, and records from the World Championships will be available on Tbilisi 2021 microsite.