Training Tuesday with Australia's Angie Ballard
The T53 racer set new world records over 400m and 800m in 2015 and is targeting her first Paralympic gold at Rio 2016.
01 Mar 2016
Imagen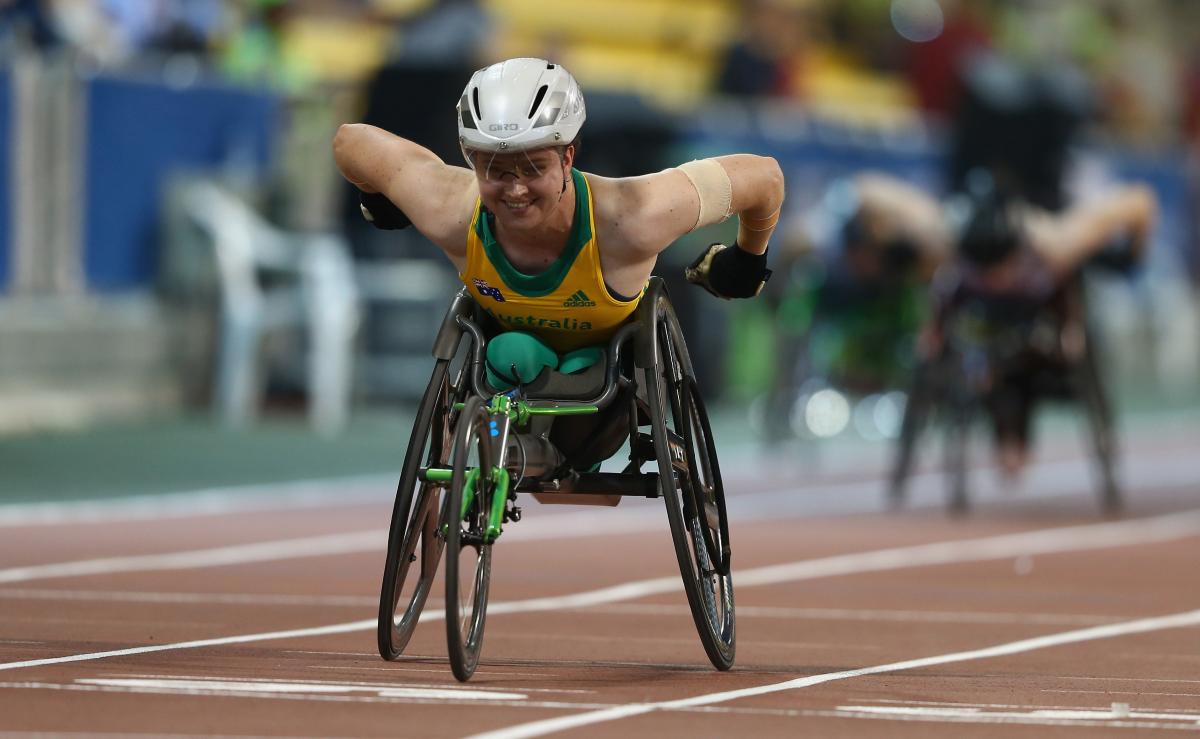 ⒸGetty Images
By IPC
Australia's Angie Ballard raced in to the history books in 2015, breaking the world record in both the 400m and 800m T53 before going on to win two golds and a bronze at the IPC Athletics World Championships in Doha, Qatar.
The 33-year-old has already enjoyed a strong start to 2016, winning a hat-trick of events at February's season-opener IPC Athletics Grand Prix in Canberra, Australia.
With her sights set on her first Paralympic gold medal at this year's Games in Rio de Janeiro, Brazil, Ballard talks us through her 'Training Tuesday'.
---
"I get up about 06.00 in the morning – we train at 07.00 and the main reason is we often have to train on the roads, so we try to get it done early so we are not coping with people driving too.
Also for me I can't eat before I train in the chair, so the earlier we get it done the sooner I can eat! I leave myself the minimum amount of time – I let my dog out, put my clothes on and go – that is it.
We train out at Homebush, where the Sydney Games took place. It's about a 25 minute drive in the morning – although it can take me up to an hour to get home.
I train with (world 800m T53 champion) Madison de Rozario, and we always have a chair session in the mornings - that lasts anywhere from 45-75 minutes, depending on what the level of work is.
I think people recognise my coach (former Paralympic champion Louise Sauvage) way more than they recognise me, but every now and then we get people saying 'We saw some people out on the road, was that you?' And of course it's always us, because there is no-one else!
When I get back home I'll shower and have breakfast – maybe some eggs with spinach and toast, or it could be cereal, yoghurt and fruit. I feed my animals too – I have two cats and a dog who would never let me eat before them!
Then I'll try and get some stuff done at home. I work as a research assistant too; I have a degree in psychology, and work for the university.
I might be back out at the gym by 14.00, so I don't get a long window at home, perhaps just a couple of hours. My gym session will involve lifting weights so I do some injury maintenance then get on to lifting – bench presses, bench pulls, that sort of thing.
I'm on my own for that session - I'm 33-years-old and Maddy's 22, so she's at a very different stage of her lifting career. There's a lot of stuff we do similarly in the chair, but I've been lifting since I was about 16.
I got into racing through a couple of things. I was the only kid in a wheelchair at my school, and I had a school teacher who was pushing me to find a sport that I could participate in.
There was an association at the time called Wheelchair Sport New South Wales, and I went on some camps where they introduced the juniors to a whole range of sports, with older athletes there to guide us through the process. That was pretty big for me. I used to do swimming, basketball and tennis, but as soon as my parents let me just do one sport it was wheelchair racing. From about the age of 14 onwards, that's been my sport.
After weights I come home and raid the fridge - I don't always have lunch before I go to the gym again so I'll eat whatever's there, then have dinner a couple of hours later anyway.
What I get up to in the evenings all depends - if you ask me out to Japanese I'm there in a flash. On double session days or if I have a session the next morning I have no problem going out, but I am cautious about making sure I am in bed on time because sleep is one of the best recovery tools.
Sometimes it's really busy – I might have a board meeting for Wheelchair Sport New South Wales - but training comes first. I'm doing a little bit of coaching too because I'm trying to help my sport continue, and make sure other people get to find out what it is I love about it.
My aim is to be in bed by 21.00. I'll read for half an hour or so then I'm a pretty good sleeper. If it's the middle of winter my cat would definitely be sleeping on top of my head if she could, but the rest are good – everyone's got their place and they like it."
Sport fans from around the world can now buy their Paralympic tickets for Rio 2016 from authorised ticket resellers (ATRs).
The IPC's Global ATR is Jet Set Sports, and Rio 2016 tickets and packages can be purchased on the CoSport website.
Residents of Brazil can buy 2016 Paralympics tickets directly from the Rio 2016 website.