Training Tuesday with Great Britain's Jonnie Peacock
The British 100m T44 Paralympic champion talks us through his normal training day and why he needs so many alarm clocks.
29 Mar 2016
Imagen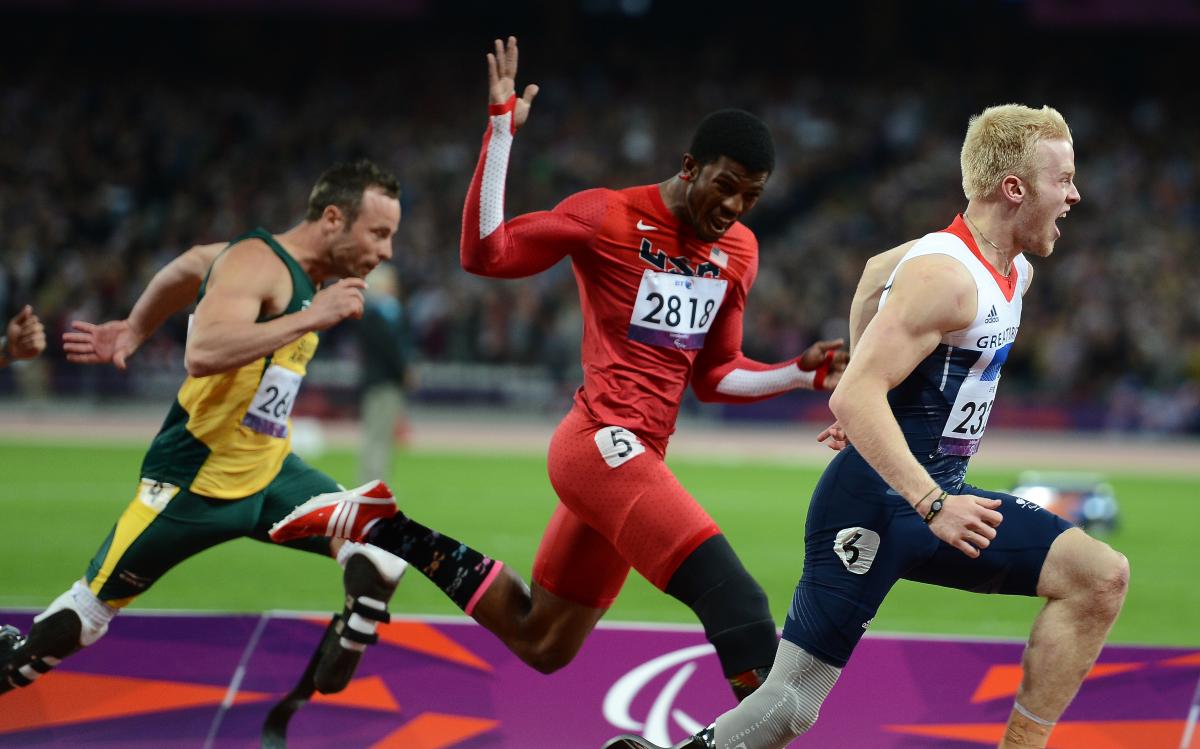 ⒸGetty Images
By IPC
A typical day for me would be setting three to four alarms in the morning, no word of a lie - a good five to 10 minutes apart.
This week's Training Tuesday comes from Great Britain's star sprinter Jonnie Peacock, who had the 80,000-strong crowd on their feet when he stormed to 100m T43/44 gold at the London 2012 Paralympic Games.
The 22-year-old will be hoping for another memorable performance at Rio 2016 in what is sure to be a thrilling race between the worlds' best. Here he talks us through a typical day – and how many alarm clocks he uses - as he prepares to defend his Paralympic crown.
----
A typical day for me would be setting three to four alarms in the morning, no word of a lie - a good five to 10 minutes apart, then the last will always be about 20 minutes later just to make sure. I have a terrible history of sleeping through my alarms. I've turned up for training sessions an hour late because I've slept through, it's ridiculous!
I'll get up around 09:00 or 10:00 – it's not even early, that's makes it even worse, I know! Then I have to have a shower. I physically can't get through the day if I haven't had a shower, I just feel awful. Then I'll have some breakfast – a couple of eggs and some toast and a coffee; maybe some fruit - and head straight to training.
I live about 15 minutes' drive away from the track in Loughborough so it's quite easy. I'll start rolling out a bit, stretching, just to get set-up for training, then I'll get on with my warm up. I'll have a running session, then perhaps some form of jumps, and weights.
I train with my coach Steve Fudge, and I'm out on the track with [former European junior champion] Chris Clarke a fair bit at the moment, but it varies from day-to-day. I might have some pre-treatment before my track session; a little bit of getting the body ready. At the end I might have some post-therapy treatment too, like soft tissue massage.
On a light day I might be at the track for a couple of hours, but on a bigger day it might be more like four or five hours.
I'll grab some food on the way home – it might be a sandwich, or pasta. Then I get home and achieve nothing for the rest of the day! I rest and recover and try and put my body back together at this time of year.
I might play a bit of Xbox, or walk the dog – I've got a little French bulldog called Luna. She gives me a great welcome when I come in the door – my girlfriend gets annoyed because Luna always gives me a much better greeting than she gives her - she jumps up on me and won't leave me alone, and will find a toy straight away ready to play.
I normally stay inside in the evenings, there's often something around the house that needs to be sorted out, or I might play a bit of Xbox, watch some television or take the dog for another walk.
I'll have some dinner – sometimes I cook, or my girlfriend will cook, or occasionally we might go to Nandos – it's a high protein lazy meal; the go-to if I can't be bothered to cook. It's either that or a really dirty burger if I fancy something naughty.
I'm into comedy – I prefer watching something that will not take up much attention span as I want to get home and just completely switch off. Comedy is my absolute favourite – I'm not going to lie, I like cartoons too. You don't have to pay attention, you can just do your own thing, sit on your lap top or whatever.
I always try and make sure I get eight to 10 hours sleep, but safe to say when my head hits the pillow I switch off. It doesn't take long.
____
Sport fans from around the world can now buy their Paralympic tickets for Rio 2016 from authorised ticket resellers (ATRs).
The IPC's Global ATR is Jet Set Sports, and Rio 2016 tickets and packages can be purchased on the CoSport website.
Residents of Brazil can buy 2016 Paralympics tickets directly from the Rio 2016 website.