USA expect to extend dominance at first Pan Pacifics
Defenseman Josh Pauls says with Paralympic and world titles, USA have set the bar high for themselves.
29 Mar 2016
Imagen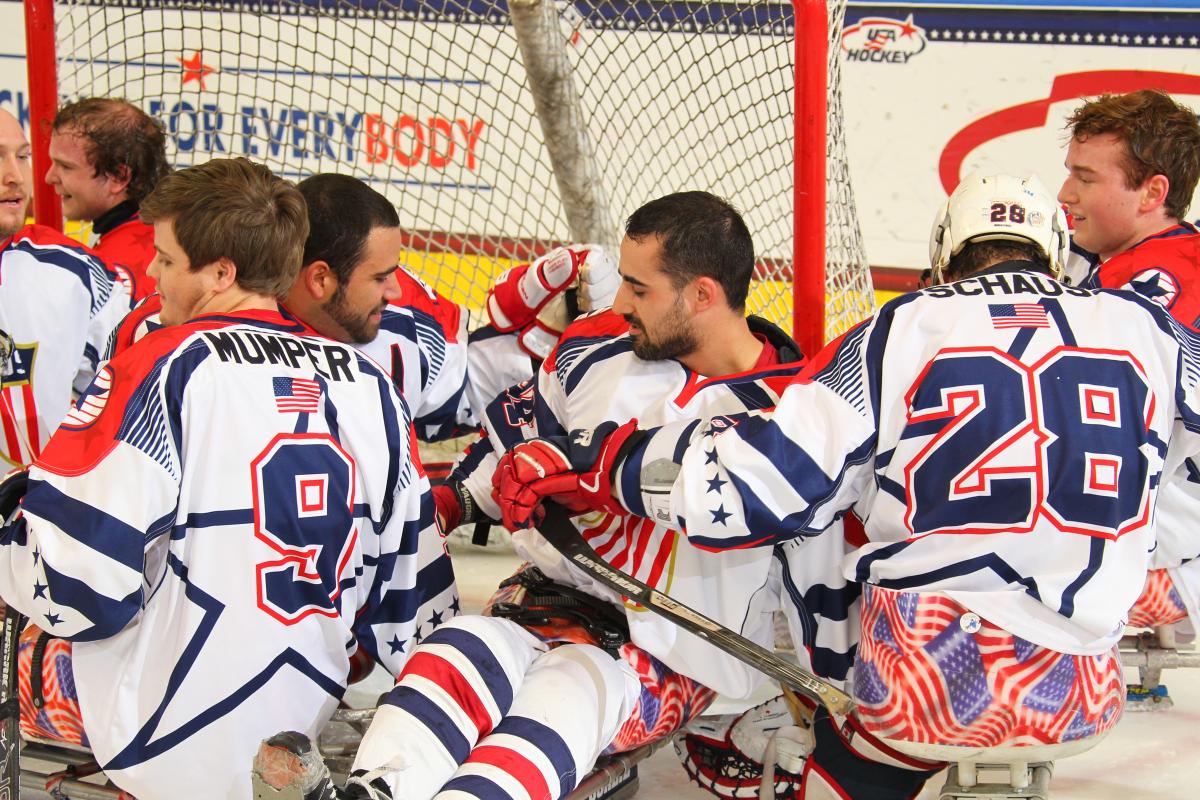 ⒸBill Wippert
By Stuart Lieberman | For the IPC
"We set the standard for ourselves as a team that we don't come to a tournament expecting anything less than gold."
Entering the first-ever IPC Ice Sledge Hockey Pan Pacific Championships, which begin on Tuesday (29 March), the back-to-back Paralympic and reigning world champion US squad have no reason to envision themselves on any podium step lower than the top.
"We set the standard for ourselves as a team that we don't come to a tournament expecting anything less than gold," said US defenseman and two-time Paralympian, Josh Pauls. "Because if you don't go in trying to win the tournament, then there's no real point in actually going. We have high expectations, and that just trickles down to each individual player."
The USA have three Paralympic and three world titles. For the first time, they will have the chance to claim a regional title, too.
The five-day event will take place on their home ice in Buffalo, New York, at the HARBORCENTER, the same venue where the USA won the 2015 world title.
The US players have been scattered across the country this season, having met up sparsely with few competitions on the calendar other than January's World Sledge Hockey Challenge. Pauls was the star at that event, scoring the tournament-winning goal 7:31 into overtime against Canada in the gold-medal game.
Players such as Pauls have been tasked with finding other ways to maintain their game this season.
"I think it's a lot of internal competition that keeps us sharp," Pauls said, referring to the US domestic sledge hockey leagues.
"One of the biggest struggles for me is trying to keep busy. It's a lot more work, but you can focus more on strengthening your off-ice training because you don't have to always worry about being fresh for a tournament. The domestic leagues we play in help keep us sharp, because we have some of the best players in the world playing in these leagues, and you're playing against them all the time."
Pauls' best domestic teammate on the DASA St. Louis Blues happens to be Steve Cash, the goaltender who has backstopped the US national team since the 2007-08 season.
Last season, Cash recorded eight shutouts in 13 games with a save percentage of 0.950. In five games this season, he has yet to record a shutout, posting a save percentage of 0.852.
"In my mind, we have the best defensive goalie in the world, but we really don't want him to work that much if he doesn't have to," said Pauls, adding that he is working harder to keep the puck on the offensive end.
"I definitely want to get my shot a little bit better. It definitely could always be harder, and being more accurate and being able to hit guys from the point for tip-ins is something I really need to work on."
At the Pan Pacifics, which will be shown live on Paralympic.org, the US will face arch-rivals Canada and Team Pan Pacific, comprised of players from Japan and other participating nations. But it is the tournament's fourth team that Pauls said could be the most enticing.
"It's always a fun game when we play the Koreans," Pauls said. "They're really trying to improve their programme, because they know all the lights are going to be on them at the next Paralympics."
The US team, meanwhile, are not just using the Pan Pacifics as a stepping stone en route to the PyeongChang 2018 Paralympics, but also as another step toward winning an unprecedented third consecutive Paralympic sledge hockey gold.
Pauls, who has been with the national team since he was 16, said this Paralympic cycle has a completely different mentality for him.
"That is scary. I'll be up there," Pauls said, when realising he will be 25 at the next Paralympics.
"Back in 2010, I was just kind of fighting to make the team, and I was just happy to be there. It was a great experience nonetheless, but I think now it's changed to me being an older player and trying to set a good example for the guys, whether it's in the locker room talking or on the ice with my play.
"Back then, I was just happy with being on the national team, and now I'm not really satisfied unless I'm one of the better players on the ice whenever I get on it.
"I'm definitely going to be working hard for that."