Vanessa Low ready for Grand Prix return
Paralympic champion sets new world record ahead of Dubai
22 Feb 2019
Imagen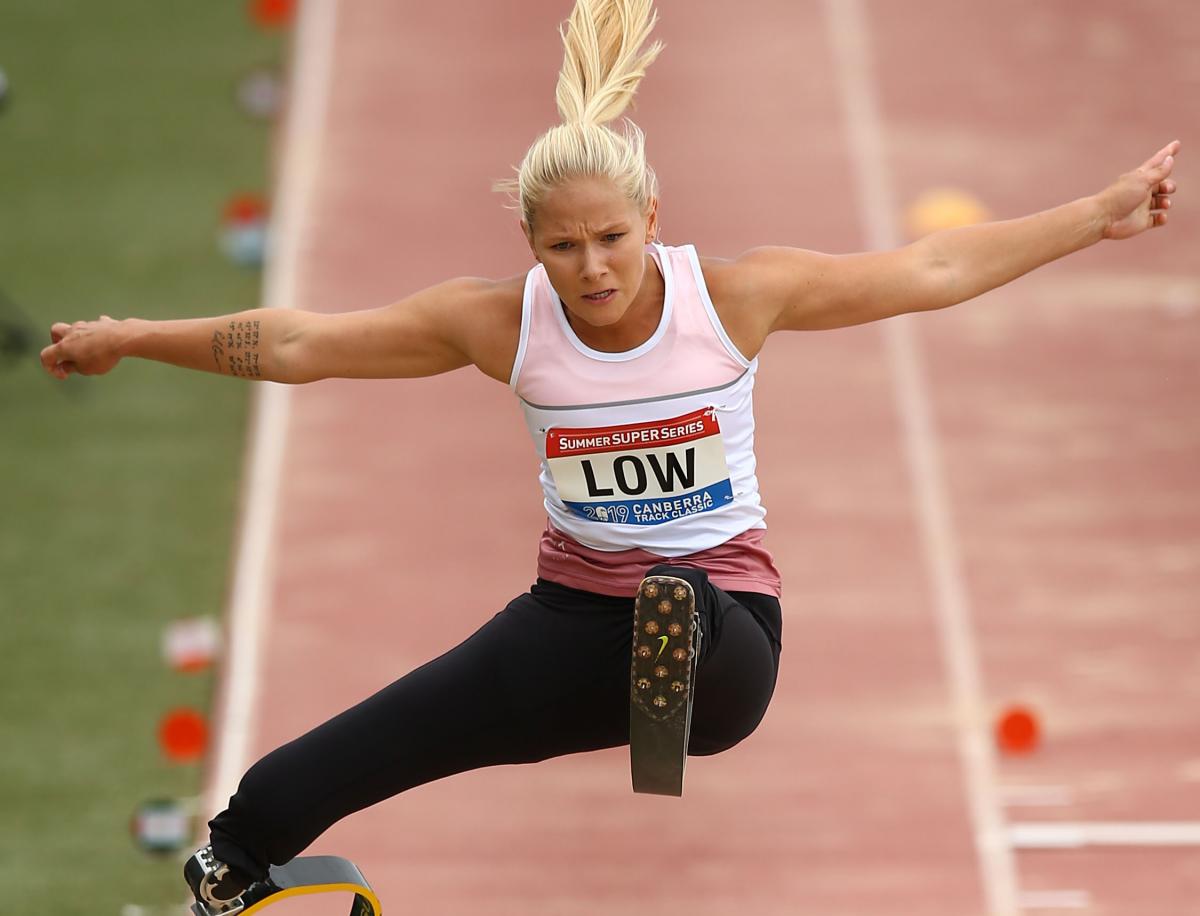 ⒸGetty Images
By World Para Athletics
"It's going to be great to get that experience again and go out and meet my competitors and be in a proper competition environment. I'm now ready to show everyone what I've been working on."
Paralympic long jump champion Vanessa Low returns to the World Para Athletics Grand Prix circuit when the series kicks off in Dubai this weekend.
The German-born star, who now represents Australia, is in good form ahead of her highly-anticipated Grand Prix appearance. She leapt 4.91m at the Sharjah Open earlier this week– a new world record* in the T61 class established last year for double above-knee amputees.
But five metres and beyond is well within her reach and there's no doubting Low could re-write the record books again in Dubai. It's a distance she certainly believes will be necessary come the World Championships later this year.
"I definitely believe that to be on top of the podium that's what you'll have to jump," explained Low.
"As I had the world title in 2015, I really want to go back to the top of the podium and to do so I definitely need to jump five metres.
"I've done lots of five-metre jumps in and around our home track, but it's going to be great to go to Dubai and see how I react to different conditions and settle my nerves, because I've been away for so long."
Starting from scratch
The 2019 season is the first to feature Low sporting the green and gold of Australia.
The 28-year-old was forced to take a year out from athletics in 2017 after a stress fracture to her back in the build up to Rio 2016 threatened the end of her career.
Having made the decision to continue competing through to Tokyo 2020, Low focused on improving her health long-term, rehabilitating in 2017 and missing the World Championships. She concentrated primarily on training last year.
It is a decision Low believes has definitely paid off.
"I had the chance to work on all my weaknesses and work on having correct balance across my hips, which has always been the biggest disadvantage I had," explained Low.
"I literally started learning how to walk properly from scratch. I worked closely with physiotherapists, focusing on getting fully healthy not just for sport, but actually for life.
"I'm getting through training much easier now. In the past it has been really challenging to get through big training blocks. I wasn't able to do a lot of long jump sessions as my body wouldn't tolerate it.
"Now, having put in all the effort in being balanced and healthy, I feel like I can show up every day at training and actually improve."
Green and gold
Low married Australian Scott Reardon – a fellow Paralympic gold medallist – in October last year and joined her husband's training group in Canberra, led by esteemed coach Iryna Dvoskina. It's a set up that Low thrives on.
"It's been fantastic, it's like a little family. Iryna's like our second Mum and she treats us like our children. We spend basically every day with each other. We are really fortunate to be in this system (at the Australian Institute of Sport) with the group of people that we have."
As for her status as an Australian national, Low is proud to represent her new country, having spent the previous five years living in the United States.
"Scott and I have a really great life here and I'm really grateful for the opportunity that I've got to represent my new home.
"One of the reasons Scott and I decided to continue post-Rio was because we now have the chance to do it together and travel together and enjoy the last bit of our careers together."
And Low is relishing her first Grand Prix appearance in three years.
"It's going to be great to get that experience again and go out and meet my competitors and be in a proper competition environment," explained Low, who jumped a phenomenal 5.22m at a meeting in Canberra early last year. "I'm now ready to show everyone what I've been working on."
*subject to ratification by World Para Athletics