Vergeer celebrates 10 years unbeaten
Wheelchair tennis star Esther Vergeer of the Netherlands has now gone 10 years without losing on the international level of her sport.
30 Jan 2013
Imagen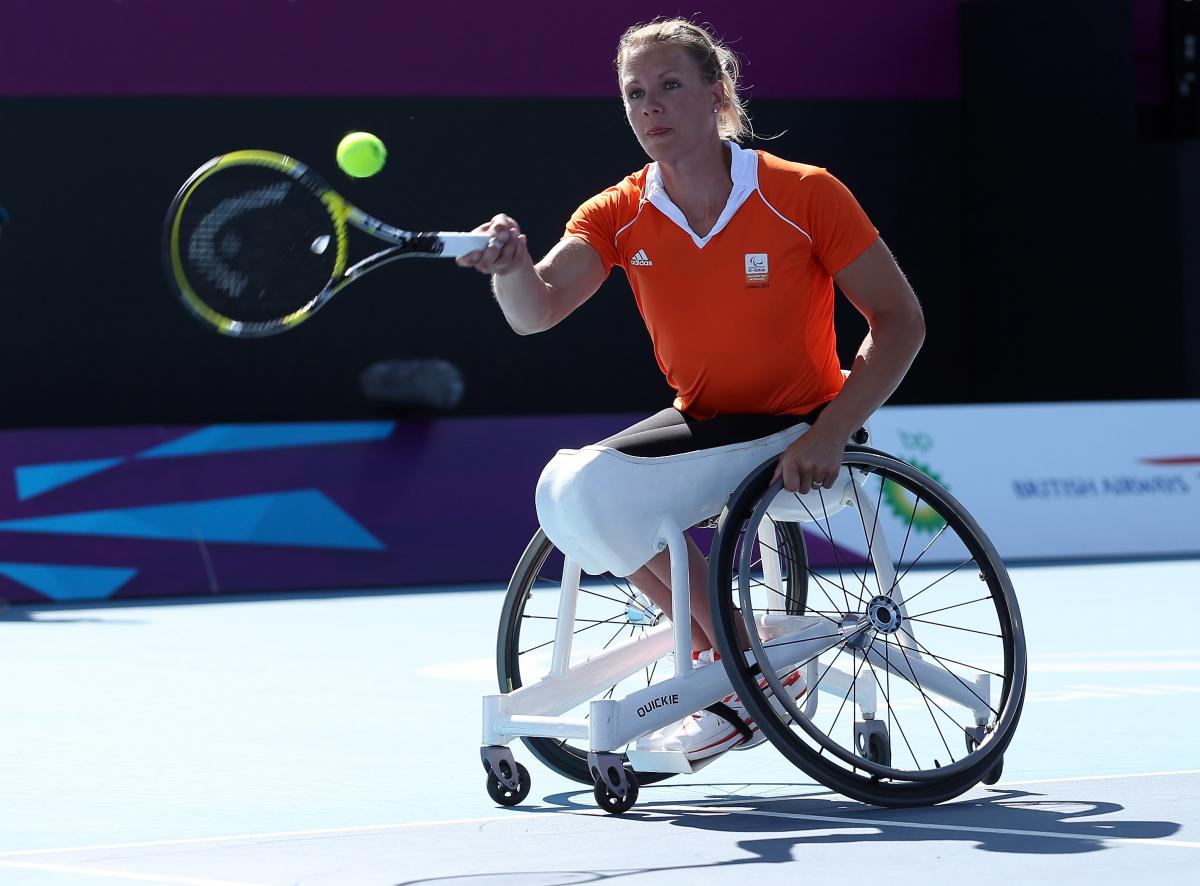 ⒸGetty Images
By IPC
"I am impressed I got this far."
Dutch wheelchair tennis star Esther Vergeer is celebrating 10 years without a defeat on the international wheelchair tennis circuit on Wednesday (30 January).
The London 2012 women's wheelchair tennis singles gold medallist, now 31, has won 470 consecutive matches since she was defeated by Australian Daniele di Toro in Sydney back on 30 January 2003.
Vergeer is currently taking part in a Johann Cruyff Foundation trip to South Africa to mark the 10th anniversary of the Cruyff Foundation's involvement in the Wheelchair Tennis Development Fund.
The week-long trip will include visits to ongoing projects in Elaansdorn and Johannesburg, as South Africa was one of the first countries to be supported by the Development Fund.
In the last 10 years, Vergeer has won a total of 120 successive tournaments, beaten 73 different opponents, won 95 matches by a score of 6-0, 6-0 and dropped only 18 sets of tennis. She has faced only one match point – against fellow Dutchwoman Korie Homan in the women's gold-medal match at the Beijing 2008 Games.
Only one professional athlete in sporting history is known to have a longer winning streak than Vergeer. Pakistan squash player Jahangir Khan won 555 consecutive matches, although he was only undefeated for five-and-a-half years (1981-86).
"I am impressed I got this far," Vergeer told in the ITF in a press release. "I sometimes still cannot believe that in all these years I did not have a breakdown. I am proud and I am going to celebrate. I am pleased to link it in with visiting South Africa to celebrate the ten years of the Wheelchair Tennis Development Fund with the Cruyff Foundation."
Vergeer has been playing wheelchair tennis since the age of 12 after surgery on her spinal cord went wrong. A former national standard wheelchair basketball player, she eventually made the decision to pursue tennis instead, and played her first tournament in 1994. Vergeer became world No. 1 for the first time in 1999 and has gone on to dominate the sport winning 169 titles. She has been named ITF Wheelchair World Champion for the last 13 years.
Related Images