Weir and Hug do not impress me, claims French rival Casoli
France's Julien Casoli has claimed that the T54 wheelchair races at this month's IPC Athletics European Championships will not be a straight two-horse race between Britain's David Weir and Switzerland's Marcel Hug and that his two rivals do not impress him.
01 Aug 2014
Imagen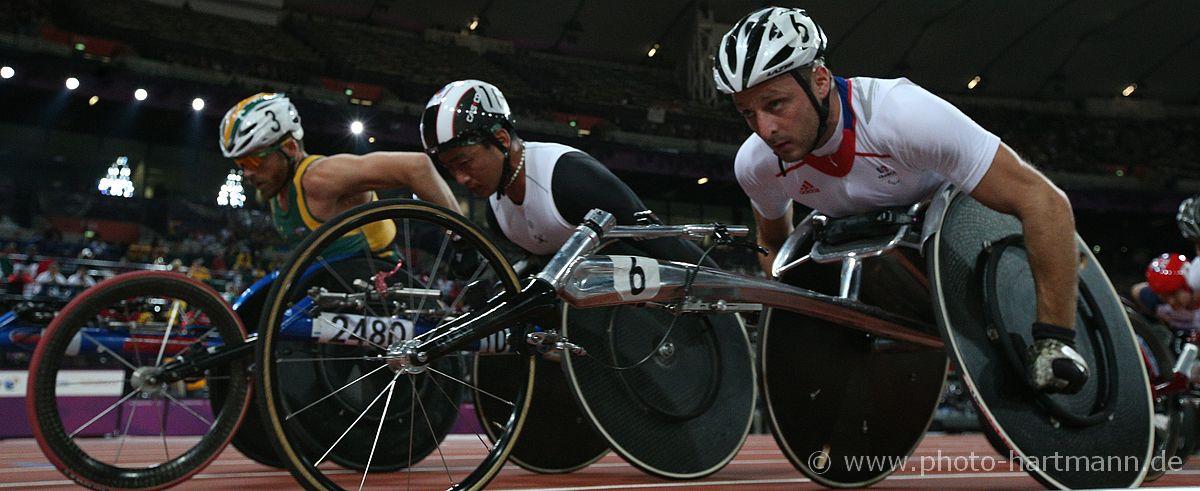 Ⓒ© Marcus Hartmann
By IPC
"After a difficult period for me I feel better and better. I'm pretty confident for the future especially on the long distance and the relay,"
The men's wheelchair T54 middle-distance races are set to be among the highlights of Swansea 2014 (18-23 August), with a host of world class stars lining up in the 400m, 800m, 1,500m and 5,000m.
And whilst four-time London 2012 Paralympic champion David Weir and Marcel Hug, winner of five world titles last year, may be the favourites in many peoples' eyes, Casoli does not see it quite like that.
"I know Marcel and David well, and I want to say that they do not impress me," said the 32-year-old Frenchman, who won bronze in the 5,000m T54 at London 2012. "I've already beaten them in meetings before the London Paralympic Games."
Indeed Casoli crossed the line ahead of Hug in that 5,000m race two years ago, but admits he was not at his best at the 2013 IPC Athletics World Championships in Lyon, France, failing to finish on the podium as Hug was the star of the show with his five golds.
This year however, Casoli believes he is back on track, ready to make his own headlines. He insists that not being at the top of the bill in Swansea could be to his advantage.
"We often put them as the two favourites, so they are testing themselves throughout the race. Is this an advantage for me? This may be, because the focus is on the two of them and they don't necessarily pay attention to me, so I can be the unexpected outsider," he said.
"My health problems prevented me to achieve my goals at the IPC World Championships in Lyon and during the last meetings. But I did a good race behind David Weir during the Meeting AREVA (in Paris in June)."
For his part, Hug also admits that, although he and Weir may be seen as the favourites, it would be foolish to dismiss the rest of the field.
"There are also some other good athletes who can win medals," said Hug. "It's so important that we don't ignore them. They are strong as well, especially Julien Casoli and Kenny van Weeghel, they could have a surprise. We have to keep an eye on them and be careful."
Casoli finished second behind Weir over 1,500m at that IAAF Diamond League in Paris – a race Hug was unable to contest after injuring his hand.
He also finished in fourth place in the 800m - just behind Hug and Weir - at the ParAthletics IPC Grand Prix in Nottwil back in May; there is no doubt there could be more to come from the Frenchman who won gold over 400m, 1,500m and 5,000m at the Handisport French Championships six weeks ago.
"It's really encouraging for the future, with my current preparation to be even better tactically. I am also very pleased that the European level is getting better and better each year.
"After a difficult period for me I feel better and better. I'm pretty confident for the future especially on the long distance and the relay," added the man who was also part of France's 4x400m T53/54 bronze medal-winning relay team at the 2012 Games.
So, while most neutral observers may still believe the battle for gold is between two great para-athletes in Weir and Hug, Casoli's fighting talk should ensure that the T54 races in Swansea are something to remember.
Casoli is one of 560 athletes from 39 countries competing at the Swansea 2014 IPC Athletics European Championships between 18-23 August.
Tickets for the event at Swansea University are now on-sale and can be purchased via the Swansea ticket website. Prices start from £3 per session.