World Para Powerlifting and Eleiko optimise training and competition experience
Para powerlifting becomes first strength sport to use new technology to improve performance analysis via barbell sensors
05 Jan 2021
Imagen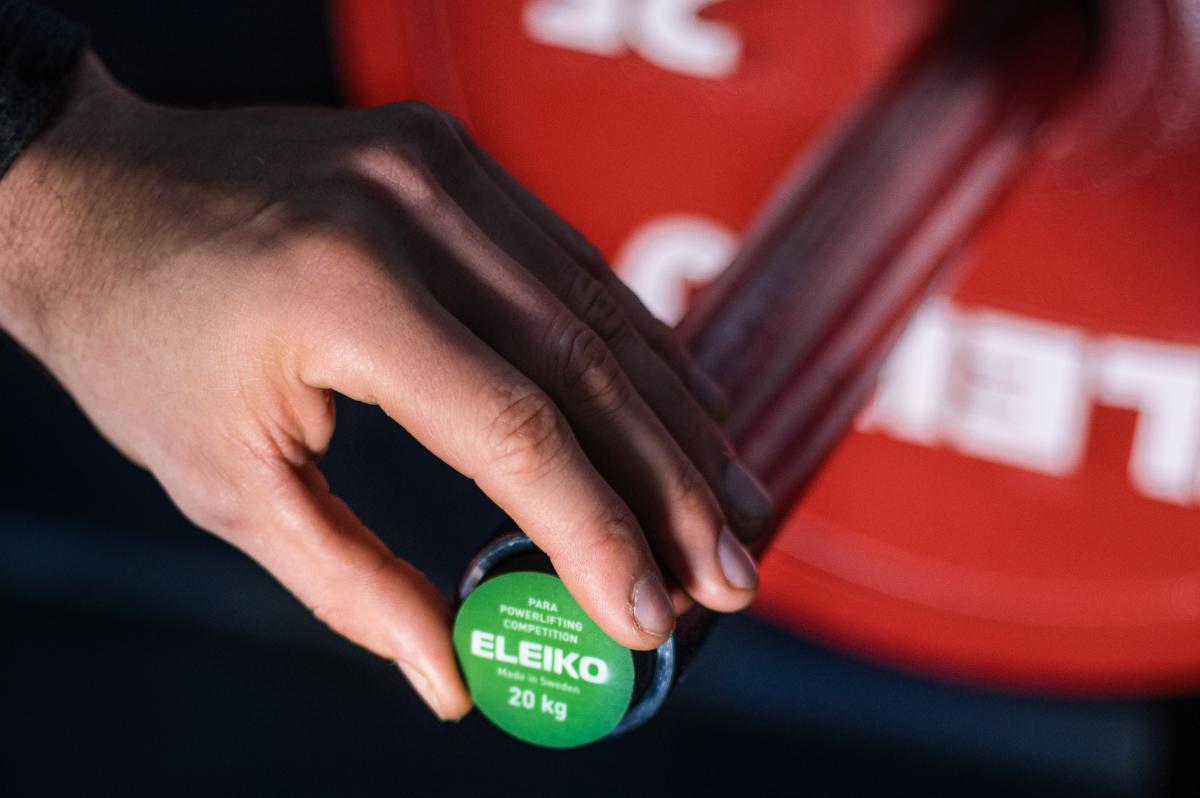 ⒸEleiko
By Eleiko and World Para Powerlifting
World Para Powerlifting (WPPO) and Eleiko joined forces to change the way athletes train and compete by integrating lift analysis technology into certified Eleiko WPPO Powerlifting Competition Bars. Eleiko reengineered its WPPO Competition Powerlifting Bar with a patent pending update to the sleeve construction to house custom-designed velocity sensors. 
Eleiko collaborated with Vmaxpro, the leading velocity strength training technology provider, to create a new sensor designed specifically for seamless integration into the Eleiko WPPO Bar. With or without the sensor inserted, the bar retains its precise certified weight calibration.
Integrating the new sensors into Eleiko bars gives athletes accurate data without the distraction of external measurement solutions that could negatively impact lifting routines and performance. Doubling up on the sensors gives extremely accurate data helping athletes maximise their potential.
This collaboration is an important shift for athletes and the sport of Para powerlifting. World Para Powerlifting is the first strength federation to bring technology and data measurement elements to their sport. It is an enhancement for athletes and coaches in training and preparation and will also fundamentally shift the experience for spectators and fans of the sport as well.  
Tracking training metrics, recovery, and nutrition continue to grow in importance for professional and everyday athletes alike. This integrated sensor solution brings measurability and data analysis for performance optimization to strength training in a new way. 
Athletes can see real-time output via the user-friendly Vmaxpro app; they are provided with accurate, detailed lift and movement analysis as well as recommendations for loads based on readiness and velocity measures. Dual sensors give in-depth information about each lift including bar path, rotation and inclination, and power or velocity for every moment of a lift.
The data can be synced to video footage to give athletes and coaches incredible insight into every moment of the lift. Athletes and coaches can view and track 16 different metrics, and tailor the dashboard to their needs.  
"We continually explore how to innovate our products to support athletes in achieving their strongest performances," said Erik Blomberg, Eleiko CEO. "With this project, we are excited to both collaborate with our long time partners at the World Para Powerlifting to help shape the future of strength sports, but also push the boundaries for technology integration with free weight equipment incorporating highly accurate lift analytics capabilities into our product."
World Para Powerlifting is the first federation in strength to bring live data streaming to the competition stage, driving forward the way Para powerlifting fans can experience, engage with, and enjoy the sport. With this technology, competition organizing committees can include metrics and data analysis, beyond the weight on the bar, as an added element to the competition experience.
"We have been working with this project since 2016 and we are really honoured to announce World Para Powerlifting as the first federation to be integrating the new Eleiko technology into training and competition," said Jorge Moreno, Head of World Para Powerlifting.
"As a high-performance sport, we want to be at the forefront of innovation and we are always looking at bringing new opportunities and tools to our athletes and members. We will now continue to work with Eleiko to further apply the new technology into our events," Moreno said.
Eleiko WPPO Competition Bars manufactured after September 2020 will be compatible with the Vmaxpro Eleiko Bar Sensors. Athletes can verify compatibility by referring to the bar serial number. The first part of any Eleiko bar serial number is the date of manufacture (YYMMDD), any WPPO bar stamped with a serial number date after 200921 is sensor compatible. 
Athletes can choose to buy a complete set of a WPPO Powerlifting Competition Bar with a Vamxpro Eleiko Bar Sensor Kit or start with the WPPO Bar and add the Vmaxpro Eleiko Bar Sensor Kit in the future. The Vmaxpro Eleiko Bar Sensor Kit includes two magnetic Vmaxpro Sensors designed specifically to fit into the Eleiko bar sleeve, an Eleiko sensor key, 2 USB charging cables, along with some spare parts, tools, and instructions. 
Learn more at Eleiko.com.
About Eleiko
For over 60 years, Eleiko has been a worldwide leader within international weightlifting, powerlifting and strength & conditioning communities. Eleiko is uniquely certified by the IWF, IPF and World Para Powerlifting federations. Eleiko products have been delivered to more than 180 countries and are often seen at the world's largest championships and in the most respected strength training facilities. More than 1,000 world records have been set with an Eleiko barbell. With quality, innovation and customer service as guiding principles, Eleiko is the leading provider of best in class strength equipment. 
About Vmaxpro
Vmaxpro aims to digitalise and optimise strength training for athletes of all sports. Vmaxpro engineer reliable and accurate sensors to gather a variety of movement metrics. The sensors, in combination with purposefully crafted apps, bring realtime feedback, load recommendations and powerful analysis directly to the weight room. Vmaxpro already supports over ten thousand athletes all over the world. Vmaxpro believe in the potential of strength training and want to make it more accessible and enhance it even further with our solutions.