World record for Asmahane Boudjadar on day three in Dubai
Records continue to be broken on the third day of track and field at the IPC Athletics Grand Prix in Dubai, UAE.
20 Mar 2016
Imagen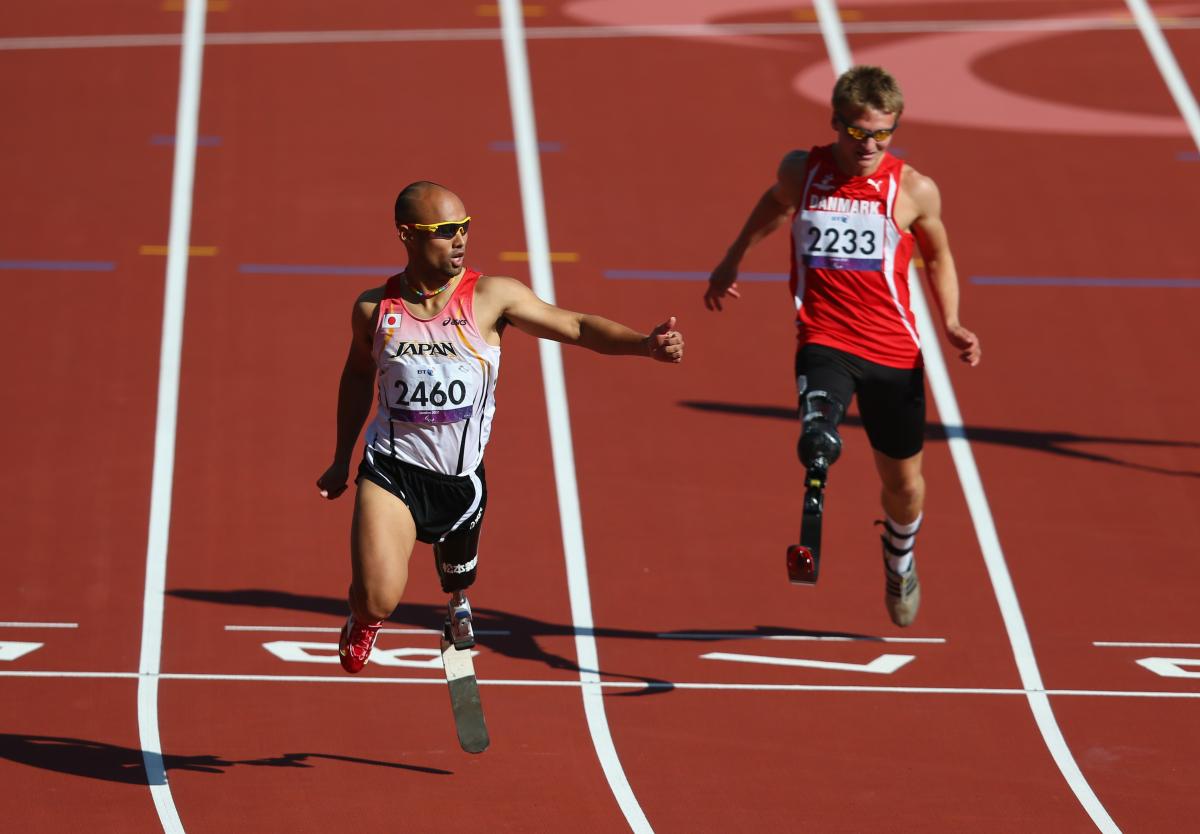 ⒸGetty Images
By IPC
Algeria's Asmahane Boudjadar smashed the world record in the women's javelin (F33/34), while regional records continued to fall on Saturday (19 March), the third day of competition at the 8th Fazza IPC Athletics Grand Prix in Dubai, United Arab Emirates.
A throw of 11.99m (859 points) was all it took for Boudjadar (F33) to take the win at the Dubai Police Officer's Club stadium, as she added 48cm on to the mark she set in Tunisia 12 months ago.
Germany's Frances Hermann (F34) had to settle for second place as Greek thrower Anthi Liagkou added nearly 1m on to her F33 European record with 11.26m (789 points) to finish in third place.
The javelin F52/53 was won by Greece's F53 thrower Dimitra Korokida (10.24m). Iran's Zahra Kiani Haft Lang set a new Asian record with a throw of 9.73m (755 points) to take silver.
Switzerland's Marcel Hug continued to perform on the track, as he finished fastest in the men's 800m T54 finals. The world bronze medallist clocked 1:36.43 over two laps to add to his victories over 1,500m and 5,000m.
Bojan Mitic (T34) was another Swiss racer who has already won in Dubai this week, and he did it again on Saturday, finishing well clear of the field in the men's 800m T33/34 (1:52.37). Great Britain's T33 racer Andrew Small clocked 2:28.43 – a new European record – to finish in fourth place.
Spain's former multiple world champion Santiago Sanz (T52) took the tape in the men's 800m T51/52 (2:13.45), and French European champion Pierre Fairbank won the men's 800m T53 (1:43.39).
The women's 800m T34 was won by Australia's Rosemary Little (2:08.40). Switzerland's Catherine Debrunner took the 800m T53 (1:56.73), and Dutch wheelchair racer Margriet van den Broek finished first in the 800m T54 (2:00.90).
Fastest in the men's 200m T11 finals was Sakhatov Miran from Uzbekistan (24.37), while in the 200m T12 Azerbaijan's Elmir Jabrayilov came out on top (23.25).
Great Britain's Zachary Shaw raced to the line to win the 200m T13 (23.10); Saudi Arabia's Asaad Sharaheli finished well clear of his rivals in the 200m T20 (23.66), and Kazakhstan's Sergey Kharlamov (T36) won the 200m T35/36 (28.47).
There were wins too for Algeria's Sofiane Hamdi in the 200m T37 (24.30), Egypt's Shahin Elsayed Abdelhalim in the 200m T38 (24.73), Russia's Petr Mikhalkov in the 200m T42/44 (24.54) and his compatriot Vadim Trunov (T47) in the 200m T46/47 (23.72).
In the women's sprints, Russia's Elena Tretiakova (T37) raced home to win the 200m T37/38/44 (31.02); her compatriot Anastasia Soloveva (T47) finished fastest in the 200m T46/47 (26.69).
Azerbaijan's Elena Chebanu (T12) was fastest in the 200m T11/12 (24.66), and Morocco's Sanaa Benhama won the 200m T13 (26.20).
Germany's Claudia Nicoleitzik won the 200m T35/36 (31.12) one day after breaking the long jump T36 world record.
Field events
World long jump T42 champion Atsushi Yamamoto notched another Grand Prix win with victory in the Middle East.
The Japanese won in Canberra, Australia, in February. He was on form again with a fifth round leap of 6.35m, just 1cm shy of the Asian record he equalled last month.
Dutch world silver medallist Ronald Hertog came out on top in the men's long jump T44 thanks to his opening leap of 7.23m.
Dimitrios Zisdis saw off a tough field to win the men's shot put F32. The Greek's third round effort of 8.45m secured the win ahead of Algerians Karim Betina and Lahouari Bahlaz, who finished second and third respectively. Meanwhile there was a new Asian record for fourth placed Nasser Mohammad of Kuwait as he managed a best of 7.89m.
There was an African record too for Algeria's Paralympic champion Kamel Kardjena, who threw 10.91m to take gold in the shot put F33; Germany's world bronze medallist Daniel Scheil finished second.
Greece's Efstratios Nikolaidis (F20) twice threw 14.94m (941 points) to top the podium in the shot put F11/12/13/20. Azerbaijan's Rufat Rafiyev (F36) showed similar consistency in the shot put F35/36, as he managed 13.62m and 13.63m (953 points) on his way to securing his win.
Iran took the top two spots in the men's discus throw F53, as Mohammad Hossein Firoozi led the way with a best of 15.81m. That was 43cm farther than his countryman Asadollah Azimi. Success for the Middle Eastern country continued as Hassan Sadeghi won the discus throw F55 (32.97m).
Egypt's Ibrahim Ibahim took gold in the discus throw F56 (39.80m), and Azerbaijan's Samir Nabiyev won the discus throw F57 thanks to an opening round effort of 43.54m.
There was a new Americas record for Columbia's Luis Fernando (F38) in the men's javelin F35/36/37/38 ; he added 1.62m on to the previous mark with a winning throw of 43.39m (873 points).
India's Rishi Kant Sharma (F12) threw 53.64m (817 points) in the javelin F11/12/13 for the win, and teammate Sundar Singh Gujjar (F46) recorded 59.36m in the javelin F46/47.
Just 1cm separated first and second in the women's long jump T11/12, as Belarusian Anna Kaniuk (T12) leapt 5.46m (764 points) to seal the win ahead of Algeria's Lynda Hamri (T12); Sweden's Stephanie Ydstrom (T20) saved her best until last with 4.98m (756 points) to take gold in the long jump T13/20, adding to her win in the 200m T20 (28.52).
The 8th Fazza IPC Athletics Grand Prix concludes on Sunday (20 March) with the final day of competition. The series then heads to Tunisia next week (24-26 March) for the third Grand Prix of 2016.