World's best lifters prepare for Asian Open
A host of world and Paralympic champions have arrived in Almaty for the 2015 IPC Powerlifting Asian Open Championships which get underway on 26 July.
24 Jul 2015
Imagen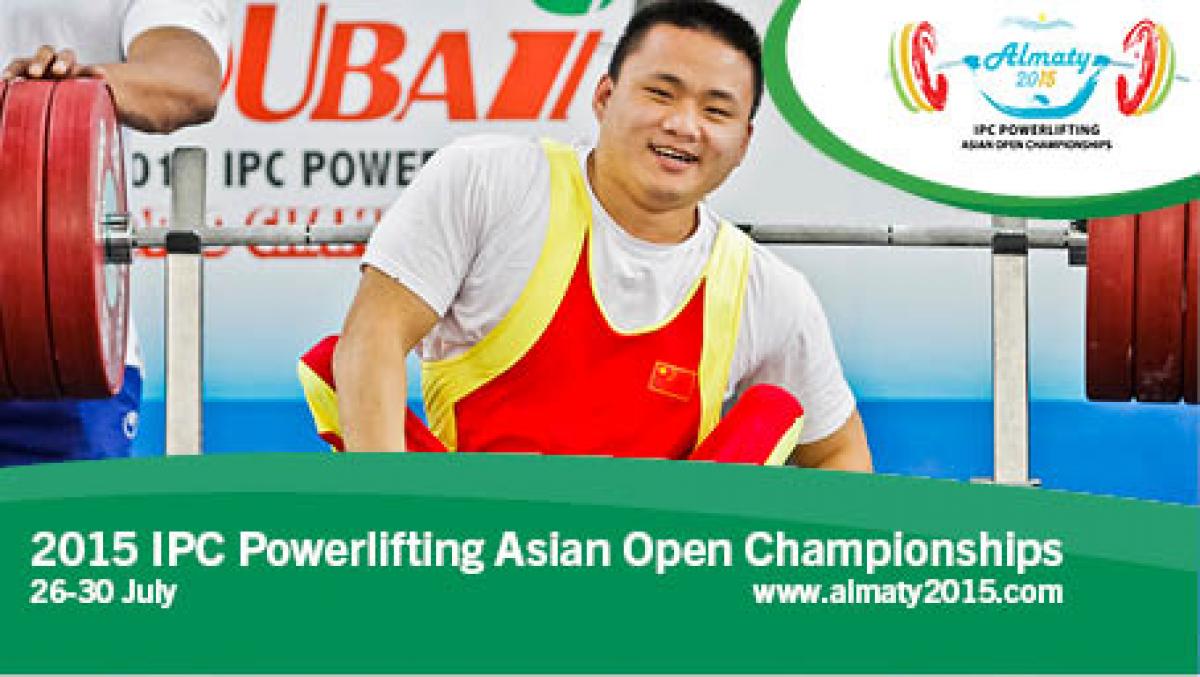 ⒸIPC Powerlifting
By IPC
A raft of Asian, world and Paralympic champions have arrived in Almaty, Kazakhstan, for the 2015 IPC Powerlifting Asian Open Championships which begin on Sunday (26 July).
More than 220 athletes from 32 countries have made the journey to Almaty, making it one of the biggest Asian Championships ever.
All five days of competition will be streamed live at www.Almaty2015.com.
Headlining the event is the world's strongest Paralympian Siamand Rahman of Iran, who currently holds the world record in the men's over 107kg with a 292kg mark.
Rahman has vowed to bench, and even exceed, 300kg in his career, and could make his way towards that on the final day of competition on 30 July.
"After regular training and benefitting from full readiness, I try to keep world record in my hands," the 27-year-old said. "I fully enjoy competitions physically and spiritually and I am in high spirits. I achieved this by tough training."
Since winning gold at the 2013 Asian Open in Kuala Lumpur, Malaysia, in the men's up to 49kg with a new world record, Nigeria's Yakubu Adesokan added 5kg onto his best at the 2014 World Championships in Dubai, UAE.
But that world record was taken by Vietnam's van Cong Le at the Incheon 2014 Asian Para Games in October, setting up a perfect rivalry for Almaty 2015.
In the women's up to 55kg, Iraq's Zahra Al Maliki has moved up a weight category since stunning the crowds at Kuala Lumpur 2013. At just 16-years-old Al Maliki won gold with a new Asian record in the up to 50kg, despite being a junior.
That category move leaves the way clear for Kazakhstan's own Kabira Askarova, who won silver in 2013, to dominate the lower weight class.
The Chinese are entering a strong field of multiple world and Paralympic champions, including Lei Liu in the men's up to 65kg, Xiao Fei Gu in the men's up to 80kg and Yujiao Tan in the women's up to 67kg.
Both Gu and Tan are the current world title and record holders, whilst Dubai 2014 gold medallist Liu will face Iraqi world record holder Rasool Mohsin.
Other highlights include a four-way clash in the men's up to 107kg, led by Greek world champion and world record holder Pavlos Mamalos.
At Dubai 2014, Mamalos topped the podium after pushing an impressive 240kg to beat Iran's Ali Sadeghzadehsalmani and Azerbaijani Elshan Heseynov.
China's Pingguang Tian is also in Almaty aiming to retain or improve on his Open bronze medal from 2013 in the category.
The Almaty 2015 IPC Powerlifting Asian Open Championships will take place from 26-30 July.
Live results will be available at Almaty2015.com and updates and news published at IPC Powerlifting Facebook and Powerlifting Twitter.
Following Almaty 2015, powerlifters will head to the IPC Powerlifting European Open Championships in Eger, Hungary, from 24-28 November.