A year like no other in Para snow sports
From history-making events to red carpets and dancefloors, here is a lookback at the most memorable moments of 2020
22 Dec 2020
Imagen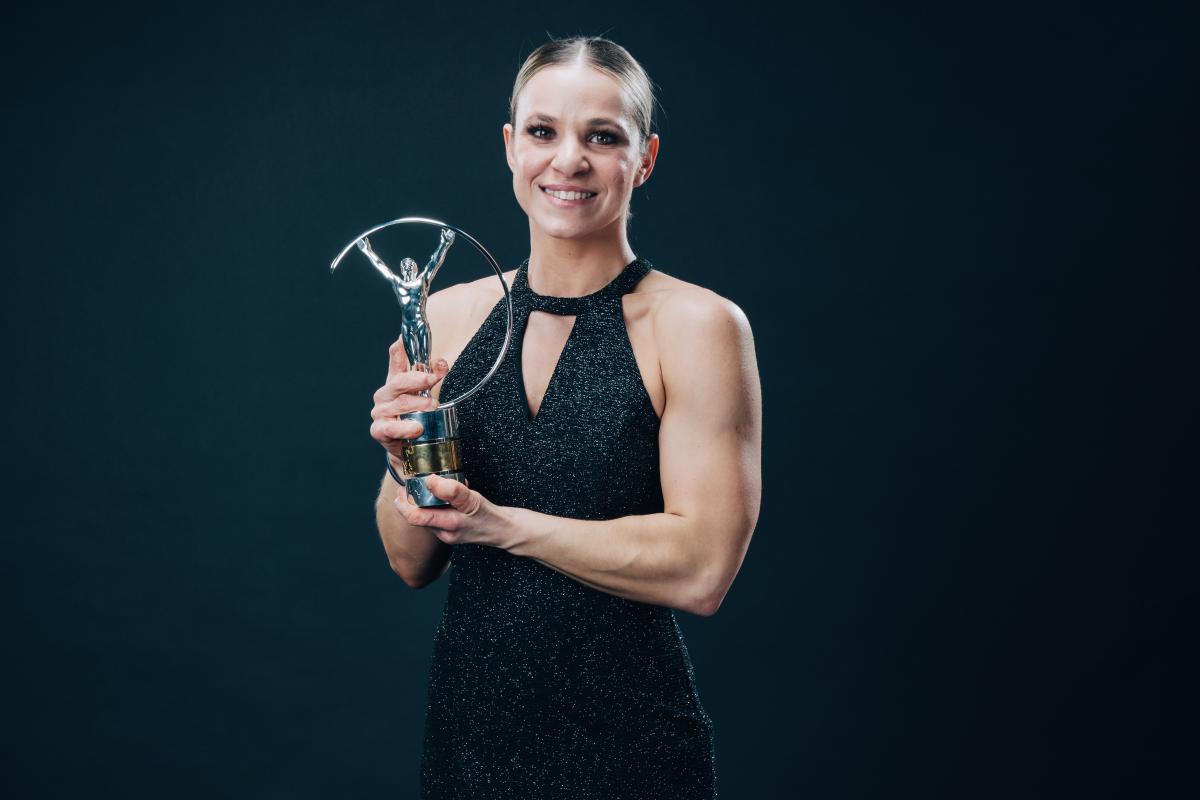 ⒸGetty Images
By Lena Smirnova | For World Para Snow Sports
From disrupted races to prime time performances, 2020 was a year like no other for World Para Snow Sports.  
As another year dawns, we whirl through the memories made on the slopes, red carpets, dance floors and the most ingenious home gyms to count down the Top 10 moments of 2020. 
1. Making history
The year started off with a bang as Dresden, Germany hosted the first ever World Cup where FIS and World Para Nordic Skiing shared the same venue, opening new possibilities for the future of the sport. 
Hundreds of spectators came out to watch the FIS race followed by the Para cross-country sprint as a magnificent sunset lit up the city skyline.
2. And the Laureus goes to... 
Para Nordic champion Oksana Masters ruled the red carpet at the 2020 Laureus World Sports Awards where she was recognised as the Sportsperson of the Year with a Disability. 
Her incredible medal haul in 2019 included five gold medals at the World Para Nordic Skiing Championships and two silvers at the Para Cycling Road World Championships.
"To any girl or boy, no matter what age, if you guys look different or think you look different, never let society determine what you see when you look in the mirror or the preconceived notions of what they think is possible," Masters said upon receiving her statuette. 
3. Skiing lessons in Russia
French Para alpine skier Manoel Bourdenx created life-long memories for eight-year-old Nastya Gatsulenko when he gave the local girl a skiing lesson after his World Cup races in Juzhno-Sakhalinsk, Russia. 
Bourdenx met Nastya, a person of short stature, during a visit to a children's rehabilitation centre. When he found out that she shares his love for skiing, the athlete invited her for a whirl on the slopes, earning a chocolate bar, some nesting dolls and an outpour of gratitude as a result.
"Our hearts are filled with warmth," said Nastya's mother, Lyudmila Gatsulenko. "This day will stay in our memory forever."
4. Two is better than one
Para Nordic was not the only sport to mix things up during the 2019-20 season. World Para Snowboard also made a bold move and tried out a new dual banked slalom format at the World Cup in La Molina, Spain where athletes went head-to-head on a perfectly symmetrical course.
Another dual event was held the following week at the World Cup finals in Hafjell, Norway. 
The reviews from athletes were unanimous - the new format was a big hit. Even coaches could not resist dropping into the dual track in Hafjell and racing each other.
5. Crystal glow 
While the 2019-20 World Para Snow Sports season ended abruptly due to the escalating pandemic, the virus did not stop athletes from collecting their Crystal Globes.
Norwegian sit skier Jesper Pedersen won his third consecutive overall Crystal Globe and also swept the Globes in all the alpine disciplines. Dutch power couple Chris Vos and Lisa Bunschoten defended their overall Crystal Globes in Para snowboard, while Russian Para Nordic skiers finished the season with an impressive six trophies.
It was also a year of national firsts. Mihaita Papara made history for Romania, becoming the country's first Para snowboarder to win a World Cup medal, while Brazil's Cristian Ribera became the best ever Para Nordic skier from South America when he came second overall in the cross-country rankings - up from 13th place the year before. 
In Para Alpine, all eyes were on China as the athletes who were just learning to ski three years ago finished January's World Cup races with six gold, nine silver and three bronze medals. 
6. From snow to scrubs
The closure of ski resorts was the start of an extended break for many athletes, but not for USA rider Brittani Coury. A registered nurse by profession, the Paralympic silver medallist changed into her nursing gear and worked on the frontlines throughout the long months of the pandemic. 
"In times like these if you have a degree, especially in health care, and you don't put it to use and you don't go out there and help, I feel like that's such a huge disservice," Coury said. "I don't think I could live with myself if I just stayed home."
7. Home gym heroes
As the world went into lockdown, athletes got creative about their workouts.
Australia's Sam Tait did pull ups in his garage while strapped into a wheelchair. Iran's Sadegh Kalhor turned alpine skis into dumbbells and Russia's Akzhana Abdikarimova exercised with books. 
The lucky athletes with backyards made the most of these spaces. Dutch skier Jeffrey Stuut attached himself to garden furniture using rubber ropes, Italy's Giacomo Bertagnolli walked on a tightrope, while fellow alpine skiers France's Oscar Burnham, Slovakia's Martin France and Austria's Simon Wallner built entire obstacle courses in their yards. 
Separated from their teammates, the athletes also recruited new exercise buddies. Canada's Sarah Anne Cormier and Austria's Carina Edlinger exercised with their dogs, while Russia's Alexander Alyabyev and Czech Republic's Patrik Hetmer bench pressed their young daughters.
8. Dancing queen
Para Nordic and Para rowing dynamo Birgit Skarstein lit up the dance floor this fall as the first wheelchair dancer in the 16 seasons of Norway's Skal Vi Danse.
Dazzling audiences with their waltz and tango - as well as backflips and ceiling suspensions - Skarstein and her dance partner Philip Raabe were among the top three couples for seven weeks and the first to get a perfect score this season.
"Every week that has passed, more and more people have stepped up and supported us," Skarstein said. "We proved that what matters is not the disability, it is the ability and the person who we are and the work that we do."
9. Breaking taboos
Argentina's Para alpine sit skier Enrique Plantey and his girlfriend Triana Serfaty started a big conversation on a little talked about topic - sex and disability.
They plan to publish a guide called Sexistimos next year, which will feature practical advice and stories of real-life couples with impairments. Plantey and Serfaty also launched a Sexistimos Instagram account at the start of October, which now has almost 6,000 followers.
"A lot of people are writing, 'Thank you for this space because I have a lot of questions and I don't know how to talk about them'," Plantey said. "It's not easy because we are talking about our private life, but it's really necessary and we feel good about that because we know that we are helping a lot of people."
10. Documentary blitz  
World Para Snow Sports made it to the big screen in 2020 as two documentaries about Spanish athletes screened at film festivals with great reviews. 
Blindfold / Sin Limite, a documentary by Daniel Fernandez-Canadas about the 17-year-long partnership between Jon Santacana and his guide Miguel Galindo, won the Best Cinema Award at the Rotterdam Sports Film Festival. The Para alpine pair have six Paralympic medals in the vision impaired class, including two gold.
Another documentary, Astrid, will be featured at film festivals around the world in the coming months and broadcast on Catalonia's TV3 channel during prime time. Directed by Marc Galver, the film chronicles the life of Astrid Fina Paredes who became the first Spanish woman to win a medal - a bronze - in Para snowboard at the Paralympic Games.