Zsuzsanna Krajnyak keen to end gold draught
'At Tokyo2020 I want to show the best of myself, I want to win,' says Hungarian wheelchair fencer
17 Oct 2019
Imagen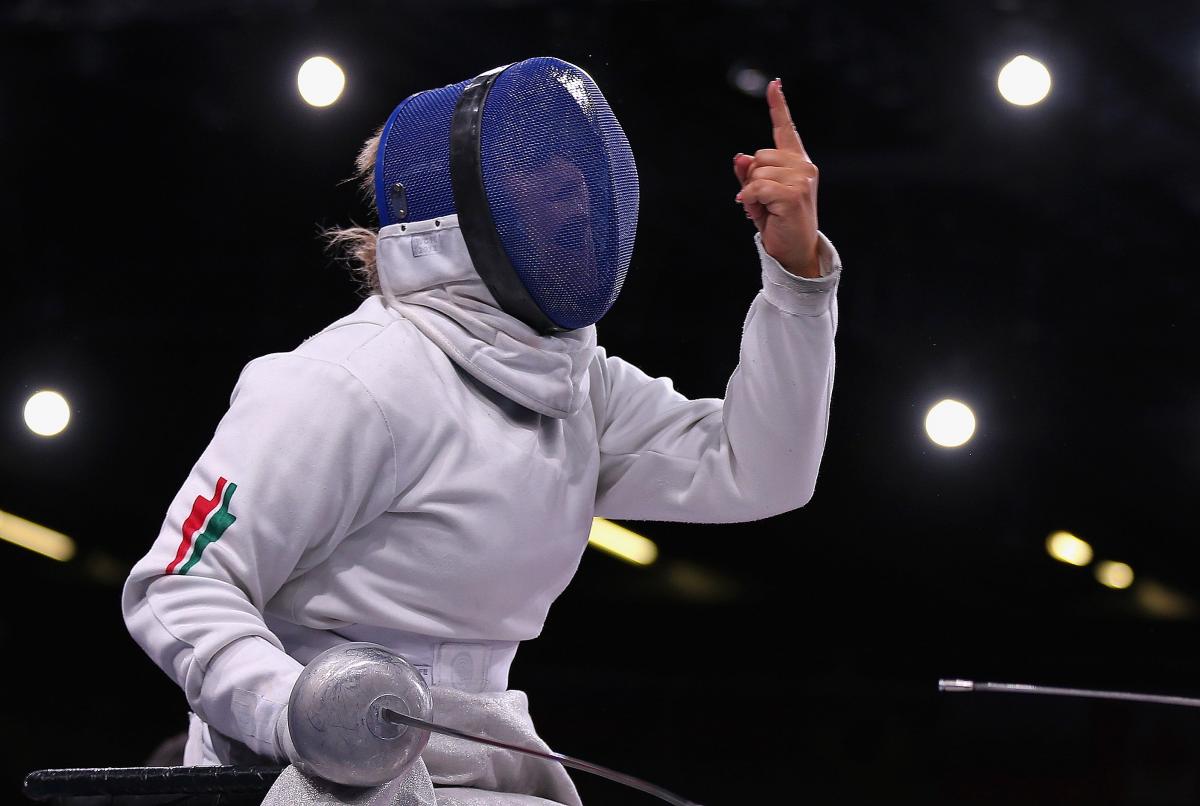 ⒸGetty Images
By Amp Media | For the IPC
'A fighter, technical and mentally strong' - That's how Zsuzsanna Krajnyak of Hungary  describes herself as a wheelchair fencer. At Tokyo2020 she has one last void to fill on her impressive list of honour.
 The multiple world champion made her Paralympic debut at the Sydney 2000 Games and won eleven medals since. At the Cheonju 2019 World Championships she grabbed team gold with Hungary in foil, but Krajnyak is still aiming at the one medal she never won - Paralympic gold.
 "At Tokyo2020 I want to show the best of myself, I want to win," said a confident Krajnyak.
 Asked about the most special prizes she's won in a career that encompasses twenty odd years, Krajnyak reveals that all her achievements are dear.
 "All my Paralympic medals are special, but winning the world titles in both epee and foil in Rome 2017 was very emotional too."
 At the 2019 World Championships in Cheonju, Korea, Krajnyak was not able to retain her individual titles, claiming only bronze in the individual epee category A, but she was extremely happy to play a part in Hungary's foil team gold.
 The women's 'A' category foil and epee events in Cheonju were won by Rong Jing and Bian Jing of china respectively.
 "The Chinese fencers are the ones to beat," says Krajnyak adding, "There are so many high class Chinese ladies at the moment."
 Over the past decade Krajnyak's main rival has been Yu Chui Yee of Hong Kong.
 "We both won eleven Paralympic medals, the most of all the active wheelchair fencers around," Krajnyak sporting a smile.
 When she set her first steps on the international stage, Krajnyak looked up to Jadwiga Polasik of Poland and Frenchwoman Patricia Picot, who won gold at the 2000 Sydney Paralympics in epee and foil respectively.
 "They were the standard back then. A lot of different opponents have come by over the years, each of them offering a new challenge."
 Krajnyak has developed her technique and tactics, but she thinks the mental side is most important in fencing.
 "Take for example my quarter final bout versus Iuliia Maya (RUS) [in the women's A epee competition in at Cheonju 2019]. We had only nine seconds left on the clock and I was three points down.
 "I needed to make the hits quickly. It all came down to my faith. I knew that I could make it and I won 10-9. That was a mental victory."
 It was exactly that side of the sport, which attracted Krajnyak to fencing.
"It's an individual sport, you're all alone on the piste. I'm the only one who really knows how much work I put in. Out there, I can only rely on myself."
Krajnyak, who was born with a malformation of her left leg, started doing sports at age six.
"I was an active kid and I started out as a swimmer. I trained with able-bodied kids and never really felt different.
"Because school took up too much time and I had to give up swimming. But I soon realised that I could not live without sport and then I was invited to a fencing training, which I liked immediately."
 At first Krajnyak trained with able-bodied fencers, but soon she discovered wheelchair fencing, in which she was able to compete at top level.
 "After my first competition I knew that this was my place to be. I felt whole on the piste, this was the place where I could really be myself."
Apart from winning in Tokyo, Krajnyak doesn't have any plans for now, but she does want to stay involved with fencing one way or another once she hangs her boots.
 "I already work with children at my fencing club and I want to continue working as a coach after my active days as a wheelchair fencer are over. I don't know when that time will come. I focus on Tokyo first."