Star of viral basketball video delighted to help change perceptions with amazing shot
Blind schoolgirl Jules Hoogland thrills online millions by coolly slotting a free throw
07 Jul 2022
Imagen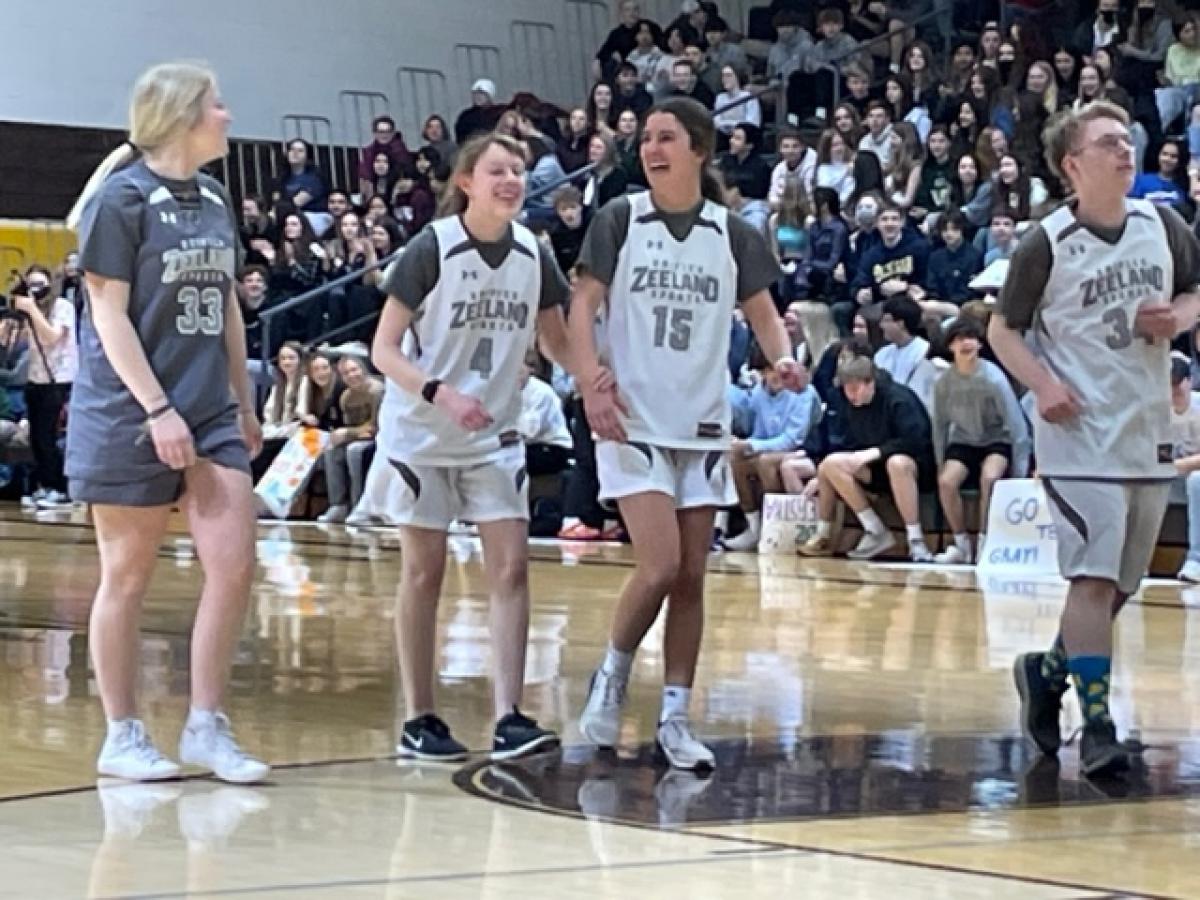 ⒸJules Hoogland
By AMP Media I For PARA SPORT
One minute Jules Hoogland was quietly preparing for her final basketball game of a long school year. The next thing, the 17-year-old was fielding media interview requests from all over the world, being deluged with fan mail and coming to terms with the fact she is an internet sensation. 
"It's been interesting. I wasn't expecting any of this. It's been really fun but it's also been one of those things where I am just thrown into all these different things," Hoogland said, smiling as she reflected on a "crazy" few weeks. 
It all started when the Zeeland East High School pupil stepped on to the court for the second time during a Unified Sports game against Zeeland West High in Michigan, USA. She was quickly awarded a free throw and spectators in the packed gymnasium fell silent as she lined up the shot, aware that the entirely blind Hoogland needed to hear the backboard being tapped with a pole as a cue to indicate where to aim.
The crowd were not silent for long, all 2,500 of them rising in acclaim as the 11th grader jumped to send the ball sailing into the middle of the basket. 
The reaction of Hoogland's mother said it all. 
"She was at work and she was looking at her Facebook and she was saw a video of the team was going viral and then she realised it was of me and she got all excited," Hoogland said. 
"She then told me, 'I can't stop watching it and every time I watch it I cry'."
Shot to fame
Mrs Hoogland is not the only one. The footage, uploaded by city schools officials, has to date registered more than 3.9 million views and that exposure, for Jules, is huge in so many ways. 
"It's been really great to have it go around the world because it's shown a lot of people that blind people aren't just blind. They are human and they can do everything that sighted people can do, just with some adaptations," Hoogland said.
"Just because they are blind doesn't mean they can't play sports or do other stuff that sighted people can do. It's been really awesome to educate people in that way, especially with basketball." 
As for how she was able to pull off the amazing shot, her explanation is prosaic. 
"It's a lot of trial and error. It's very different for me as a blind person to shoot. For everyone else they can glance at where the hoop is, but I have to learn how to hold the ball and then I have to learn how far away the hoop is and then I have to learn the height, how tall the hoop is. And then once I get all that down I have to try and get it in." 
Hoops and friendships
A two-week break from training ahead of the inter-school game in March only complicated matters for Hoogland, who has been fully blind since the age of three after being born with retinopathy of prematurity, which is caused by abnormal blood vessel growth in the eyes of premature infants.
If she is not doing something "most days" she is liable to forget key details. In this case it meant her pre-game shooting practice had been "terrible" with the youngster unable to sink a single attempt. 
Thankfully, she had Ally Guffey on hand, her on-court helper and one of her best friends. Guffey calmed her down, reminded her to take encouragement from her religious faith and the rest is internet history. 
The close relationship the pair have built – "it all started when she would walk with me to classes," Hoogland recalled – reflects a strong "community feel" at the twinned Zeeland high schools. The Unified Sports teams are made up of students both with and without impairments. Partnerships, as in Hoogland's and Guffey's case, often extend into the classrooms. 
It is a model for schools that the inspirational video's star is keen to commend to her new global audience. As for her, she has no idea what the future holds and that is just fine. 
"I don't even know if I want to go to college or not," said Hoogland who is also a keen skier, cyclist and pianist. "I am just living my best life and figuring it out."