Mile Stojkoski: Go beyond the limits of your body with the power of your will
As Mile Stojkoski continues his journey, his manager Vladimir Pandovski writes about the passage through southern France on the way to Switzerland
23 May 2012
Imagen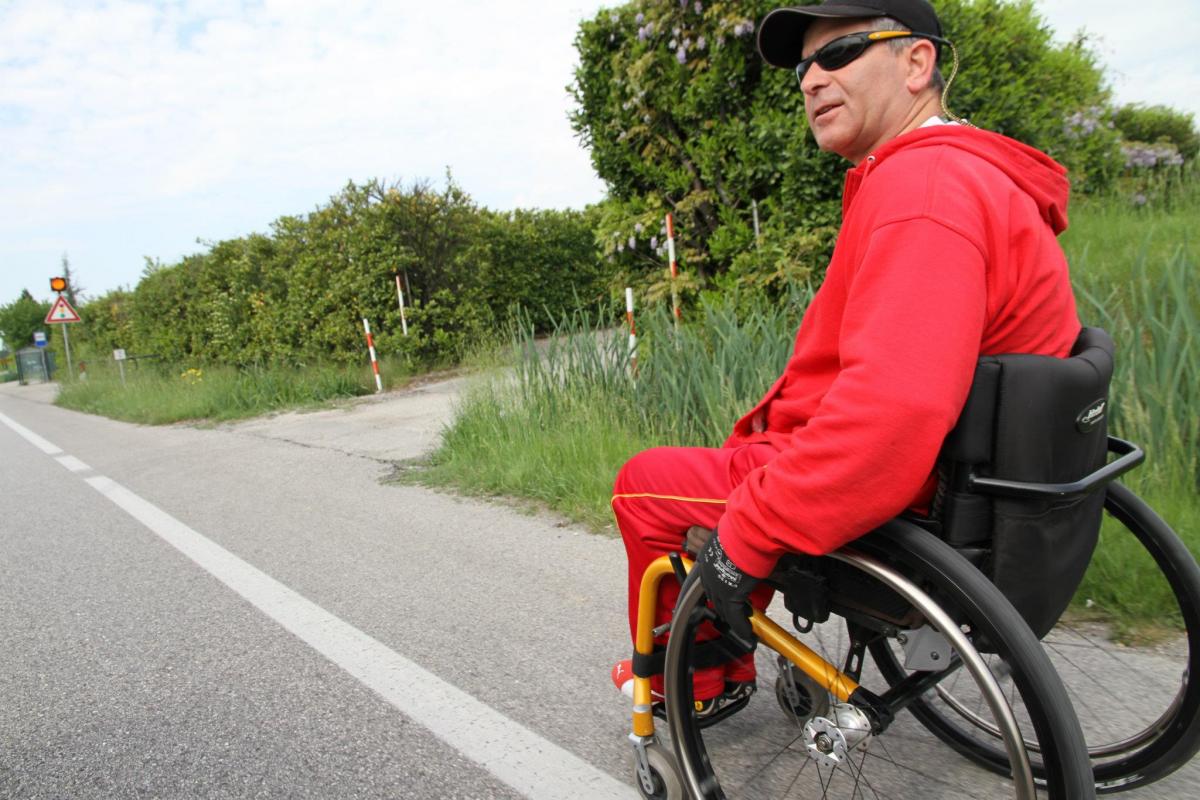 ⒸMile Stojkoski
By Vladimir Pandovski
"The spirit of the Olympic and Paralympic games is to go beyond the limits of your body"
Crossing from Bardonecchia, Italy, to the French side of the Alps is done through one tunnel at Frejus. This small tunnel is a 13km uneasy drive, mostly because safety is all you think about and the hypnotic feeling of a straight wormhole-like journey is intimidating.
On the other side we came as unexpected guests to the French Gendarmerie whose police officers explained to us that they were not informed about our arrival and our need of a police escort. The Macedonian Embassy in Paris was unreachable on any official phones as it was Saturday, 12 May and obviously they were uninterested in helping us. It became clear that we would have to continue our journey providing safety with our own car through this segment of France (250km) heading towards Geneva, Switzerland no later than May 18.
Modane, Aiugebelle , Albertville, Annecy – a wheelchair ultramarathon… with a Le Mans start?
Mile has excellent stamina although heavily sunburned and tired he got us out on the road immediately to reach Modane and go further to Saint-Jeane-de-Maurienne. Despite the discussions the French police gave Mile an honorary escort to Modane with approval from their station commander. It was a symbolic gesture that meant a lot to us, especially Mile.
The weather was a bit wet, not raining but drizzling. It kept our heads cool for the first day as we went on finding a camping site. However, the break of dawn was more promising and very sunny. Our spirits rose and morning team humor began taking its toll.
Dragan gave Mile his morning warm up shoulder massage and Mile asked him jokingly "How about my legs. They are tired too!" Anyone who hasn't been socialized and around people with an impairment probably will feel awkward listening to such humor. But those people who have surpassed their disability will often joke like this.
Mile and Dragan are friends for 35 years and I just knew that massage joke will get a sassy feedback from Dragan. And during our beginning with the day's marathon Dragan enjoying the wonderful French scenery and sunshine told Mile he wants a race between the wheelchair and his safety car. Mile sharply said "Only if we have a Le Mans start". We laughed hard knowing a Le Mans start required drivers to run to their vehicles and then start the engines. "That's the spirit!" Dragan replied.
The spirit of the Olympic and Paralympic games is to go beyond the limits of your body with the power of your will, creativity, persistence, desire, passion, ambition. It is the same for both events although separated, the Olympic torch is one for all and our admirations are united. Through Mile we feel this spirit and we are eager every day to get closer to London and its Olympic Arena.
That day we reached the small city of Aiugebelle going on constantly flat terrain and the next day we passed through beautiful Albertville. Here nature is well taken care of and everyone loves doing outdoor sports on an everyday basis. Simply said, France in this region is absolutely beautiful.
In the past 5 days we took one day of rest and relaxation in Saint-Jorioz near Lake Annecy and we keep on moving to finish the missing 25km of our 250km total route through lower France. In total Mile pushed 135km and will push 15km more tomorrow passing through Annecy and finishing in Archamps where we cross the French-Swiss border.
Related Images