Mile Stojkoski: Aiming for a Personal Record Despite Being Injured
Mile Stojkoski from the Former Yugoslav Republic of Macedonia is travelling over 5,000km to London in a wheelchair. Each week, his Project Manager, Vladimir Pandovski, updates paralympic.org on their progress.
05 May 2012
Imagen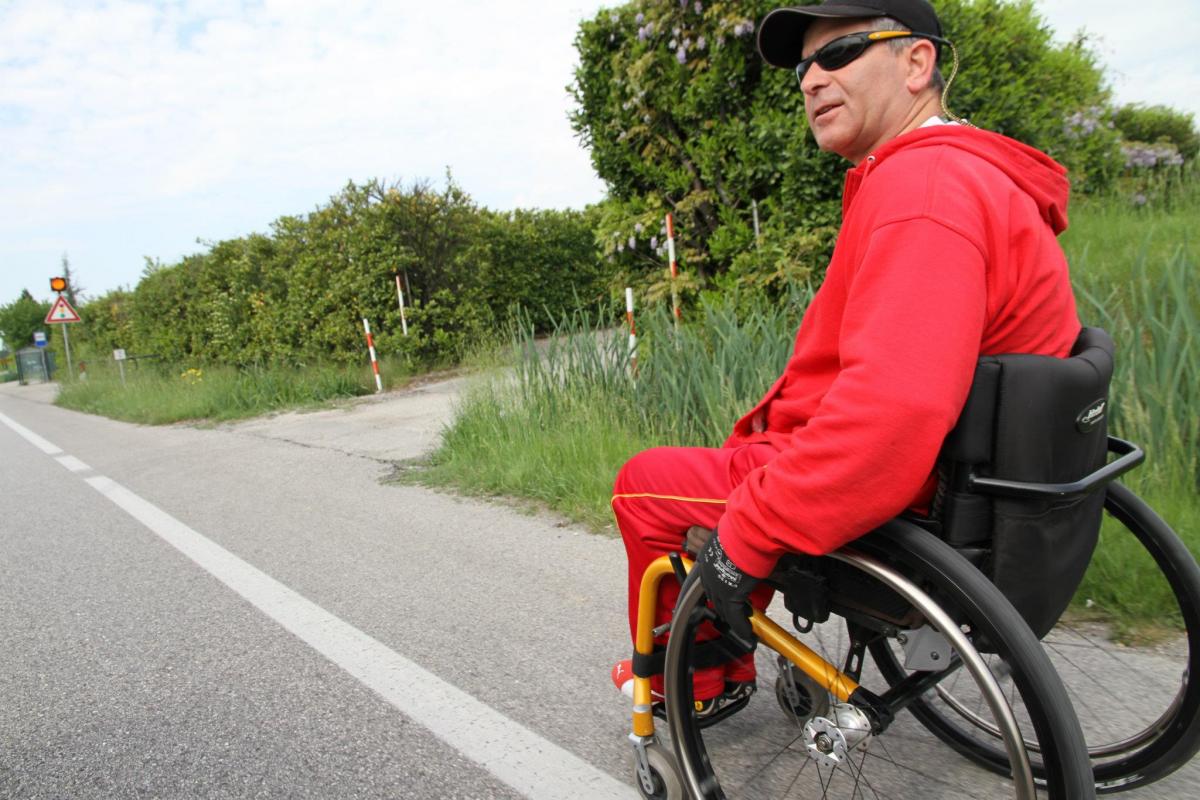 ⒸMile Stojkoski
By IPC
"The key word is choice. We live as we choose to live. I chose to help my family stay together; I chose to be active and have many friends; I chose sport and I chose life. You choose to be loved. You choose how to see the world and how the world sees you".
An injury jeopardizes the journey
Postojna to Pordanone (1 May 2012)
We have to envy the Italians. Northern Italy in our eyes was breathtaking, enchanting and warm. What a wonderful place and kind people to welcome us as we entered in Fernetti, our border crossing from Slovenia.
Donatella Lovisato from Comitato Italiano Paralimpico (CIP) in Trieste joined us immediately at the border and wished Mile benvenuti on his 12-day marathon through Italy. Her compliments and well-natured humour showed us how Italians enjoy life.
On 1 May in Italy the whole nation celebrates Labour Day, and guess how? By not working and by enjoying free time with family and friends. But Mile has a very tight schedule and cannot stop rolling towards the gates of London's Olympic Park.
So once again we started moving on public roads escorted by a diplomatic vehicle provided by our Macedonian consulate in Venice. Nikola Gugoski from the consulate and his spouse Biljana were with us for logistics and translation. Everything should have been perfect and bearable considering we came down from rocky Slovenia to the new flat terrain of northern Italy. But it wasn't.
On 30 April we were staying in Postojna, Slovenia in a hostel with no accessibility for people with disabilities. As I was preparing photos for the Facebook Group Gallery, Dragan was arranging the next day's supplies for Mile (almonds, hazelnuts, dry grapes and nuts provide much needed calories and energy), we heard a loud crash in the common bathroom corridor. Mile had tried to go and have a shower but didn't ask for our assistance to climb the one stair and lost his grip and fell badly on his left elbow. There was no question about it, the elbow was fractured and swollen.
Our worries began about how to deal with his first injury on the 133rd day of his athletic endeavour. Dragan quickly reacted, sanitized his wound and estimated the wound would heal in a week if well treated and rested. We were lucky and this estimation by Mile's sport trainer proved to be exact.
Despite his injury Mile did a 23km marathon the very next day using his healthy right arm 90 per cent of the time. It was painful to watch but inspirational to know his level of persistence is so great.
This reminded Mile about when he competed in national tournaments in Macedonia in pistol shooting, despite with his left arm paralyzed from a then recent spinal surgery. Using only one arm he finished second at that competition. The person who finished first went on to compete in the Athens Paralympic Games in 2004. As his arm healed Mile went on to do his first long distance marathon by crossing 704km from Prilep to Athens the very same year.
Entering Italy with a promising marathon tempo and his arm healing encouraged us to enter Pordanone where Marinella Ambrosio (President of the CIP for the region of Venice) openly showed her pleasure to welcome Mile and have the chance to support him by bringing media representatives from Gazzetta Della Sport to do an interview.
Marinella believes such public awareness rising campaigns should empower and be heard by everyone, especially people with disabilities who have difficulties motivating themselves to come out of their homes and enclosures.
In Italy, Paralympic sports are also a method of rehabilitation and re-socialization, not only just as a way to compete. That is why Italy developed Paralympic committee branches in every large city, giving a chance for every region to produce as many athletes to represent the nation.
Mile once again shared his vision to initiate building rehabilitation and resocialization centres for people with disabilities in the Balkans with advanced sport facilities for future Paralympic athletes. Everyone's reaction was absolute support for such an initiative and everyone showed their ambition to participate and speed up the process. Italy, as a close neighbour to the Balkans, can be a strong partner in developing such centres.
A successful day in beautiful Pordenone.
Sharing common values
Venezia to Padova to Vicenza (2-3 May 2012)
On 2 May in the morning our team prepared and went on for a marathon towards Venice where our host was Amon Bajramovski, head Consul of the Macedonian Consulate for the region. This was a very warm and friendly welcome without formalities and to our great pleasure we had common guests invited to see us. Six members of the Association for support of people with disabilities AGAPE joined us in the consulate for a chat and refreshments.
AGAPE helps people with disabilities who are homeless by bringing them to live together as a family and providing them with all necessities for a normal life. The two people (a married couple) who run this organization say, everyone in this world deserves a home and everyone should help those in need.
We are very grateful to the members of AGAPE that prepared nice creative gifts for Mile and published his story in the local media. We were inspired by their work, achievements and support for Mile. When we come back from the London Olympic and Paralympic Games, our team will surely visit AGAPE in Venice once again.
After having nice traditional Italian pizza and refreshing gelato (celebrating Dragan's birthday) with our two new friends Amon and Nikola from the Consulate, we headed to a small motel to rest and prepare for the next day's run to Vicenza. Mile's arm was healing and - despite the pain - was in much better shape.
In the morning on 3 May we were accompanied for the first time by the Italian police, Polizzia Stradale and Polizzia Locale, to escort us and provide the much needed road safety (a major relief to our team considering how dangerous our event is).
Mile was in improved physical condition, and stamina and we set a modest 35km mark for his marathon run for the day. After pushing through 36km on the asphalt in his carozzina (wheelchair), on our way to Vicenza he did a parade entrance through Padova where everyone's cheers and compliments indicated he is successfully sending the message that true strength is within.
To our greatest pleasure on the Piazza dei Signori in Vicenza we were welcomed by CIP Vicenza members among whom we met Claudio Carta, Enrico Agosti, Gaetano Cusmano and several Italian Paralympic athletes (Table Tennis and Fencing). The welcoming party gave Mile a gift of their flags and jubilee t-shirt celebrating 30 years since CIP Vicenza was born. In honour of this organization Mile wore this shirt the next day while heading for Verona.
Happy Birthday Mile Stojkoski
Vicenza to Verona (4 May 2012)
After the much needed rest we continued together with our police escort from Vicenza to Verona passing through Montebello and San Bonifacio. Total length including entrance via these two smaller cities was 56km. Mile tries to pass as many cities on his journey so he can spread a positive wave empowering people with disabilities, especially younger people who struggle with emotional difficulties. His message is clear; disability can be eliminated if an individual decides to live their lives in full quality and full potential. Mile would say that "The key word is choice. We live as we choose to live. I chose to help my family stay together; I chose to be active and have many friends; I chose sport and I chose life. You choose to be loved. You choose how to see the world and how the world sees you".
His choice for the day was to exceed the day before and dream about exceeding even more tomorrow. Mile conquered the beautiful Verona in the embrace of several new friends welcoming us. Piazza Arena is truly magnificent and we chose to enjoy every breath we took, every moment.
Happy birthday and many happy years and miles to Mile Stojkoski from his team!
Get ready for a 100km record
Verona to Brescia (5 May 2012)
It's Saturday and it's pouring with rain as we watched Mile push in front of us and the police vehicle. We had 52 km to go and since all Brescia is flooded we could not have any activities there but rest and prepare for the next day.
For Sunday we are very excited since Mile decided to break his old record of 86km run in one day set in the desert between Ankara and Syria. On Sunday 6 May 2012 he will attempt to go 100km in one day, in a 14-hour constant run. We will get up early in the morning at 4.30 am, and we start at 6.00 am. Together with our police escort and our video recording equipment we will try to officialize this record for the full 14-hour run.
The video will be live on Monday after we enter Milano.
Related Images