Mile Stojkoski: True Strength is Within
In his first blog, Mile Stojkoski's Project Manager, Vladimir Pandovski, gives un update on their journey so far
28 Apr 2012
Imagen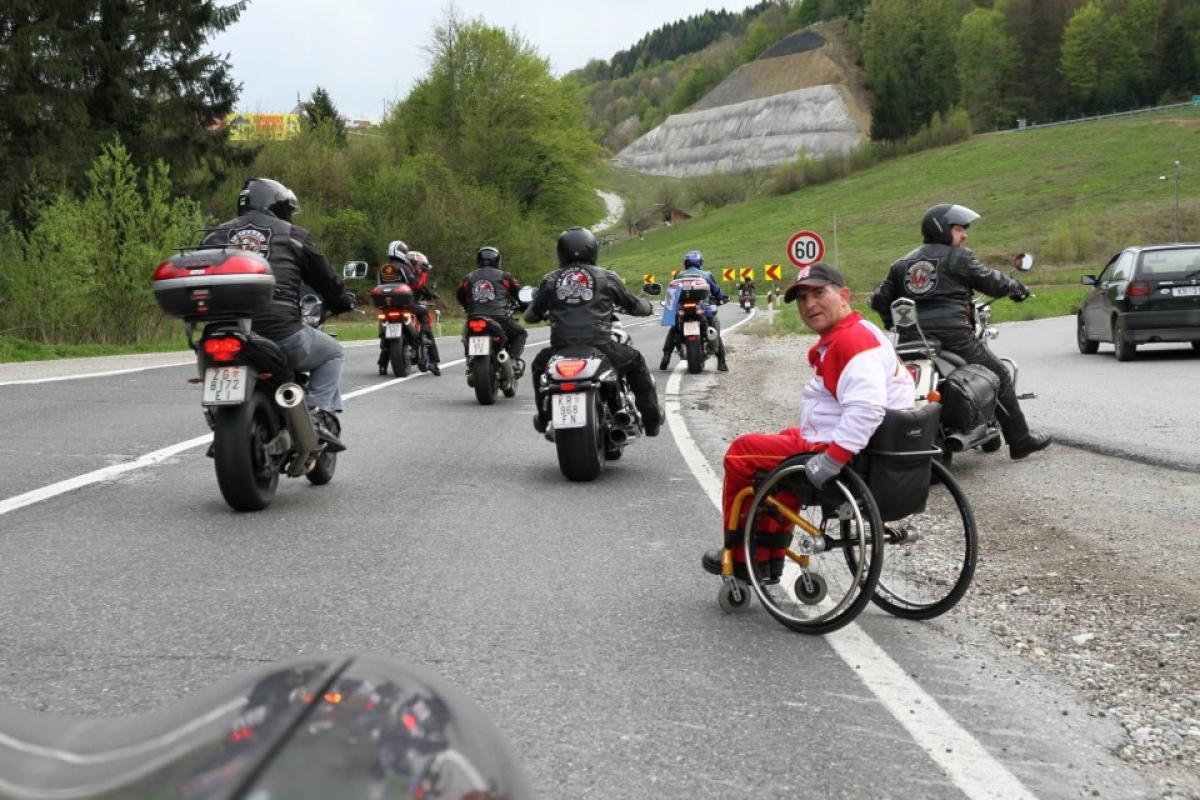 ⒸMile Stojkoski
By IPC
"I find many people with disability use their non-electric wheelchair and building accessibility as an excuse not to come out of their enclosures. To show them this is only a mental barrier and physical activity is part of life, a good one, a healthy one… here I am going on a 3,500km journey in everyone's wheelchair. Sport is not meant only for arenas."
A stark reminder of the dangers
Austria (15 – 19 April, 2012)
Every cross-country journey has its moments of excitement that make it special. Some of those are stressful and shocking but we all know explorer's strength lies in his/hers endurance in weathering difficult times, and not times of comfort.
Our team of three set the route from Wiener Neustadt towards Graz in Austria, planning to visit the AUVA Centre for Psychophysical Rehabilitation in Tobelbad. Mile as usual began his marathon that day and our team was without a police escort, which is usual.
We didn't feel like this was a big issue, since we used our own safety car to protect Mile as he rolls his wheelchair along the motorway. We had done this before, and we had lost the sense of how dangerous our activity is as the miles went on through Macedonia, Serbia and Hungary.
Unfortunately we were reminded how dangerous this marathon is, and why at times it is almost impossible to get police escort for our safety and the safety of everyone else on the roads. Our safety car was hit by a speeding overtaking truck during Mile's marathon and most likely saved his life.
Our initial shock passed as we congratulated ourselves for surviving this incident with no harm and for choosing our old E250 Mercedes-Benz, which is built like a tank.
I then realized that the hazards of Mile's marathon exceed those of Formula 1 racing drivers. Police officers have asked, "Is he mad for doing this? Does he realize how dangerous it is?"
All I could say to explain was that he doesn't think about the possible outcomes of danger and harm to his life. This is his second life, and all fear is gone as he heads towards London.
Not alone
Slovenia (19-21 April 2012)
Crossing borders between Austria and Slovenia, both European Union members, you feel freedom seeing no ramps and limitations. We asked ourselves whether the world could be like the Olympic and Paralympic Games: a competition with no borders, with no antagonism, wars and aggravation.
In Maribor, Mile did a ceremonial entrance in the city with his wheelchair just in front of the Municipality building where he was welcomed by the deputy Mayor and representatives from Association of People with Cerebral Palsy.
At this meeting Mile presented his goals, vision and messages to all media and participants present. He not only said. The next morning he also demonstrated along with a basketball player and his coach how sport can be a very strong tool to rehabilitate and resocialize, as they continued their journey from Maribor to Macelj, on the Slovenian-Croatian border.
A very memorable moment happened while Mile was climbing a 12 per cent hill, and a police helicopter flew above us to welcome Mile into their police district. Although we didn't hear anything above the deafening sound of the helicopter, the message was clear: you are not alone and you are safe.
Motorbike solidarity
Croatia (21-25 April 2012)
We immediately found out that there will be no single moment of solitude and risk in Croatia as we saw our hosts at the border were two major motorcycle clubs, the Veterans (army service men) and the Blue Knights (a police officer's motorcycle club). Over 10 motorcycles joined us, our police escort car and the Macedonian Embassy diplomatic car from Zagreb, to lead Mile and the team towards Krapina, the next city in Croatia after crossing Macelj.
Because Mile injured his spine on a motorcycle accident in 1996 he receives wide support from motorcycle clubs as solidarity, and as a joint campaign for improving safety in general traffic for motorcyclists. The campaign slogan is LOOK TWICE, SAVE LIVES and it goes for everyone: car drivers and motorcyclists should be focused and careful on the roads.
The biggest highlight in Krapina was when Mile was joined by a very young tetraplegic athlete (15 years old). His active sports life has improved his physical stamina and dexterity, and maybe one day if he keeps his ambition he will be on the Croatian Paralympic team. We wish him the best of health and much Paralympic success!
The very next day after resting in Veliko Trgovisce Mile finally after impressive 10,000km changed his Schwalbe Marathon Plus tyres on his wheelchair. This was a donation from the Croatian distributor of Bauerfiend products and services. Mile decided to keep the old tyres and send them to Schwalbe and thank them for making such a quality product.
The big day for Croatia came on 22 April when after 35km Mile did a parade entrance in Zagreb to the very centre on Trg Bana Jelacica where he was greeted by fellow people with disabilities, the Croatian Association of Paraplegic and Tetraplegic People (HUPT), Macedonian diplomats and many Motorcyclists. On the public square Mile held a press conference for several major newspapers and TV stations sharing his positive spirit and reminding us that TRUE STRENGTH IS WITHIN.
The next day on 23 April, Mile visited Croatia's Minister of Defence and the Mayor of Zagreb to discuss how people with disabilities are treated by governmental institutions in Croatia. During his this meeting Mile had the opportunity to share his thoughts and visions in front of all major Croatian media about building regional centres for psychophysical rehabilitation focusing on sports. Everyone agreed that such advanced centres are needed and should be built at a higher pace.
On 24 April Mile visited the Croatian Paralympic Committee in Zagreb joined by many media representatives and clearly sent the message of urgency for improving sport rehabilitation capacities in Croatia.
As Mile said, many athletes for Paralympic sports will result from offering advanced sport training as rehabilitation from accidents that lead to disability. However, there are many people born with disabilities that will also want to succeed in Paralympic sports and they wish such sport centres to have certain autonomy from hospital and clinical centres. Mile believes that the hospital treatment is the rehabilitative "way in" for everyone gaining a disability, but only sport, arts and crafts as rehabilitation are the proven "way out".
Mile gives most emphasis on sports but he believes not everyone will go for such a competitive form of rehabilitation and resocialization. There should be other forms of occupational therapy for creative people with disabilities, maybe even leading to a new profession and employment after the process.
Mile and the two of us made a 300km drive to Osijek to where he was presented with a donation of 6,000 Croatian Kuna (800 euros), which Mile re-donated to HUPT Osijek, to try to stimulate sponsors and donors to fund local organizations and their activities, not only international media campaigns. We believe this small but very active organization will find much use for this donation for their projects in support of people with disabilities.
A wheelchair is not a limitation
Slovenia part II (25-30 April 2012)
The very next morning 300km back, Mile together with our friends and guardians Ratko Dragovic – Klek and Bojnik Joja continued from Samobor towards the border with Slovenia and heading for Novo Mesto where he was welcomed by Mile's great friend and supporter HE Ambassador Igor Popov and hosted by Blazo Tasev, a Macedonian entrepreneur living and working in this region of Slovenia.
Hidden in the green hills of South Slovenia lies a small house, a club where an organization of people with paraplegia has found its home of creativity and sports. This club house functions as a day centre where people with paraplegia in wheelchairs can socialize and be active in projects that improve lives of their members and other paraplegics in their community. Mile in his charismatic way instantly bonded and made friends with the guys and spent his first day in Slovenia with them simply having fun, away from the media and their cameras.
Enjoying the beautiful nature of the KRKA river and its mountain landscapes, we visited Ivo Kuljaj and his spouse Yolanda and enjoyed homemade wine and cuisine.
Ivo was curious and asked why is Mile determined to run his marathon in a regular wheelchair and not a sport model with 3 wheels and gear changes.
Mile simply said, "I find many people with disability use their non-electric wheelchair and building accessibility as an excuse not to come out of their enclosures. To show them this is only a mental barrier and physical activity is part of life, a good one, a healthy one… here I am going on a 3,500km journey in everyone's wheelchair. Sport is not meant only for the arenas. Our individual lives are arenas we must compete in and win."
All three of us, joined by the Slovenian IPA and Blue Knights moto clubs, went on to conquer Ljubljana, the capital of Slovenia. At the very entrance of this remarkable and gorgeous city, Mile was greeted by the Minister of Interior and many major media representatives, TV and newspapers. Mile took this chance and propagated that the police should be more involved in preventing car and motorcycle accidents. The figures show that over 50 per cent of all gained disability is via spinal injury in traffic accidents. We were clear that the Slovenian Police should try its best to improve road safety, but also raise awareness among all general road users.
Just entering the public square of Ljubljana again Mile was greeted by media, municipality government and one employee of the municipality with paraplegia. Since 2009, Mile has been promoting more active involvement of people with disabilities in governmental institutions on every level so they can push an agenda to improve the lives of this vulnerable group and end the discrimination they face every day.
In a few more days, it will be time to conquer Italy.
Related Images