Mile Stojkoski: Inspired by the feats of athletes in London
As Mile Stojkoski continues his journey, his manager Vladimir Pandovski writes about how he was inspired by Hannah Cockcroft and other athletes.
14 May 2012
Imagen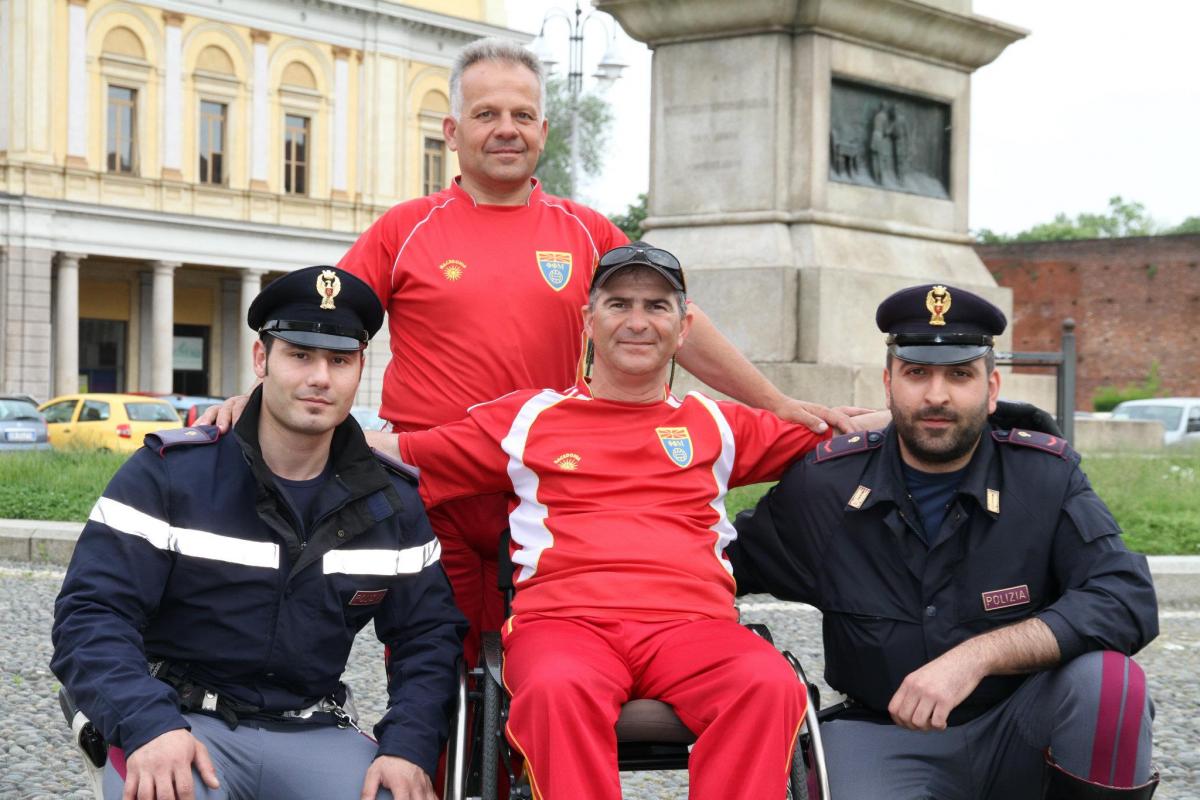 ⒸMile Stojkoski
By Vladimir Pandovski
"The only person that Mile Stojkoski can compete with in these given circumstances is himself and with everyone's "No it cannot be done"."
An ultramarathon is a sport activity where an athlete endures physical stress for a longer time and distance. Mile's 3,500km ultramarathon is equal to doing 83 Virgin London Marathons and the biggest physical endurance comes not in the last leg of the day but in the very early morning waking up at 5 or 6 a.m. facing again another 50 or 80 km to run.
The numbers are mind boggling even to the best Paralympic athletes, especially if you consider this is done on normal motorways in a regular every-day wheelchair by 47-year-old Mile Stojkoski supported by only two other teammates.
"Where are the other competitors?" is the frequent question given by stunned spectators.
There is no other like him: this is it. Every sport holds in its essence heroism and courage to run faster, jump higher, and throw further.
But how do you measure inspiration? A young girl with disability could be watching Hannah Cockroft breaking records in the new London Olympic Arena and admiring her energy and endurance.
How do you measure generosity? The paraplegic former British event rider Claire Lomas walked a very difficult 2 miles a day using her ReWalk robotic suite for the full length of London Marathon for the duration of 16 days.
The spirit of Paralympic Games is grand both because of its athletes and ambassadors.
Brescia to Monza – A new personal 101.1km ultramarathon record
The only person that Mile Stojkoski can compete with in these given circumstances is himself and with everyone's "No it cannot be done". So he told us to hold on tight and witness him breaking his 5-year-old record of an 86km ultramarathon in one day in a regular wheelchair.
The old record was set on his journey towards the Beijing 2008 Olympic and Paralympic Games in 2007 and included the length between Adapazari and Duzce, Turkey on September 8th 2007 (National Holiday in Macedonia and the day he had his fatal accident that left him paraplegic).
In Brescia, Italy our spirits were high especially feeling the relief that his hand injury had quickly healed and facing a completely flat terrain for setting a record. We woke up at 4 a.m. and two police officers from Polizia Stradale (the national highway patrol) came to our Hotel aware and excited about what was going to happen.
We began Mile's ultramarathon at 6 a.m. on 6 May 2012 starting from Brescia city exit, going through Bergamo city centre and finishing at the entrance of Monza, Italy. The whole endeavour took 15 hours (including a speedy lunch) and we went through three different police escort cars and officers.
The cheers by all spectators on the streets, windows and balconies; the best of luck tweets of our worldwide friends and supporters; journalists following him in Bergamo; and the high level of professionalism and safety by Polizia Stradale were contributing factors to making the record certain.
Suddenly just before Bergamo huge torrents of rain started to pour on our convoy and eventually even small pieces of ice.
Mile didn't stop for a second. Rain continued till 8pm as night fell and Police began to alert us to stop with the marathon because of large traffic congestion we had generated and because of the increased danger due to reduced levels of visibility.
We agreed despite the danger to run for another seven miles because at that point Mile had completed 94km. In two hours' time the marker hit 101.1km as we entered suburbs of Monza and the new personal record for Mile was official.
Milan, Novara and Torino – Meeting the Regional Italian Paralympic Committee of Lombardia
During our stay in Milan for a full day (May 7th, 2012) we had time to rest and enjoy the cosmopolitan city of fashion and sports. In Italy the police uniforms and equipment are designed and made by brands such as Prada, Armani etc. The police cars are Alfa Romeo's and they are fast and stylish.
The stunning 39-storey glass and aluminium tower in the centre of Milan enclosed its own beautiful Piazza del Regione Lombardia. Outside Mile was greeted by over 15 representatives of the Italian Paralympic Committee of Lombardia Region and the Agency for Development of Youth and Sport for Lombardia Region.
The pleasure of such an honour was unexpected by our team especially when they presented Mile with a beautiful bronze plaque engraved with all Lombardia's symbols and congratulated him for his vision to inspire and motivate others who do not have the same strength as he.
Mile was especially pleased he was the occasion these two very important institutions in Paralympic sports in Italy met and he had the chance to point out how much Paralympic sports give back for improvement in quality of life to its athletes and their friends and families.
Torino, Vercelli, Bardonecchia – How high is the Alpine sun?
After Torino, as we were crossing from Lombardia to Piemonte Region, the scenery began to change drastically from blue skies to green mountains with snowy white peaks.
The average uphill terrain began to exceed 12-15 per cent and the temperature on the asphalt passed the 34 C mark. The constant uphill and burning sun's rays made Mile admit this was his most difficult leg of the total ultramarathon to London.
Mile completed 23km of constant Alpine uphill terrain in 8 hours including breaks. We convinced him not to force tempo and save his strength considering the Alps will follow us through lower France and all of Switzerland.
Up there among the Alpine peaks near Chivasso we were receiving tweets of photos and videos of Claire Lomas completing the London Marathon and collecting over £130,000 for the Spinal Research Foundation; as well as the impressive British competitor in wheelchair racing Hannah Cockroft breaking records in the new London Arena.
Are they all mad? Inspiring I'd say.
Related Images