Gambia's role model Modou Gamo keeps Paralympic dream alive
Para powerlifter wants to attract more young athletes to the sport in his country with his results on the international stage
19 Jan 2022
Imagen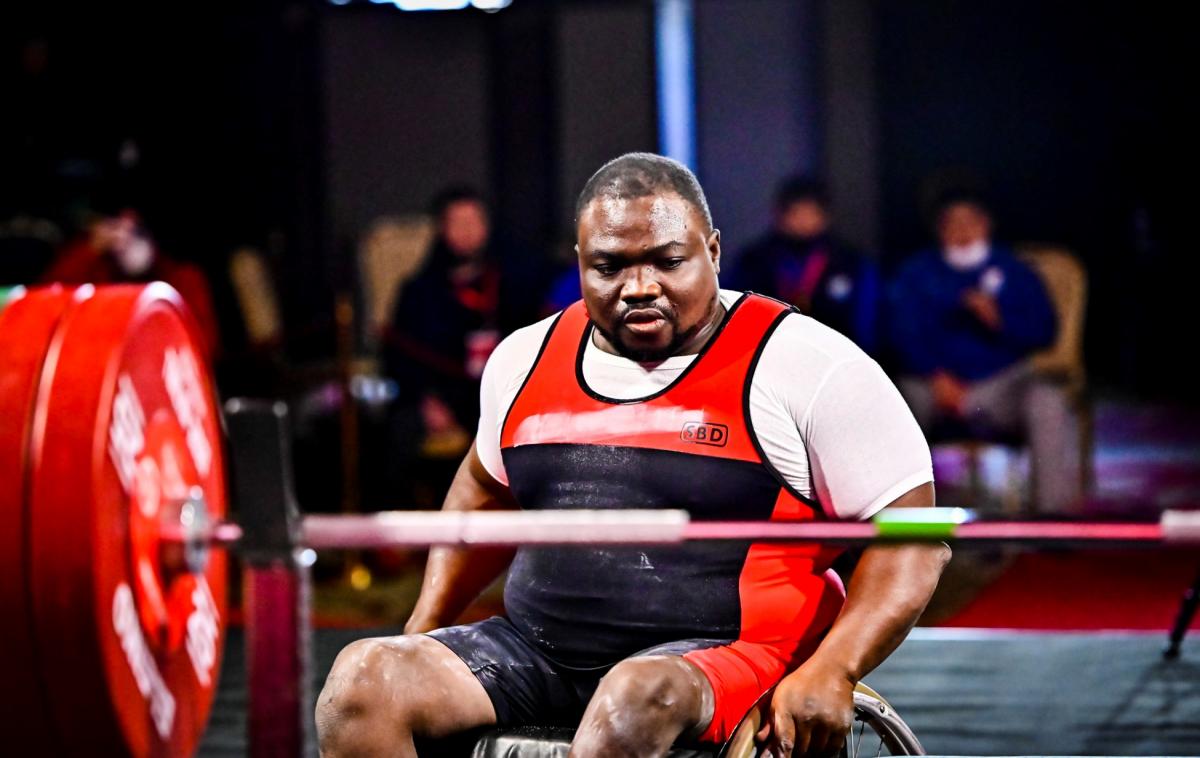 ⒸHiroki Nishioka/WPPO
By Filip Ozbolt | For World Para Powerlifting
Modou Gamo of Gambia was the sole representative of the African country at the Tbilisi 2021 World Para Powerlifting Senior Championships taking place in the Georgian capital from 28 November – 6 December.
The 35-year-old Gambian Para powerlifter took part in the men's over 107kg category on the penultimate day of competition.
With his 107.34kg of body weight and a raw style of lifting, Gamo gave the impression of an athlete who has not been in the sport for a long time.
Big plans for Paris 2024
"I am in the sport for almost five years now. I liked it from the moment I tried Para powerlifting," said Gamo with a shy tone of voice.
He started to open up when asked about the conditions in Gambia and the struggles that he is facing since 2016 when he first tried the sport.
"It was difficult for me to start with Para powerlifting. We don't have good facilities. I usually go to local gyms and practice there," Gamo said. "That is not good enough for the level I am trying to reach but I am doing my best with what I have."
Since Gamo is the only athlete to represent Gambia at the World Championships for the second time in a row, his main purpose is to attract more young athletes to the sport.
He might be able to do it by qualifying for the Paris 2024 Paralympic Games.
Gamo's coach Hagie Drammeh, a journalist by profession, said that Gambia wants to be represented by four Para powerlifters in France three years from now.
Gamo already attracted many young people to the sport. For now, there are 10 of them that took upon Para powerlifting solely because of his success.
"I am very proud to represent Gambia. I am the only athlete from Gambia who represents the country at the international level in Para powerlifting."
Keeping up with the competition
Gamo competed in group C of the men's over 107kg category and finished in 23rd place. He lifted 150kg in his third attempt after failing to do it in the second attempt. His inaugural lift in Tbilisi was successful at the 145kg-mark.
"I was praying for a good result. I think I competed very good in Tbilisi. My rivals are all big men but it doesn't matter. I always go out on the stage and do my best."
Although he finished in 14th place two and a half years ago at the Nur-Sultan 2019 World Para Powerlifting Championships in Kazakhstan, Gamo improved his result by 30kg in Tbilisi.
"I train hard and I try to keep up with the best. I hope that my results will attract more kids in Gambia to start practicing Para powerlifting," said Gamo.
Before qualifying for Paris 2024 Games, the Gambian athlete wants to participate in next World Championships set to be staged in 2023.
It would be his third appearance at the Worlds. He reckons that the first two were a tough task.
"It is not easy to be back for my second World Championships but thank God that I made it," concluded the 35-year-old Gamo.
In Tbilisi, the Gambian athlete received a donation from World Para Powerlifting and its official partner KitUsOut at the first training session in Tbilisi.
The international federation donated uniforms to more than 20 athletes from 10 countries before the start of the Tbilisi 2021 Worlds.
The uniforms will be used by the athletes in the upcoming Road to Paris 2024 where Gamo strives to be competing as the first-ever Gambian athlete in Para powerlifting.
This season, his main challenge will be the African Championships set to take place in Sharm El-Sheik, Egypt from 1-4 November.