GB Wheelchair Rugby champ Stuart Robinson hungry for more gold
The 39-year-old was a key member of the triumphant Great Britain side in Tokyo
20 Dec 2021
Imagen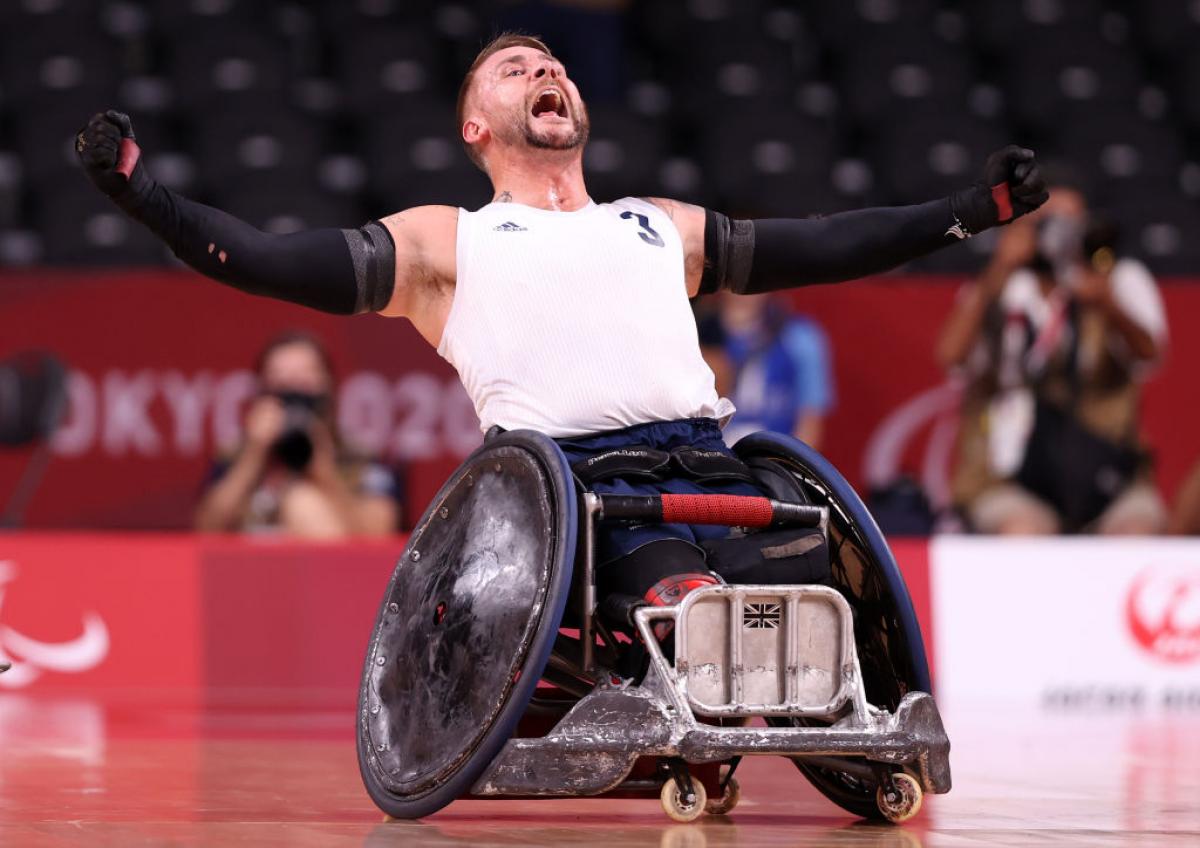 ⒸNaomi Baker/Getty Images
By AMP Media I For The IPC
Wheelchair Rugby star Stuart Robinson says, an incredible team spirit combined with a savvy approach to lockdown helped Great Britain finally complete their quest for Paralympic glory.
Great Britain have had an excellent men's team for many years but somehow it hasn't quite led to ultimate success at the Games. 
But that all changed at Tokyo 2020.
Great Britain topped the podium, claiming their first Paralympic medals in the sport, following a dramatic win in the final against the USA.
"When the Games were initially postponed, we tried to use that as an opportunity," said Robinson, 39, from Lancashire in northern England. "We all got fitter, stronger and faster. We had a lot of Zoom meetings and looked at ways of training at home. It was tough but I think it paid off for us in the end. 
"By the time we got to Tokyo I was just very focused on going out there and playing well. A lot of the other stuff was in the background, really. We were in our bubble and that helped us to bond even more. The organisation of Tokyo was very good and that also helped – we were just properly ready." 
An early loss to the United States in the group stage didn't dent the confidence.
"It wasn't too bad," Robinson said of the 50-48 defeat. "The first match against Canada was most important. They'd beaten GB at Rio, knocking us out of medal contention. We knew that if we'd lost that we'd be in trouble trying to get out the group. 
"But we performed well and our confidence grew. Then in the USA game, they were tough and we made a few errors but we used the defeat as a springboard. Everything we'd been working on in training came to fruition."
Great Britain saw off hosts Japan in the semis before gaining revenge on USA in the final, winning 54-49. "We did the job," said Robinson. "To come up against USA again, we knew we needed to be strong all round. We made sure that anything that had let us down in the pool game was put right."
Robinson put in some excellent individual performances on the road to victory. "A lot of people watching on TV said that I looked very serious," he said. "There was a lot of pressure because our team has never won a Para medal. I wanted to carry out the gameplan. 
"I was very pleased with how I played. I've only been playing at Para level for four years and there was a lot to learn. I just wanted to perform well and I feel like all that work I was doing at home in the garage was worth it."
It marks a significant point of a long journey for Robinson, who was a Royal Air Force Gunner in the British Army and lost both his legs to a bomb in Afghanistan in 2013. A keen sportsman already, Robinson got involved with Wheelchair Rugby immediately as part of his rehab and was rapidly promoted through the ranks. 
"Putting on that Team GB uniform, it is similar to putting on your military uniform," he said. "I like to look smart and you've got to value the shirt because someone is always coming for your place.
"It was only really afterwards that you realise how much it means to everyone back home. I got lots of messages, but the thing that meant most to me was a call from my son. Even though I'd won gold, he was pointing out areas in the game that I could have improved. I loved that."
Coming back for more sounds pretty good too, admitted Robinson. "I'm not certain if I will play on but I'd like to show that Tokyo wasn't just a lucky victory for GB. With Paris 2024 only three years away, and the hope of some crowds, the idea of trying to win another one is very tempting."