Insane Tokyo, a life-changing experience for Canada's Dorris
The 19-year-old Para swimmer moves to Montreal and changes coach after winning two medals at the Tokyo 2020 Paralympic Games
10 Jan 2022
Imagen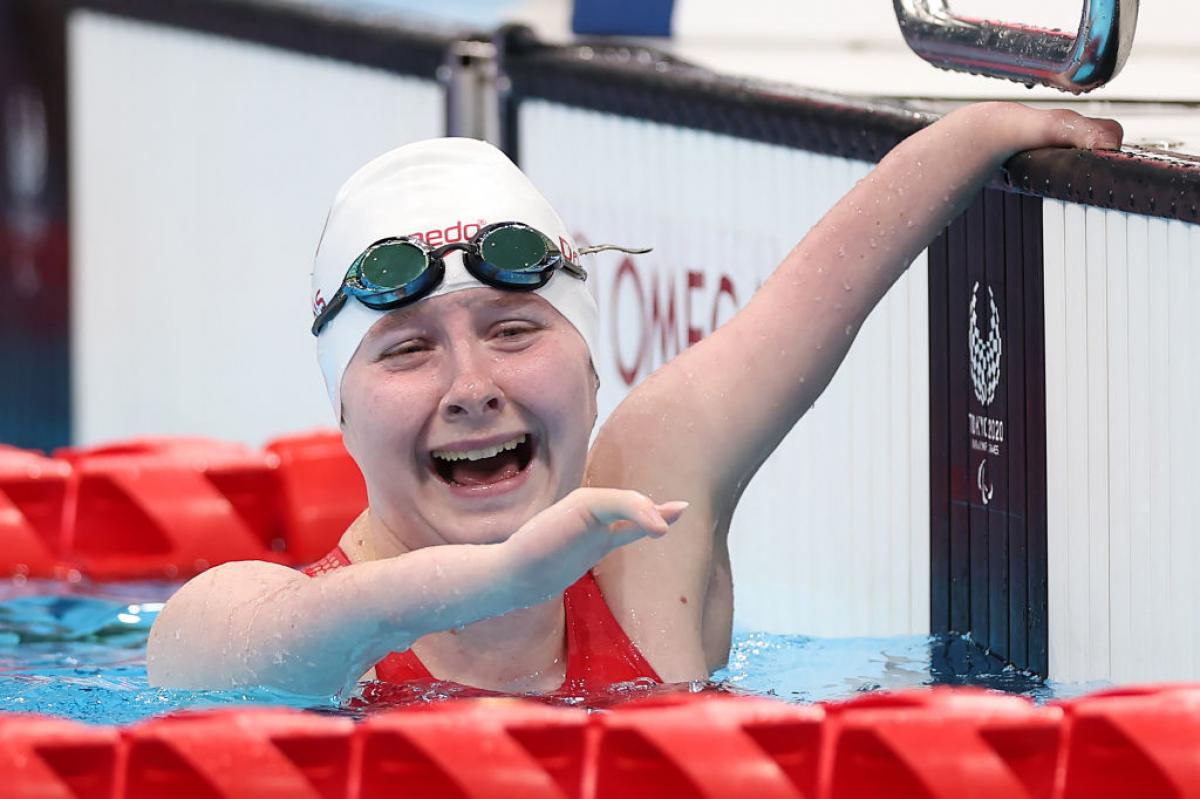 ⒸLintao Zhang/Getty Images
By Emma Logan | For World Para Swimming
Canada's Danielle Dorris made quite the splash at the Tokyo 2020 Paralympic Games. Although it was the now 19-year-old's second Games - having debuted at Rio 2016 - Tokyo was filled with firsts as she swam to two Paralympic medals.
Despite being out-touched at the wall to finish fourth in her opening event at Tokyo, the women's 200m individual medley SM7, Dorris was not deterred and just three days later she went on to shave two seconds off her previous best time to clinch silver in the 100m backstroke S7.
SURPASSING COACH'S GOALS
"I was not expecting silver, I was expecting maybe bronze or a fourth," said Dorris.
"I was very shocked and very happy and so I just have no words for that race and I think I just did everything I think I could have."
Riding on that medal momentum the then 18-year-old dived into the pool for her 50m butterfly S7 heat on day 10. She could have fooled viewers into believing that they were watching a final as she flew to the wall in a new world record time.
"After the swim, I went over to my coach and he was talking to me and he was like, 'yeah that time that you went, I thought you were going to do that tonight'," said Dorris. "So I had surpassed his goal already."
Dorris set the scene for what was going to be an electric final.
"It put me in the mindset of, tonight is going to rock!"
Rock it sure did.
The Canadian commanded the race, speeding past all finalists to break the world record for the second time in one day.
"It was amazing", remarked Dorris. "In the morning I was able to see the person beside me in my peripheral vision but in the night I couldn't see anybody. It was like I was by myself in the pool, I was racing the clock."
SHOCKED TO THE POINT OF INSANITY
Dorris chipped more than half a second off her earlier record to cement her domination in the women's 50m butterfly S7.  
Reminiscing about the incredible achievement, she said, "I saw the time and I lost it. It wasn't the fact that I medalled gold. It was the fact that the time shocked me to the point of insanity."
Dorris clocked a new world's best time of 32.99 seconds that claimed her the gold medal and an entry into the history books.
"To take off that much time in a day from my previous best time is crazy and not heard of. I was very happy. Very shocked. There are no words to explain how I felt there. It was insanity," remarked Dorris.
The phenomenal achievement made the Canadian reflect on the moments that brought her to this winning occasion.
"It feels amazing to know that so many people believed in me when I didn't believe in myself," said Dorris.
Dorris went on to explain that after she was recruited onto the National circuit and was moving to Moncton, New Brunswick, Janet Dunn - one of the staff on Swimming Canada - had a message for her new swimming coach, Ryan Allen: 'You're going to have a future Paralympian come to your team'.
TARGETING NEW SUCCESS
Allen had been Dorris' coach for seven years leading up to the Tokyo Paralympics and they formed a strong friendship - one that was gifted a very special moment at the Games.
"Having that moment with him [Ryan] of putting the medal on me, is something that both of us will cherish for a very long time," said Dorris who asked Allen to award her the gold medal in Tokyo.
Although Dorris moved to Montreal in October to further her swimming career at the High-Performance Centre and will no longer be coached by Allen, she knows their friendship will go the distance.
"I can definitely say that he is a lifelong friend. He has already told me that if I don't invite him to my wedding, he'll be giving me an angry phone call."
With the new move, the Canadian is targeting the Commonwealth Games and the World Championships which are both taking place in 2022, with the long-term goal of qualifying for the Paris 2024 Paralympic Games.
"I'm very excited for Paris to potentially come back with another gold medal," said Dorris. "You never know what will happen in three years but the goal is to come back with another one."
With two Paralympic Games under her belt and aiming for a third, the experienced Paralympian had a piece of advice for aspiring Para swimmers.
"If you're thinking about it, do it. There's no harm in trying. Find the people that will support you and don't let the people who don't want to support you put you down in thinking that you can't do it when you can do it, you just need to put in that effort."
The youngster seems to be going from strength to strength and is on track for more glory. If Doris continues this top form, there is no doubt that all eyes will be on her in Paris 2024.