Takayuki Suzuki: 'People's perception of Para sports improved after Tokyo 2020'
Japanese Para swimmer who took his country's first Paralympic gold medal reflects on the impact of the home Games 100 days after the Closing Ceremony
14 Dec 2021
Imagen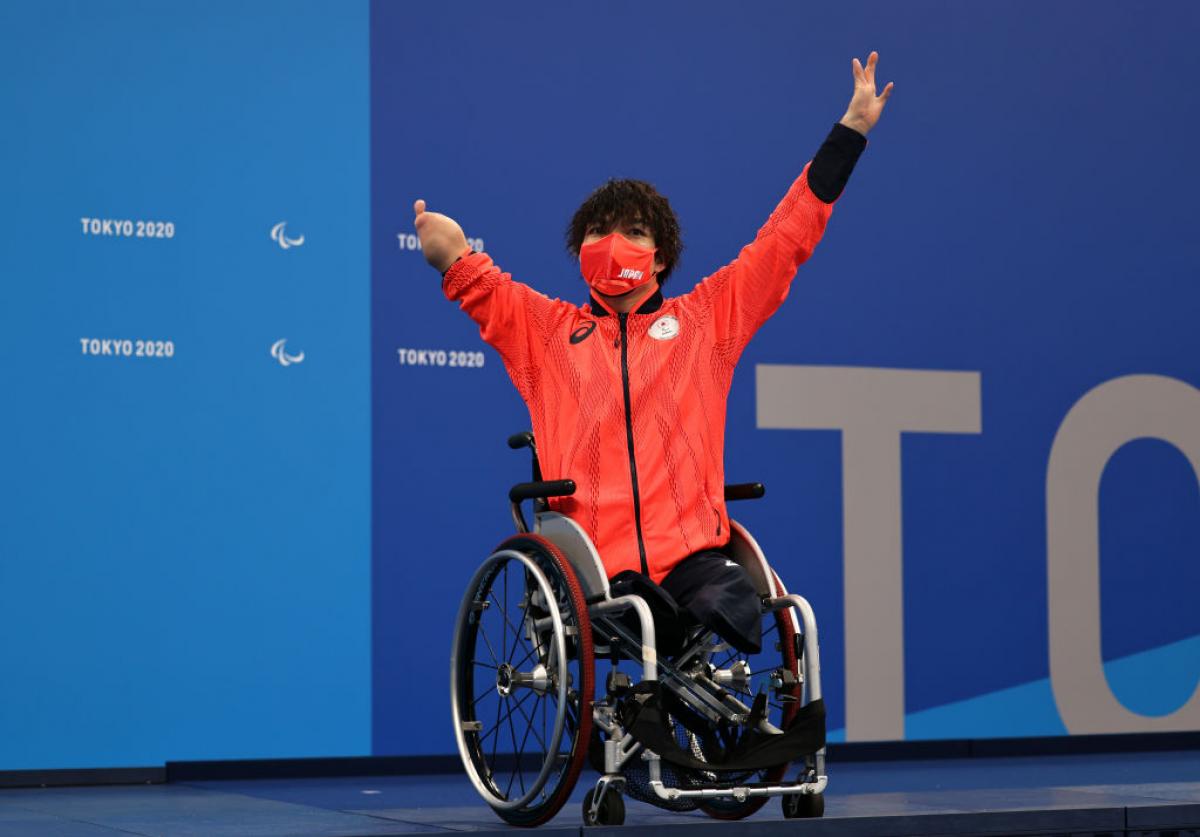 ⒸBuda Mendes/Getty Images
By Mary Barber| For World Para Swimming
It is exactly 100 days since the Paralympic flame was extinguished at the Closing Ceremony of the Tokyo 2020 Games. 
The historic global sporting event saw more than 4,400 athletes compete across 22 disciplines. It was a feast of firsts, outstanding skill along with moments of shared joy and pain.
Despite a lack of spectators due to COVID-19 restrictions, the 12 days of competition helped to fuel the ambitions of many people watching around the world and shone a light on diversity and unity.
But most importantly, the Games fulfilled the dreams of the athletes taking part. Among them, Japan's Takayuki Suzuki who won the host nation's first gold medal of the Games, and the country's first since London 2012, in the 100m freestyle S4.
 
The 33-year-old ambassador for Tokyo 2020 also broke the Paralympic record set by his compatriot Yuji Hanada at Athens 2004 in 1:21.58. It was Suzuki's second Paralympic gold medal of his career: he has competed at five Games and won the 50m breaststroke SB3 at Beijing 2008.
In Tokyo he also notched up a further two silver medals: in 50m and 200m freestyle S4, and two bronze medals in 50m breaststroke SB3 and the 150m individual medley SM4.
One hundred days on from the end of the Games, the Japanese swimmer, who was born without a right leg and part of his left leg and right arm missing, reflects on the moment he won gold for his country and the impact the victory has since had on his life.
You said before the Paralympic Games that you wanted to win a gold medal for your country at Tokyo 2020. How does it feel now that your dream has come true?
I am very happy to have brought a gold medal home along with the Paralympic record. When I touched the wall, I did not realise that I had won gold, so I looked at the board to find out the result. I was delighted.
How did that moment compare to winning your first gold medal at Beijing 2008?
The process towards the gold medal was different. I had a kind of beginner's luck in 2008 because I had never raced in the 50m breaststroke at the Paralympics before. I had no fear to lose then. However, I knew the delight of winning a gold medal and the sadness of losing medals at the Tokyo Paralympic Games. It'd been five years [for me] to come back on the podium and 13 years to be back on the top of it. The value of a gold medal, therefore, might be different for me.
So, how did it feel to be on top of the podium again with your medal and hear your national anthem?
I was sure that I had really won the gold medal then.
The fact that there were no spectators at the Games did not seem to have any impact on your success: you won five medals in total.
I still felt their cheering through my social media. The volunteers cheered us on.
As well as an athlete, you were also an ambassador for Tokyo 2020. Your family, including your foster mother, Yo Komatsu, friends and nation were undoubtedly proud of you. How did that make you feel?
As an athlete, I am very happy if people enjoyed watching my races, like watching the Olympic Games, especially in Japan. I am also happy if the people, who have supported me, including my family and friends, are happy with my results.
It has been 100 days since the end of the Games, how have those days been for you? Has your life changed?
I have been very busy having interviews with the media and receiving awards! [Suzuki received a top award from his home region of Shizuoka.] The number of followers of my social media platforms has also increased. My life changed a bit.
After the high of such success at the Games, how did you come down from it and go about your regular life again?
I had opportunities to meet my family, friends, and sponsors, but these were limited.
What have been your best moments of the last 100 days?
When I grab a glass of beer with my family and friends.
Did you have a break from training after the Games?
I had two weeks off and I am now training two to three days a week rather than five days. I have not been back to regular training.
Do you miss the pool when you have not been swimming for a while?
No, because I do not like training! Ha ha. 
Japan came 11th in the medals table at Tokyo 2020, which was up from 64th in Rio 2016. Do you think your success and your teammates at the Games has helped to promote Para sports in Japan?
I think so. People's perception of Para sports has improved after the Tokyo 2020 Paralympic Games.
Have you had any feedback from young people who would like to get into Para swimming or Para sports because of your success?
I do not know whether it's because of my success, but I have heard that the number of people with impairments who want to do sports has increased.
Finally, are you planning on defending your Paralympic title at Paris 2024?
I don't know whether I will aim for the Paris 2024 Paralympic Games yet. I need more time to think about it.