Tokyo 2020: Takeaways from Para Swimming
'I was not emotional because of the medal, because I can't see it. I can only touch it, but it feels the same'
26 Oct 2021
Imagen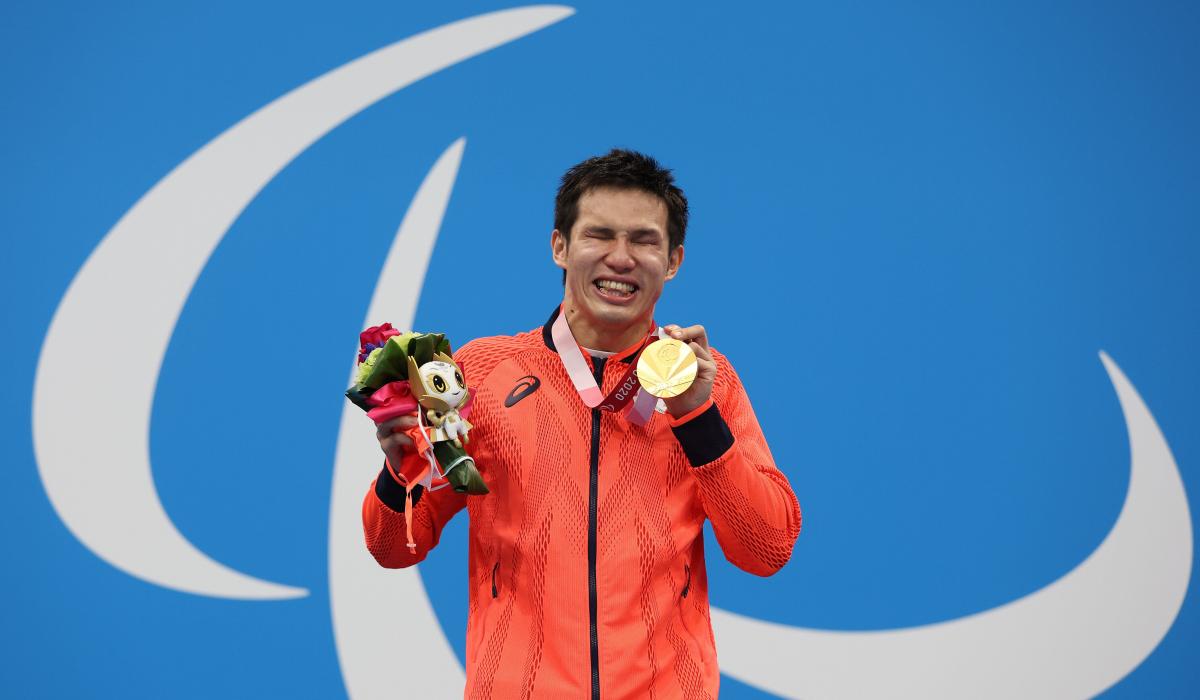 ⒸAlex Pantling/Getty Images
By IPC
From high emotions to surprises and numerous records, the swimming competitions at the Tokyo 2020 Paralympic Games lived up to the expectations.  
HOME GLORY FOR KIMURA
It was an emotional moment for Japanese swimming star Keiichi Kimura to finally stand on the top of the podium. After four Games, Kimura won his first-ever Paralympic gold in the men's 100m backstroke S11 touching the wall in 1:02.57.
To hear the Japanese national anthem at a medals ceremony was a long-cherished goal for the 31-year-old swimmer and to make it happen at home was the icing on the cake.
Kimura won a bronze at London 2012 and silver at Rio 2016 besides multiple World Championship under his belt, but the Tokyo 2020 gold will always be special.
"I was not emotional because of the medal, because I can't see it. I can only touch it, but it feels the same," said Kimura, choking with emotions.
CHINA ON TOP
China maintained their stronghold on the swimming medals table, finishing with 56 medals, including 19 gold. However, they effort didn't come close to what they had set at Rio 2016 – 92 medals (37 gold).
Zheng Tao and Dong Lu's impressive four gold medals each led the way for the team which also had couple of clean sweeps and many multi-medallists.
Tao, who lost his arms to an electrical accident as a child, triumphed in men's S5 freestyle, backstroke and butterfly events besides mixed 4x50m freestyle relay, which also included Lu. All of Zheng's individual wins were World or Paralympic records.
Meanwhile, Lu stood atop the podium in women's 200m medley SM5, women's 50m backstroke S5, women's 50m butterfly S5 and mixed 4x50m freestyle relay.
Russian Paralympic Committee (RPC) followed China with 49 medals which had 17 gold, ahead of United States who ended the swimming events with 35 medals (15 gold).
KRYPAK, LONG STAY UP TO THEIR REPUTATION
Ukraine's Maksym Krypak claimed his 15th Paralympic medal, in just his second Games, and became the most awarded athlete at the Games. With this medal, he also became Ukraine's most successful Paralympian ever. The 26-year-old from Kharkiv, Ukraine won his fifth title in Tokyo in the men's 200m individual medley SM10 with a Paralympic record. 
This was also his seventh medal overall in the Tokyo Aquatics Centre, a number which no other athlete has achieved at Tokyo 2020.
Meanwhile, USA's Jessica Long is the most successful active Para swimmer with 29 Paralympic podiums, including 16 victories.
The double-amputee, who has been participating at the Paralympics since Athens 2004, bagged six medals in Tokyo including three golds. The 29-year-old took the final medal in Tokyo – the gold in women's 100m butterfly S8 – on the last day of swimming competition.
THE FINAL CAMPAIGN
After swimming in 34 Paralympic finals, Daniel Dias of Brazil called it quits after competing in the men's 50m freestyle S5 final in Tokyo.
It was the last race in an illustrious career across four Games which saw Dias take 27 podiums – an extraordinary feat unmatched by any other male Para swimmer in Paralympic history.
Surely, this was an emotional moment for Dias and he admitted, "I cried a lot during the day. First when I woke up. Then, before the heats, I felt nervous. Then I cried again before going to the final."
Dias said the decision to retire was taken after contemplating for a long time. "I think it was time to contribute to sport in other ways. The Paralympic Movement and swimming gave me so much, now I think I can help giving something back to the sport."
The Tokyo Aquatics Centre also witnessed another legend, five-time Paralympic champion Ellie Simmonds announcing her retirement from competition.
Simmonds, who at just 13 became the second youngest Paralympian in British history to win a medal at the Beijing 2008 Paralympic Games, said it has been the greatest honour of her life to compete for Great Britain.
"Being a Paralympian has changed my life."
"Being part of the Paralympic Movement and able to contribute in some small way to the progression of Para sport means an enormous amount to me and is something that I shall continue to be involved in," said Simmonds, winner of nine-time World Championship titles.
PELENDRITOU'S 13-YEAR WAIT ENDS
Cyprus' Karolina Pelendritou's years of hard work and patience finally paid off. A long wait finally ended when Pelendritou stood atop the podium in Tokyo 13 years after she had won gold at Beijing 2008 Games.
In Tokyo, she won the women's 100m breaststroke SB11 with a new World Record (1:19.78). An ecstatic Pelendritou couldn't believe the result having tried winning the event in the last few Games.
She also became nostalgic and shared: "I started my first event in Para swimming in 2002 in Mar del Plata, now it's 2021 and I am still here and I am a golden Paralympian."
PARALYMPIC CHAMPION IN THREE MONTHS
Spain's Marta Fernandez Infante lived a dream. Just three months after competing in her first international event in May, Infante became a Paralympic champion in the women's 50m breaststroke SB3. She also had a bronze (50m freestyle S4) and silver (50m butterfly S5), in which she broke her own World record.
The 27-year-old later heralded her arrival saying, "I know I'm capable of anything. These medals are going to be very important moments that I will never forget."