Japanese rower Ariyasu Ryohei finds the positive through Para sports
Paralympics reignited Ryohei's love for sports
25 Apr 2021
Imagen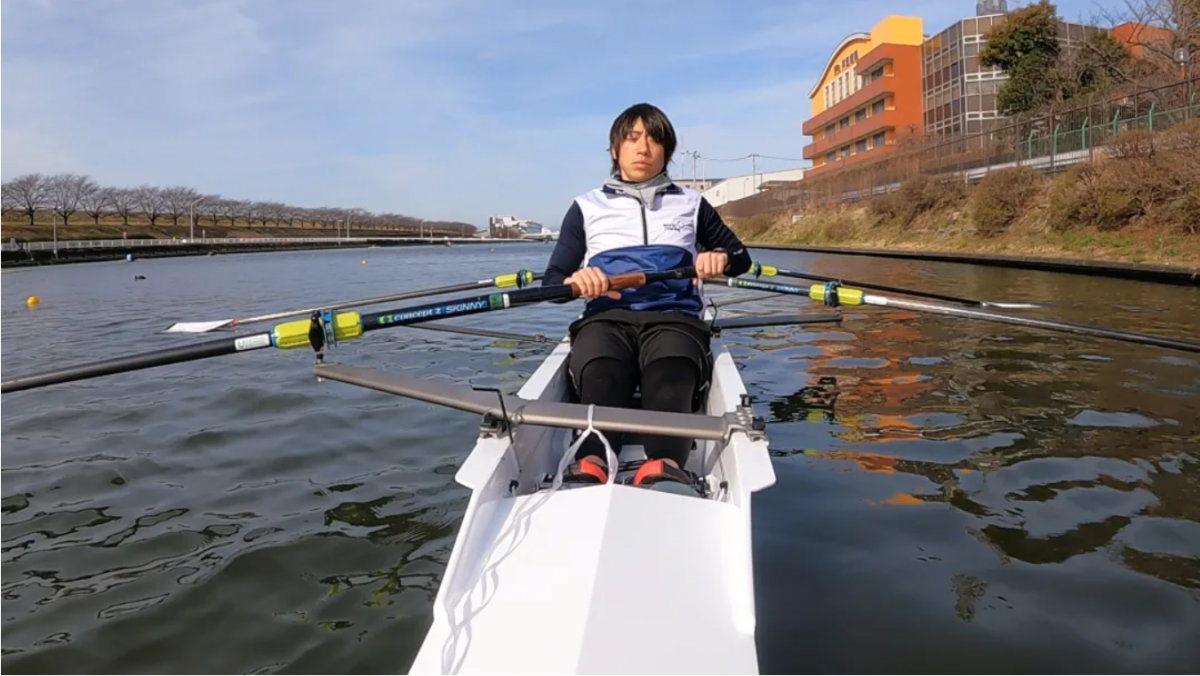 ⒸTokyo 2020
By Tokyo 2020
"The Paralympic Games is what helped me to accept my own impairment, so I am grateful to the event and also feel a special attachment to it," said Japan's Ariyasu Ryohei. 
The Para rower is aiming for a spot in the PR3 mixed coxed four event at Tokyo 2020. "I'd like to compete in the Paralympic Games and win a medal."
Born in the United States, Ariyasu returned to Japan for elementary school, where he took up football.
At 15, he was diagnosed with an intractable disease called macular dystrophy, a condition that affects the retina causing loss of central vision.
The diagnosis came as a great shock to him. He could not accept the fact that he had to live with an impairment, and even started hating football and other sports because of it.
"I couldn't play catch properly with my friends. The more I played with balls, the more I became aware of my poor eyesight. I also had problems in my academic life. I had to use a magnifying glass to take English exams, so I would run short of time. I spent my days shunning sports and study. Instead of saying 'I can't do it,' I just stopped doing everything."
LIFE-CHANGING OPPORTUNITY
While he had stayed away from sports in his junior and senior high school days, a turning point came at around 20-years-old while in university. He met Paralympic judoka Hangai Shizuka, the first friend he made who was around his age and had vision impairment like him. 
It was through her that he realised that he too was eligible to compete at the Paralympic Games.
"When playing sports, I had only perceived my vision impairment as a disadvantage, but it dawned on me that it was actually a 'ticket' to the Paralympic Games. I was able to see my impairment in a positive light for the first time in my life."
In the first judo combat of his life, he "lost in about two seconds". This made him realise that the Paralympic Games "were no joke, it was a setting where serious athletes of a high calibre competed".
At the same time, he started having a sense of yearning for athletes.
"Getting to know that there were outstanding people out there with the same impairment as myself, I wanted to take up sports seriously."
Thus, he began his journey of becoming a serious athlete.
In 2014, at 27, he became a certified judo athlete. But it was all cut short when he went to graduate school and could no longer visit the dojo during its service hours. Finding that he lacked the natural fighting spirit required for combat sports, Ariyasu started searching for an alternative Paralympic sport that he could transition to. 
In 2017, he discovered rowing and quickly made progress, finishing fourth at the 2018 World Championships in the PR3 men's pair, and then clinching silver at the 2019 Asian Championships in PR3 mixed coxed four.
"In rowing, your performance is recorded in the form of numbers showing how fast you rowed, so you can make steady advancement and keep the progress in check. This is probably why the sport suits my nature."
SAME DISTANCE AS THE OLYMPICS
Ariyasu competes in the Para rowing PR3 team class. The creative rowing skills of each rower and their strategies are the highlights of the sport.
The Japanese crew is led by Ariyasu, who serves as the stroke (positioned closest to the stern of the boat and controls the entire rhythm and stroke rate). The team is composed of two rowers with vision impairment, two rowers with a limb impairment, and the coxswain who's able bodied.
"The fun part is understanding our mutual characteristics and bring out the best in each other. There are many difficulties and challenges, but that adds to the fun," Ariyasu said.
At the Rio 2016 Games, the race distance in Para rowing had been 1,000m, but was changed to 2,000m, the same distance as in the Olympics. Ariyasu feels this helped grow the importance of Para rowing as a sport and increase its link with the Olympic Games.
"In the 2019 World Championships, rowing and Para rowing races were held in an alternating manner. The Para rowing crew, who only used their arms, and the able-bodied eight rowing crew, who used all parts of their bodies, raced in the same competition, with their respective audiences cheering on in turns."
ROWING IN STYLE
Ariyasu hopes to display the beauty of rowing at the Paralympic Games.
Rowing is a sport in which strong physique and power contributes largely to achieving high speed, even with slightly unstable forms. However, according to Ariyasu, the Japanese team pursues a different ideal.
"We are in quest of finding a beautiful style of rowing, in which no energy is wasted and the power flows naturally, to leverage our concerted teamwork and take on teams that are strong-built like the European crew. We hope to show our all-out efforts to leave our mark at the competition."
MAKING PARA ROWING A MAJOR SPORT
Ariyasu says that Para rowing is a wonderful sport that can be enjoyed by people of all ages. To make the sport more popular among the public, he has sent letters to the media and reporters, writing about his aspirations for the Tokyo 2020 Games, among other things.
"Above all, I'd like people to just simply enjoy the Paralympic Games, which will hopefully help people better understand impairments and achieve a more diverse society. I hope to inspire and encourage the people of Japan by having great heats."