New Zealand's dual athlete Leslie seeks Paralympic spotlight after missing Tokyo 2020
Leslie, a Paralympic swimming champion and wheelchair rugby player, withdrew from New Zealand's Paralympic team at Tokyo 2020 so he could be with his wife who was expecting their second child amid the COVID-19 pandemic
26 Jan 2023
Imagen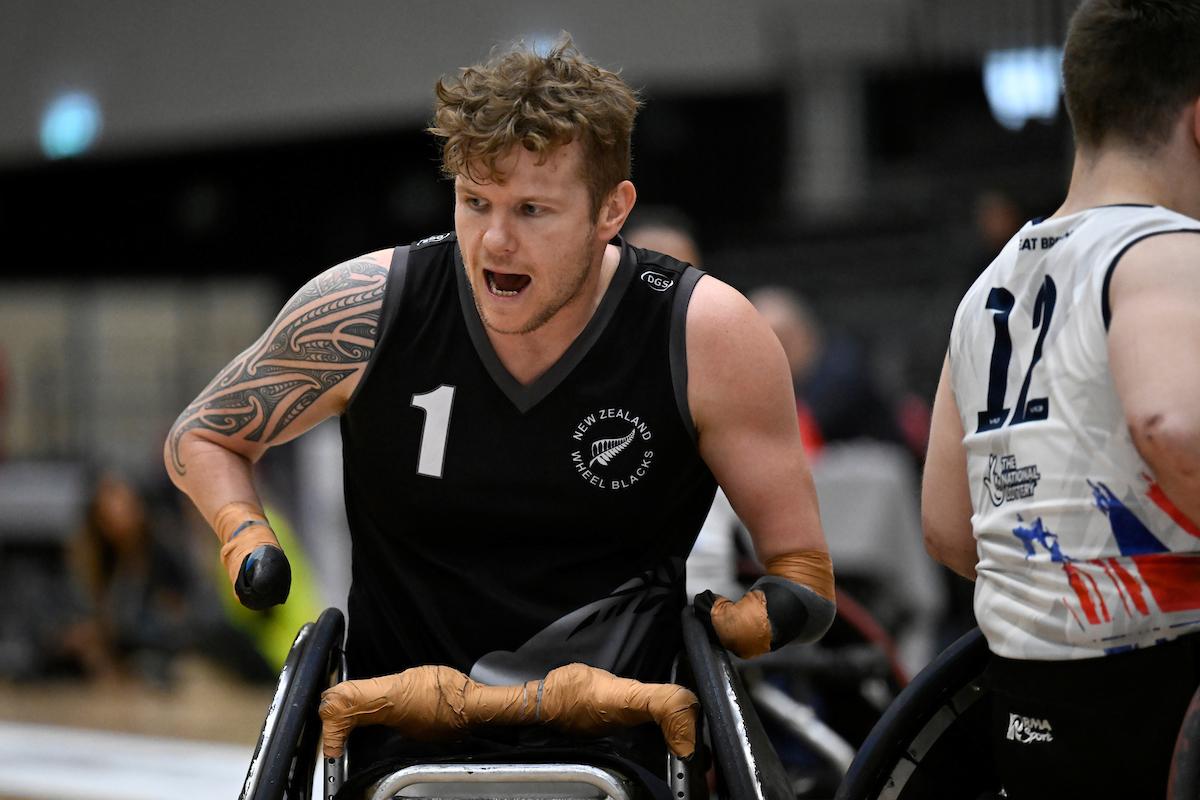 ⒸLars Møller for Parasport Danmark
By Ayano Shimizu | For the IPC
Cameron Leslie, a three-time Paralympic swimming gold medallist, is also a force on the wheelchair rugby court, leading the New Zealand Wheel Blacks at major international tournaments.
At Tokyo 2020, Leslie was slated to become the first New Zealander in 33 years to compete in two sports at a Paralympic Games. But he decided not to travel to the Japanese capital, instead choosing to be with his wife who was expecting their second child during the prolonged COVID-19 pandemic.
Having returned to major international competition last year, 33-year-old Leslie is aiming to take the spotlight at Paris 2024, which would be his fourth Paralympic Games in Para swimming and his first in wheelchair rugby.
A dual athlete
Leslie, who was born with a congenial limb deficiency, started Para swimming when he was 11 years old and made his international debut in 2006, a year before he took up wheelchair rugby.
While he won the majority of his medals in swimming, Leslie is enjoying the best of two sports and highlights what it means for him to play on a team.
"A massive difference between the two, really," he said. "In a sport like swimming, what you do matters to yourself… But when you win, when you achieve a goal, it's not quite as enjoyable.
"In a team environment, it's multiplied by your teammates and the joy is shared by everyone rather than just yourself. But the same goes when you don't do so well. The frustration is shared across everyone."
In Para swimming, Leslie has a perfect track record at the Paralympic Games in the men's 150m individual medley SM4. He surprised the crowd at the Beijing 2008 Paralympic Games, where he won the event with a world record of 2:33.57.
He repeated the feat at both London 2012 and Rio 2016.
"Hardest, easy decision"
Leslie announced in July 2021 that he would not travel to Tokyo for the Paralympic Games, which opened the following month after a one-year postponement due to the COVID-19 pandemic.
His wife was expecting their second child just a few weeks prior to the Opening Ceremony, and he was worried that he may not be able to return to his family in New Zealand because of the strict quarantine procedures in place.
"I couldn't get any insurance that I can get back in the country if something went wrong with my wife or our newborn," Leslie said, adding that he was not comfortable leaving without not knowing when he could return.
"It was the hardest, easy decision in my life," he said. "It wasn't a fun decision to make… We are in a team environment (in wheelchair rugby) and you're calling your teammates in tears telling them that you're not going to hop onto that plane with them."
Not slowing down
When he announced his withdrawal from Tokyo 2020, Leslie added that he has "no intention of retiring or slowing down". And he stayed true to his words in 2022.
Competing for New Zealand in the pool for the first time in more than two years, he picked up a gold and three silver medals at the Madeira 2022 World Para Swimming Championships in Portugal.
Four months later, he was leading the Wheel Blacks at the Wheelchair Rugby World Championship as co-captain of the squad. New Zealand were placed in a tough pool that included Tokyo 2020 gold medallists Great Britain, silver medallists USA and European champions France.
The team advanced to the knockout stage and ultimately finished eighth, improving on their eleventh-place finish at the previous edition of the tournament in 2018.
Gunning for more
With less than 600 days until the next Paralympic Games, Leslie is preparing to make his return to the biggest stage in the world.
"I'm just keen to go compete," Leslie said of Paris 2024 where he wants his family to support him from the stands.
"I'm looking forward to Paris. The plan is to be there for swimming and rugby. Plan is to do my best and see if I can hit the podium in the pool and see how close we can get in rugby as well."
The Wheel Blacks have participated in five Paralympic Games and topped the podium at Athens 2004. In Tokyo, the team finished without a win in the group stage and lost to Denmark in the classification match for seventh and eighth places.
While it may seem like a lot to accomplish during the 12-day Games, Leslie said that enjoying sports is what pushes him forward as he prepares. 
"A happy athlete is a good athlete and a happy swimmer is a fast swimmer," he said. "Ultimately that's the big focus, particularly at my age and stage of the career in terms of being around. The daily training environment is sorted and pretty consistent.
"It's just a matter of making sure you are staying happy and enjoying it."