No. 2: Tatyana McFadden's magical season
From completing a marathon Grand Slam to winning six golds at the IPC Athletics World Championships, the American wheelchair racer had an incredible 2013.
30 Dec 2013
Imagen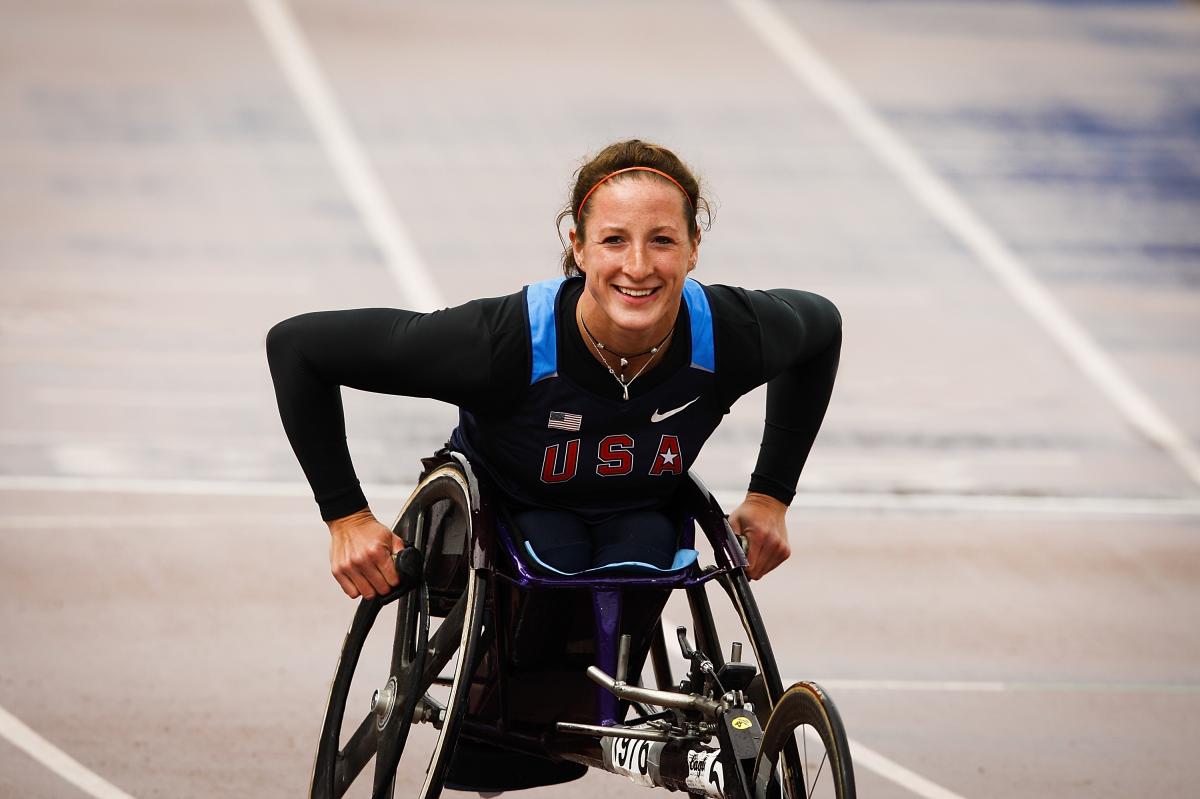 ⒸGetty Images
By IPC
"From their point of view, they knew for a fact, beyond reasonable doubt, that she would die. But I said, 'No, no. She hasn't died. She's an elite athlete.'"
In 2011, Tatyana McFadden visited the Russian orphanage where she walked on her hands for the first six years of her life.
As McFadden pulled up to the orphanage and got herself out of the car, into her chair and off to see the children, the orphanage staff was in "utter disbelief."
"From their point of view, they knew for a fact, beyond reasonable doubt, that she would die," said McFadden's adoptive mother, Deborah. "But I said, 'No, no. She hasn't died. She's an elite athlete.'"
The American wheelchair racer – a 10-time Paralympic medallist – is never one to brag. Ever.
But in this instance, she pulled out her 2010 New York Marathon first-place medal to show it off.
She turned to the director of the orphanage, handed it to her and said: "I can't think of anyone that deserves this more than you, because you saved my life."
Her mother intervened, almost angry she was giving it away.
"Tatyana, I'm surprised about this," she said.
"Some day, I'll win another medal there, but she's the one that saved my life," McFadden responded.
Now, fast forward to 3 November 2013.
Deborah was at the New York City Marathon finish line, embracing her daughter as she became the first athlete to ever complete a marathon Grand Slam. It was the icing on the cake of one of the most magical wheelchair racing seasons in history.
"See, I told you I'd get the medal back," McFadden told her mother.
Boston to London
In 2013 alone, McFadden completed a marathon Grand Slam – winning in Boston, London, New York and Chicago – while also going six-for-six to take gold in all of her events at July's IPC Athletics World Championships in Lyon, France.
Being a full-time student at the University of Illinois while also training as an elite athlete, McFadden, at times, thought she was living in the movie "Groundhog Day" this year.
"She gets up in the morning. She eats. She works out. She goes to class. She studies. She eats. She works out. She goes to class. That's about all she does," Deborah said.
The Maryland native's season began with April's Boston Marathon, which she won in 1:45:25 in her first appearance, just moments before the two bombs exploded.
"They have a huge trophy and a huge ceremony, and she was very proud of herself and looking forward to the celebrations," Deborah said. "But once the bomb happened, Tatyana never once said anything other than 'We need to care for the people who've been injured.' She never complained and said, 'Hey, what about me? What about my moment of glory?'"
Just six days later, on her 24th birthday, McFadden edged out teammate Amanda McGrory to win the bumpy London Marathon in a new course-record time of 1:46:02. She dedicated her victory to the victims of the Boston bombings.
Los Angeles to Lyon
Then in July, less than 48 hours after attending the ESPY awards in the US, McFadden was on the track in France racing for world titles.
Jet lag? Culture shock? That's nearly nonexistent these days in McFadden's world.
"She said she wanted to take gold in every single performance, which as I mentioned to her, was a pretty lofty goal on top of her being a full-time university student," Deborah said. "The fact that she came away six-for-six is amazing."
McFadden won gold in the 100m, 200m, 400m, 800m, 1,500m and 5,000m T54 races, claiming the 100m and 1,500m titles on the same day.
In the 800m, McFadden eclipsed the world record of 1:45:19 set by her idol Chantal Petitclerc at the Beijing 2008 Paralympics. She proved unstoppable in the shorter distances, too, finally reclaiming the 100m title.
"I was so surprised," McFadden said of the 100m final. "I barely got first and won it. That's always been a really, really tough race for me.
"It took me five years to win the 100m. I lost that race back in 2008, and I've never gotten it back. That was definitely a special moment at the World Championships for me."
Considering the World Championships came less than a year after the London 2012 Paralympics, McFadden was peaking at a time she had expected to be declining.
"She never assumes that she's going to win," Deborah said. "Tatyana is very understated. So for example, if you ask her how she did at Worlds, she'll say, 'Oh, I did well.'"
Chicago to New York
In October, McFadden won the Chicago Marathon in a course-record time of 1:42:35, which was her third consecutive victory in the event and fourth in the last five years.
"Tatyana is a great athlete because she's got a great attitude when it comes to racing," said teammate and Paralympian Ryan Chalmers, who trains with her just a couple hours south of Chicago.
"She just doesn't want to be the best woman in the world, she wants to be the best in the world. She'll train with the guys, and she'll push as hard as we are."
Then, the week prior to November's New York Marathon, McFadden began to receive major international media attention from the likes of NBC and the BBC in her quest to complete the Grand Slam.
That's also the same week she was loaded with university work, having texted her mother at 2:30 in the morning to inform her she had just finished writing her course paper.
"Maybe you shouldn't do all of this, perhaps you should wait until you graduate," Deborah advised.
"Uh, no. I'm just fine," McFadden responded, unfazed.
And deep down, everyone knew she would be.
McFadden, with her "fast hair" tied in a French braid, as it had been for every race of 2013, finished the New York course in 1:59:13, nearly four minutes ahead of second-place finisher Wakako Tsuchida of Japan.
"In New York, I was just in shock," McFadden said, who rang the opening bell of the New York Stock Exchange the following day.
More stops ahead
Most recently, McFadden, who hopes to one day become a child life specialist, graduated university this month and will now be able to focus solely on her athletic career for the first time ever if she so chooses.
"Her coach said we really have no idea what her ability is because she's never had the opportunity to really concentrate full-time on it," Deborah said.
"She may have taken the marathon grand slam and six-for-six golds, but the goal I wanted to see is her diploma. I've been focused on saying 'Let's just get you out of school,' so how she managed to juggle everything is beyond me."
While McFadden is now attempting to make the US Nordic skiing team for the Sochi 2014 Paralympic Winter Games, nothing she does will eclipse her 2013 accomplishments anytime soon.
"A year after a Paralympics is usually a quiet year," McFadden said. "Well … maybe that wasn't the case this time.
"Just reflecting now after the season has gone by, looking back, it's been incredible."
Related Images