Para powerlifter Oku reflects on journey from TV spectator to Ghana's flagbearer
Oku showed 'what is possible' with his performance in Tokyo, but vows to improve even more for Paris 2024
20 Jul 2022
Imagen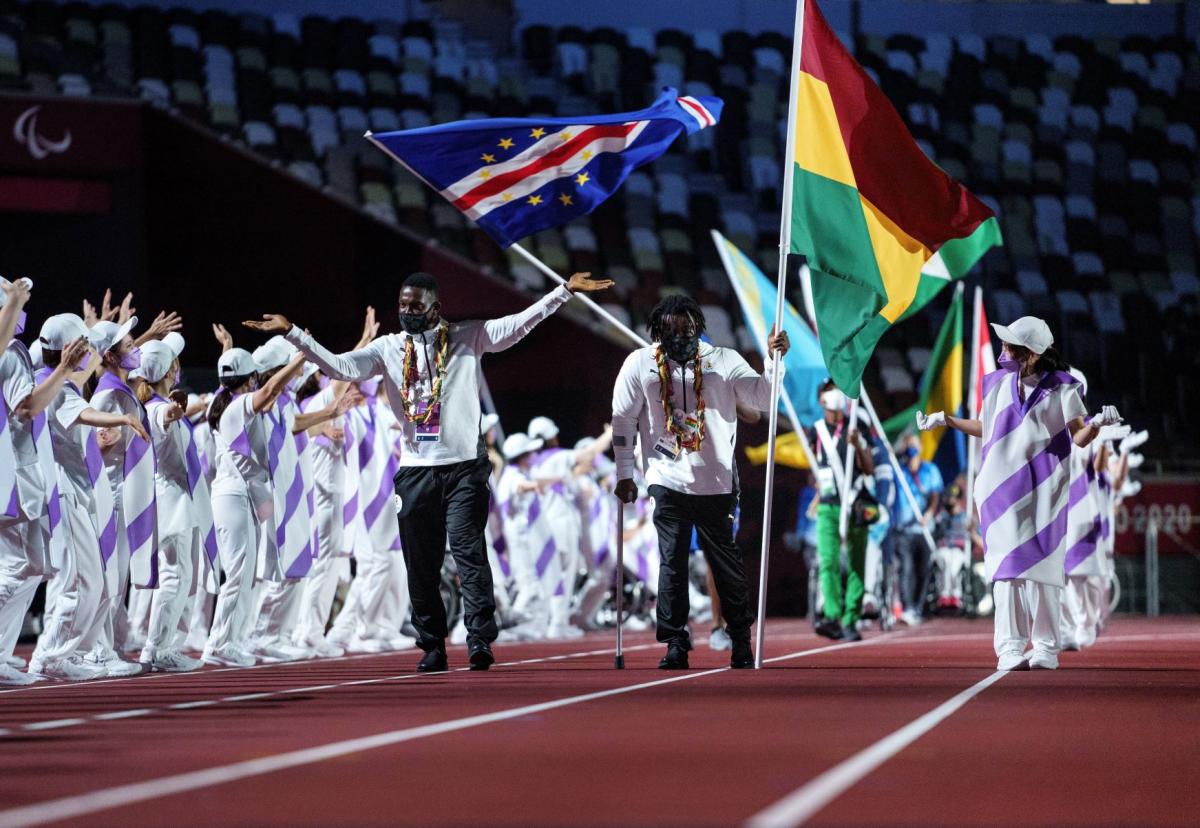 ⒸThomas Lovelock/OIS
By AMP Media | For IPC
If you need an example of how the Paralympic Games can inspire athletes of the future, look no further than Emmanuel Oku. The 31-year-old was watching television at home in Accra, Ghana six years ago when something caught his attention. 
"The Rio 2016 Paras came on, and I saw these guys coming on in wheelchairs and lifting weights," he said. "I thought, 'I could do that'. It got me interested.
"I went down to the gym and eventually a friend introduced me to the Para powerlifting team of Ghana. I watched them train for a while and then I gave it a go. A year later, I was at my first event representing my country."
It was part of an extraordinary journey for Oku, whose left leg was amputated after he was shot in the thigh in a freak gun accident while working as a palace guard in 2013.
"It was an unfortunate incident and afterwards it was tough to recover, and I could have got very down about the amputation. But I decided I had to move on with my life," he said.
Finding his passion
Oku, who previously worked as an electrical engineer, found a new job in a school with the help of an aunt and devoted his spare time to Para powerlifting. 
"I love everything about it," the athlete said. "I have always liked the gym, and I did some bodybuilding before my injury. 
"It is not always easy here in Ghana, with the facilities we have. I train at the Accra Sports Stadium and it's a gym for weightlifting, not Para powerlifting. All we have is the bench press really, not the specialist weight equipment that might help us, like shoulder and triceps machines."
Nonetheless, Oku has progressed quickly in the sport and competed at the Tokyo 2020 Paralympic Games where he was Ghana's flagbearer at the Opening Ceremony. 
"That was a great honour, a very proud and special experience for me. I was very happy in Tokyo. The (Paralympic) Village was great and I met so many people. I enjoyed the technology in Japan and how easy it was to get around."
Stronger for Paris
Oku believes he can improve upon his Tokyo performance, where he placed seventh in the men's up to 72kg competition, at the next Paralympic Games in Paris.
"I did OK but I'd like to get better for Paris. The weights I did were not my best, but at the end of the day I was happy that I was able to register a lift. I didn't want to come home without that, it was important. But I think I can get stronger, I'm just looking forward now to how I can improve."
Best of all, he knows fellow Ghanaians view him as a role model and inspiration – just as watching those Rio 2016 lifters motivated him to get into the sport.
"Being on TV [at Tokyo 2020] was amazing and lots of people know me in Ghana now, they will shout that they saw me on the news. They respect me for what I do, and that is great. We have some good new athletes coming through, from all over the country, around 15 in total," Oku said.
"When I got back from Japan, a guy called Isaac came to the gym because he'd seen me at Tokyo. He really wanted to be a part of it. That made me happy. We've been training together today.
"With the African Para Games coming to Accra in 2023, it should be good for the city and the whole country. We look forward to welcoming people to Ghana. I have helped show what is possible."
Oku will next compete at the 2022 Commonwealth Games, which are held from 28 July to 8 August in Birmingham, United Kingdom.