Perez reveals injury woes nearly destroyed 2013 season
Paralympic champion Amalia Perez's 2013 season was dominated by an injury she has been carrying since 2011, but has still managed to qualify for the 2014 IPC Powerlifting World Championships.
23 Jan 2014
Imagen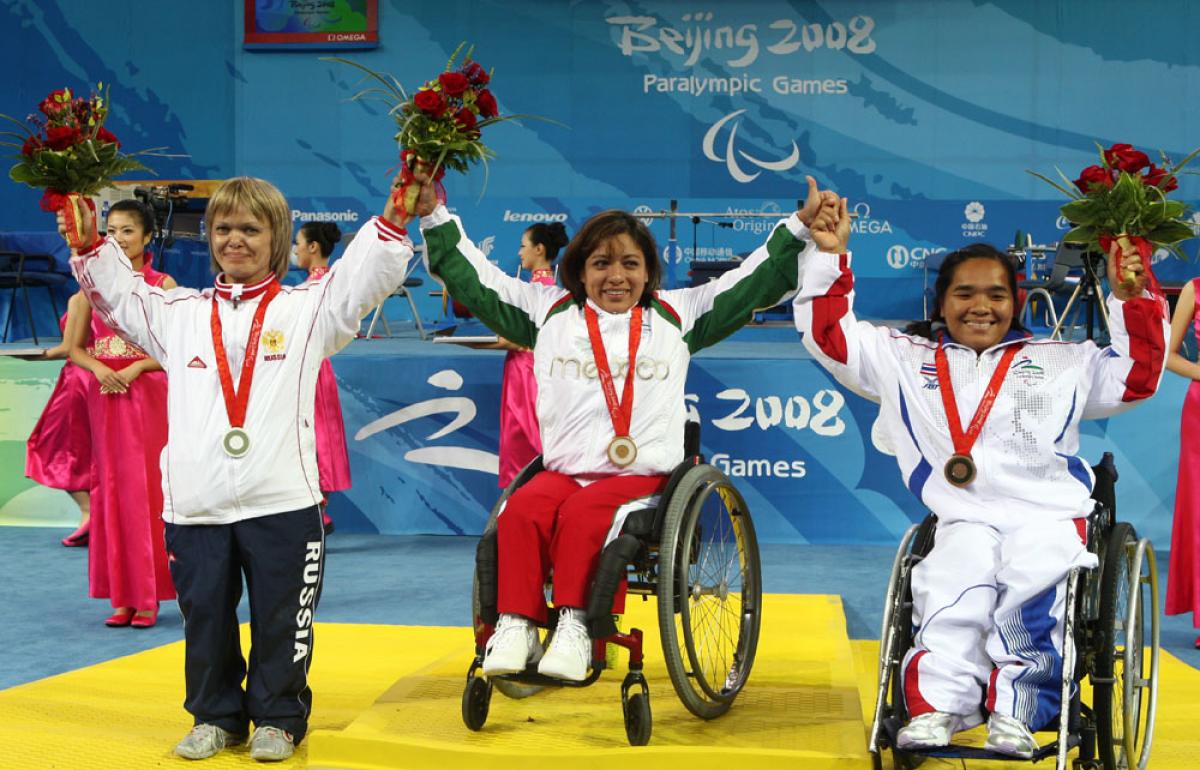 ⒸGetty Images
By Luke Jackson | For the IPC
"My rehabilitation process lasted until October [2013] and at the time I was also taking care of my health so my body responded well to the treatment."
Mexico's Amalia Perez is looking ahead to the 2014 IPC Powerlifting World Championships in Dubai, UAE, after a season which has been dominated in the large part by injury.
After reaching the pinnacle of her sport by claiming a gold medal at the London 2012 Paralympic Games, Perez was brought crashing back down to earth when it was revealed she had a serious shoulder problem in 2013.
However, despite not performing to the best of her ability, Perez has since been able to overcome this set back to secure a place at next year's World Championships, where she is expected to compete in the women's -61kg weight category.
She said: "I suffered from a severe injury before competing at the 2011 Parapan American Games in Guadalajara and I did not know the actual size of the problem until after London 2012.
"I had a scan to try and find out what was wrong and as a result I began a form of rehabilitation when I came back to Mexico but the inflammation continued.
"In response to this, I had a second scan in February 2013 which showed a complete rupture of the tendon connected to the supraspinatus and tendinitis in the left shoulder and bicep.
"Consequently, I had to think about my health and after so many months of rehabilitation I was informed on October 10 2013 that I could participate at [2013 IPC Powerlifting Asian Open Championships in Kuala Lumpur] Malaysia.
"I only had few weeks to prepare in the best way to participate in Kuala Lumpur, which was so important because I had to obtain the minimum qualifying standard (MQS) to participate in the world championships that will be held in Dubai next April.
"Fortunately, in Malaysia my best lift was 118 kilograms which meant that I finished in third place. I beat 14 competitors in my category and I only finished behind of Fatma Omar Mohammed from Egypt and Lucy Ogechukwu Ekije of Nigeria.
"These two are considered the best competitors in the world so knowing that I think that I can aspire to win more international medals."
Even though she left Kuala Lumpur 2013 disappointed after only snatching a bronze medal, the 40-year-old had a much shorter training camp than normal due to her recovery.
This undoubtedly attributed to her failed attempt at finishing atop of the podium.
She continued: "My rehabilitation process lasted until October [2013] and at the time I was also taking care of my health so my body responded well to the treatment.
"Unfortunately though, I only managed to fit in a few weeks training before the event."
Now that Perez has secured a place at next year's World Championships, she is hoping to add another medal to her collection.
She said: "It was not my priority [to medal] but I have now qualified without any impediment for the world championships so I am aspiring to obtain a medal in Dubai.
"I am confident but I know it will be tough because I will face some serious competition from the athletes from Nigeria, Egypt and China."
Dubai 2014 will prove to be a good platform for powerlifters to see how their preparations are coming along for the Rio 2016 Paralympic Games.
Perez is eyeing up this competition as she seeks to become a double Paralympic champion and she admitted that retirement could be a possibility after it.
She said: "To be competing in Rio is my main goal and I would like to repeat what I achieved at London by becoming a Paralympic Champion again.
"At any competition I always enjoy to participate, just as I have done since I was a little girl, and I will never stop from dreaming to be the best. I always put my heart and soul in to each championship.
"As for my future in the sport after I have competed at the next Paralympics, I believe that everything has a beginning and an end.
"Personally, when I feel that my time in the game has come to an end I will say to God, with all of my dignity and pride, thanks for giving me the opportunity to represent my country for so many years."
Dubai 2014 runs from 5-11 April and will feature around 300 athletes from nearly 50 countries. It will also be the climax of the IPC Powerlifting Raise the Bar campaign.