For Priscilla Gagne, the impossible is possible
With the support of her coach, the world no 2 Canadian judoka intends to redeem herself at Tokyo 2020 after narrowly missing bronze in Rio
06 Jun 2021
Imagen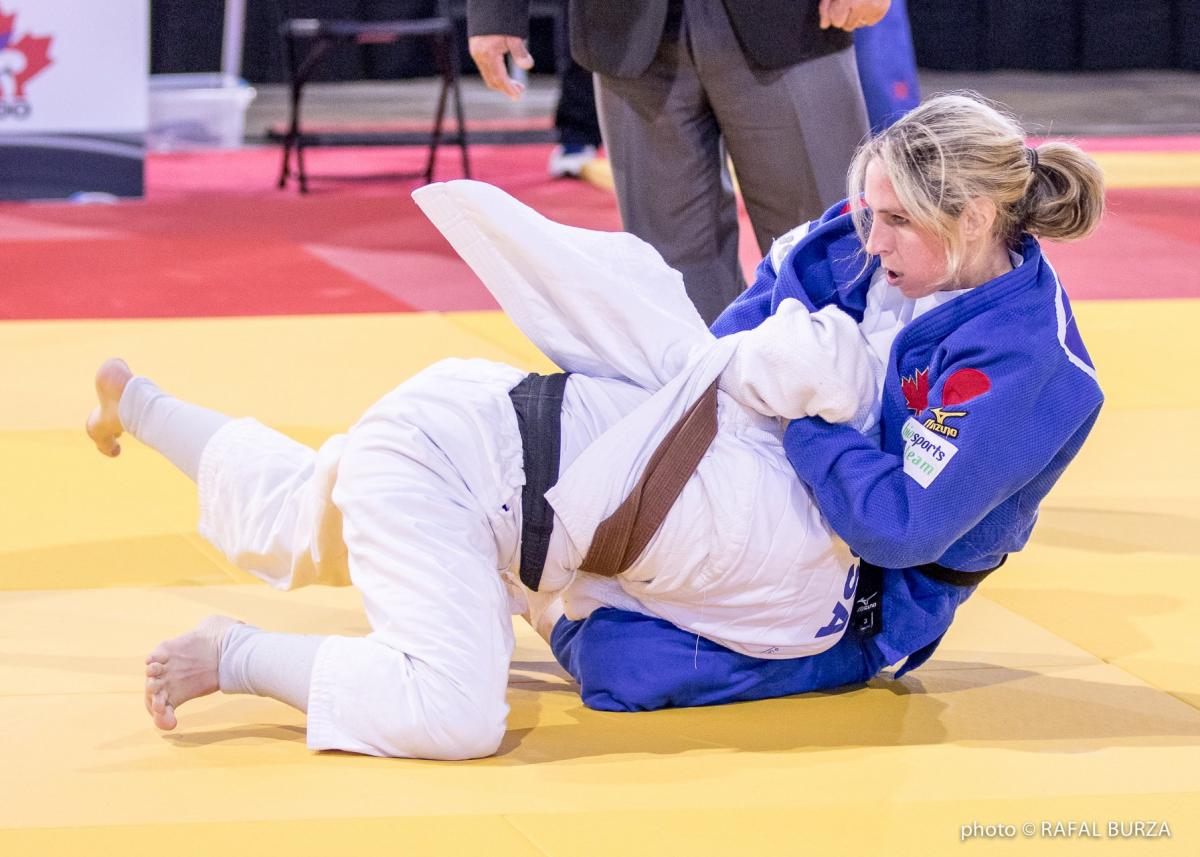 ⒸRafael Burza
By Tokyo 2020
"In school they wouldn't let me participate in anything because they considered me high risk. And it just irked me, really upset me. And I remember being so angry, [and] thinking I can do it," recollects Canadian Para judoka Priscilla Gagné.
Born with a genetic eye disorder called retinis pigmentosa, Gagné has four degrees of peripheral vision, but with no central vision, is considered blind. But her vision impairment did not deter her from displaying interest in sports from an early age.
"It's my eyes that are broken, not my legs. And I was just out to prove them wrong and bent on finding something that I could do just as well as an able-bodied person," says the 35-year-old athlete.
From the age of seven to her teens, Gagné dabbled in karate, hockey, gymnastics, karate kenpo – whatever she could get her hands on – even if it meant not being allowed to take part in leagues nor permitted to spar with others.
But whenever a door would close, this only pushed her to explore more options to try to find other sports she could take part in. This tenacity, as Gagné herself says, comes from the fact that she was 'born competitive' and it's her way of not taking 'no' for an answer.
"It's part personality. In part, it's just a passion. [My family] just allowed me to belong and they allowed me to explore and find out what my limits were. And they let me get hurt along the way, like they didn't protect me."
While attending a school for the blind, she found her footing in goalball and wrestling where her impairment didn't get in the way as the school encouraged students to participate in sport. She even played in Canada's national goalball team while wrestling saw her face able-bodied athletes and win tournaments. For the first time in Gagné's life, she had fulfilled her dream of competing.
"I think any time I had a taste of [competition], any time I had an inch to play with, I just took that opportunity to the extreme. And there's times where I failed and it wasn't great and it didn't work out. And I was okay with it because I tried," she adds.
The athlete and the coach
While she excelled in those sports, they were just stepping stones to what she could really do.
She discovered judo at age 23, a sport was that was tailored to the kind of athlete she wanted to be: a fighter.
"I loved combat sport. There's something about being visually impaired and everybody always telling you to be careful and 'look out for this, you can't do that, and this is too risky, a liability this and liability that'.
"And I was just amazed that finally [with para judo] somebody could see us as not being fragile. [And see that] the visually impaired as tough people who can handle themselves and can learn a combat sport and can handle it," says Gagné.
Judo was also part of the Paralympic programme in Canada – which made her one step closer to competing at the biggest sporting event in the world: the Paralympic Games.
She found an ally to make her Paralympic dreams come true in her coach Andrzej Sadej, who himself was a European Championship bronze medallist in 1981 and is the current coach to both the Olympic and Paralympic athletes for Canada.
"From my perspective, to me, my coach, he is everything," Gagné says about their solid athlete-coach relationship.
"Him and I both have always been open. I'm open to listening to him. He's open to listening to me. If I don't think something will work and he says it will, I'll do it because I trust him," she adds.
In 2016, with Sadej's guidance Gagné made her Paralympic debut at the Rio Games.
Whilst she lost in the bronze medal match against Uzbekistan's Sevinch Salaeva by a slim margin, it became a learning curve for the athlete and her coach for future competitions - something that together they would dominate in the next few years.
By 2018, she became the champion at the Pan Am Para Judo Championships in the 52kg category in front of a home crowd in Calgary, Canada. The same year she became the first Canadian female medallist at the IBSA World Championships after clinching bronze. In 2019, she won silver in both the Parapan Games and the IBSA Games.
Gagné shares all these victories with her coach.
"He has put so much into this and we're kind of like a family in judo. My win is his win. It just brings me so much great joy when I can bring results that I know he understands the deep meaning of."
And Sadej has equal praise for Gagné.
"Priscilla is very driven, dedicated and self-conscious person and athlete. Coaching her is one of the most impactful experiences of my over 50 years long experience in judo," says a proud coach.
From Rio 2016 to Tokyo 2020
Having fully recovered from a hip surgery last year, preparations are now underway for Gagné as she sets out to return to the mat this summer for Tokyo 2020.
But with the restrictions brought about by COVID-19, training had been quite challenging.
"Until early 2020, Canadian Paralympic judoka trained in a fully integrated environment with the Olympic team. With the restrictions we are juggling the training issues on always changing basis. The main challenge due to restrictions is now the number of partners available to train with, not to mention that adequate competitive judo training with facemasks on is very much impossible," Sadej explains.
One other challenge that Gagné has to face is the current rule for Tokyo 2020 where she has to compete as a B1 athlete (blind) with other athletes with varying degrees of vision (partially sighted), which could put her in a difficult position.
"The majority of Priscilla's opponents are visually impaired while she is blind which in my opinion, always puts her in the underdog position," says Sadej.
A new classification system in Paralympic judo will take effect in Paris 2024, but before that, the first order of the day for Gagné is to win a medal in Japan.
According to her coach, her chances of standing on the podium will depend on their preparation in the lead up to Tokyo.
"Our goal is to reach the podium in Tokyo. She is highly ranked right now and lots will depend on the conditions of preparation towards the Games. In Canada, the Covid pandemic restrictions prevented us from regular training and competition for over a year now," says Sadej.
"We know that many other countries do not follow similar restrictions and this situation may result in a number of surprises during the Games," he adds.
But Gagné remains focussed.
"I'm visualising Tokyo right now. I'm visualising what the arena is going to look like, smell like, sound like... like preparing myself for a really odd different type of thing." says the para judoka.
And if ever she clinches Canada's first medal in judo, Gagné says the Paralympic glory goes beyond herself and her coach.
"For judo in Canada, I think it will show the young kids especially the blind schools that I've gone to speaking. It will show them to follow your dreams. It will show them that things are achievable, the impossible is possible, and it would show them it would be the proof of life isn't always easy but when you stick with it, this is the reward and whatever that looks like for them."
"And it'll hopefully motivate them to join the programme and join via judo and what we could build their team."