Ukraine's Paralympic medallist Oksana Boturchuk, a star on the track and red carpet
From the red carpet in Kyiv to the red track in Tokyo, the 2008 Paralympic champion continues to inspire audiences worldwide
21 Sep 2021
Imagen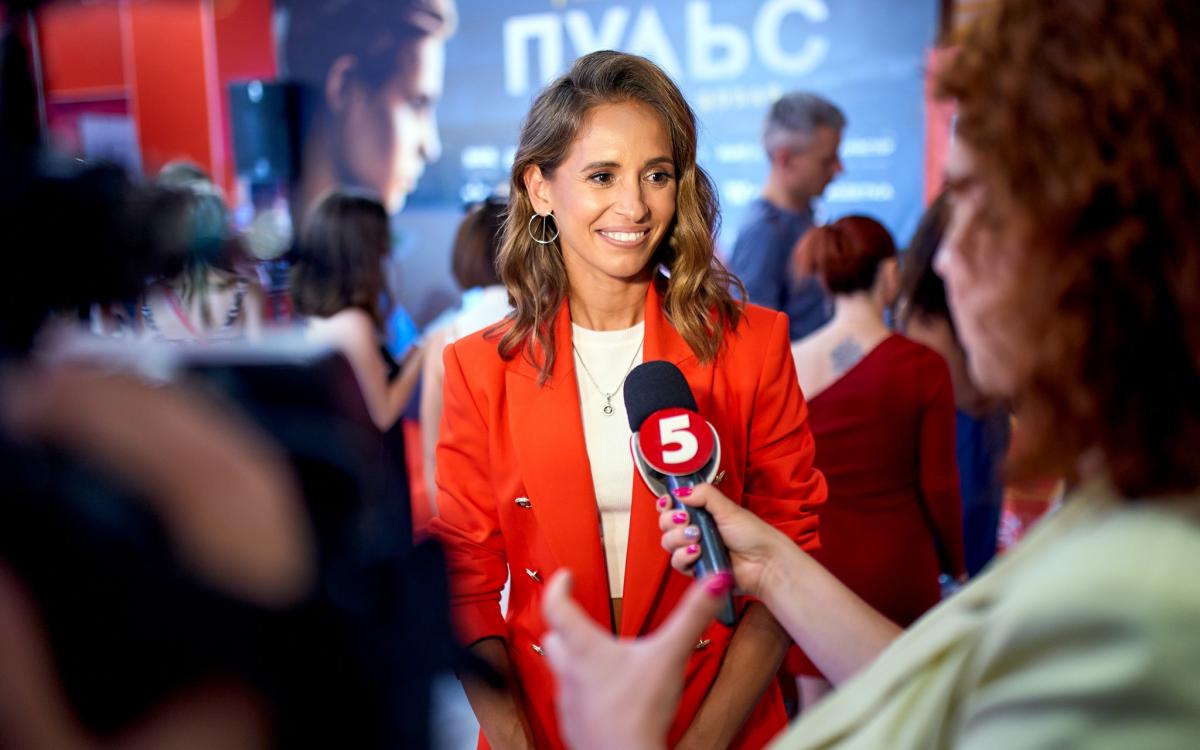 ⒸFilm.ua
By Lee Reaney | For the IPC
Just weeks before boarding the plane to Japan to compete in her fourth straight Paralympic Games, Oksana Boturchuk was trotting it on the red carpet with some of Ukraine's biggest celebrities.
A feature film based on her life 'Pulse' was released in cinemas in August, recounting how the aspiring Olympic hopeful had to adapt her dreams after losing much of her sight in an auto accident, to becoming a 100m Paralympic champion in 2008.
At 36, having taken three silver medals at Tokyo 2020 in the T12 class, Boturchuk has been in the shadows of Cuba's ace Omara Durand – the fastest female Paralympian. But 'Pulse' has reminded that the Ukrainian's story should not be forgotten, and one that stood out to director Serhiy Chebatarenko, who picked out the script and worked with producer Egor Olesov to get the film made. 
"This is an incredible event for our family," Boturchuk said. "Thanks to them (Chebatarenko and Olesov), everyone learned about my life. It's nice that people are inspired [by my story] to achieve goals, to play sports – especially children, that's the main point."
The premiere attracted some of the biggest names in Ukrainian sport, including former world heavyweight boxing champion and Kyiv mayor Vitali Klitschko and President of the Ukrainian National Paralympic Committee, Valery Sushkevych.

A NATIONAL ROCK STAR
 
Ukraine has produced some top Paralympic stars and finished among the top teams on the medals tables at the Games, third at Rio 2016 and sixth at Tokyo 2020. 
Seeing this interest, Film.ua went all out in the film's production and was able to attract some of Ukraine's biggest celebrities to the project. 
Among the star actors are Stanislav Boklan, who plays Boturchuk's coach. TV icon Liliya Rebrek plays Boturchuk's first coach when she got started.
Newcomer Nataliya Babenko landed the lead role of Boturchuk. She trained six months for the role, running two to three hours a day, five to six times a week. The actress even met the athlete and took part in her training sessions. 
"I spoke to Oksana about it (learning to play someone with a vision impairment)," Babenko said, adding, "She gave me some pointers and I would practice in my apartment. But I knew where things were. It was when I was outside that it really sunk in."
 ©Getty

Boturchuk said she got lost in the film's story and production: "For the first moments, I confess, I compared myself to [Babenko]. But then, the film took over so much that I forgot about everything. Nataliya had a very difficult role and coped with it 100 per cent - she is very talented."
Boturchuk did more than just guide Babenko. She worked with screenwriters Yaroslav Wojcieszek and Maxim Chernysh on the script and with actors and crew to replicate authentic professional training sessions.
"Honestly, I was very worried about seeing myself on screen, to see my life from the outside. But the film was shot so well that I only have pleasant feelings," the four-time Paralympian said. "Many scenes went well – family scenes, my relationship with my sister, the scenes of love with Serhiy completely conveyed our relationship – as if in the heat of the moment! And, of course, with coach Sorochan – played so well by Stanislav. The first viewing left me only in tears."
ON THE RED TRACKS
The film, however, does not portray everything. Being released before Tokyo 2020, Boturchuk real red carpet was running down the Olympic Stadium in Tokyo in hopes for her first Paralympic gold in 13 years.
But it would be a tough feat, with Cuba's Omara Durand having dominated the class since London 2012. Additionally, she was dealing with an Achilles injury and needed to be cautious in the lead-up to Tokyo. 
 ©Getty

In Tokyo, Boturchuk finished behind Durand for silvers in the 100m, 200m and 400m T12.
"If the Paralympic team had not been created, my dream of a medal would have always remained a dream," she said. "So, I'm infinitely grateful to Valery and the whole Paralympic family – because of you all the dreams of people like me, with hard work and support, can become a reality."