Arjola Dedaj's family affair
World champion returns to action with partner and son alongside
13 Mar 2019
Imagen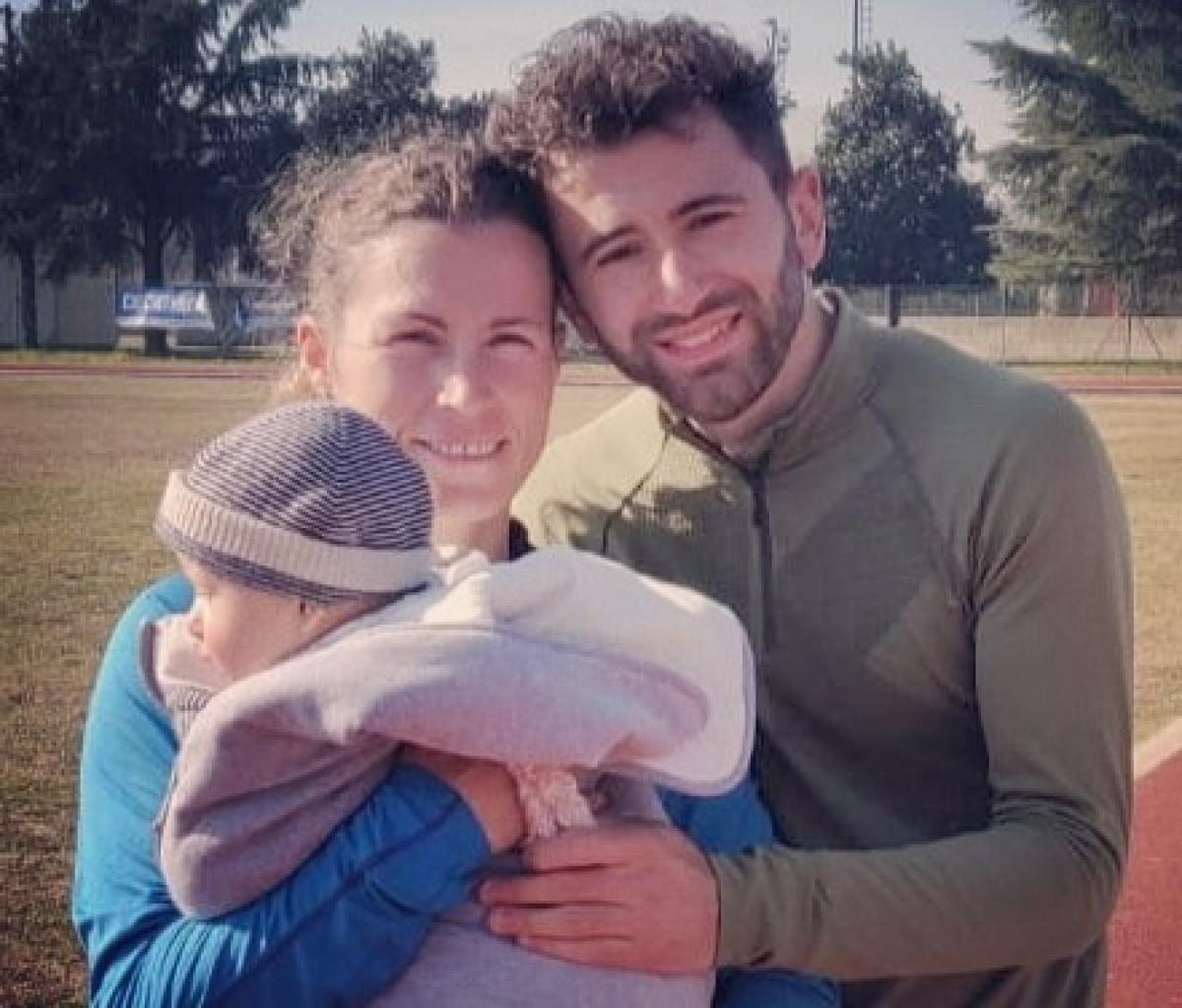 ⒸArjola Dedaj
By World Para Athletics
"There is one extra reason now to compete and this reason is baby Leo. He is our first fan and an even greater motivation to get better, to stay focused and to fight hard."
It has been one year since Italian world long jump champion Arjola Dedaj lined up in a competition, but it is not her return to action at next week's Ancona 2019 World Para Athletics Winter Challenge that fazes her.
Packing the car however is another matter.
Dedaj and her partner, world 400m T44 bronze medallist Emanuele Di Marino, became parents to baby Leonardo in September last year and the trio will make the journey from their home in Milan to Ancona on Italy's east coast together.
"We have been travelling around Italy a lot over the past six months, so we know what to take," explained the vision impaired Para athlete, who will compete in the 60m and long jump in Ancona on 23 and 24 March. "But the real problem is not fitting everything in the car!"
Warm-weather training in Tenerife last month gave Dedaj, who won long jump T11 gold at the London 2017 World Championships, a vital opportunity to improve her fitness ahead of a busy year of track and field.
Dedaj trains alongside Di Marino – the two Paralympians call themselves 'la coppia dei sogni (the couple of dreams)' and have over 18,000 followers on Instagram - and the sunshine of the Canary Islands provided the perfect setting for both athletes and for Leonardo, trackside in his pram.
"Of course, everyday life is much more difficult," admitted Dedaj. "It was already difficult to train when it was just two of us, but now we need to manage the family side and training.
"We decided to train in a warmer temperature because Milan was really cold and it was really tough for Leo while we were training outside."
Relishing her return
While Dedaj admits she is not back to full fitness yet, the 37-year-old, who returned to training one month after giving birth, is relishing the chance to experience competition once again.
"It's really important to get back and breathe the aroma of competition and the atmosphere from the public. I want to get back the emotional feelings that you get at competitions – even the anxiety," she explained.
"We need also to deal with the fact that at night Leo wakes up and I need to feed him. I have less energy for that. Ancona will be a test to see how we can manage all those things during the competition."
Tough competition
Dedaj is also well aware that her competitors have been improving in her absence too.
At the 2018 European Championships, Viktoria Karlsson clinched long jump T11 gold with a championship record of 4.77m – nearly 50cm further than the Swede's best at London 2017, where she finished fourth.
China's Guohua Zhou and Meritxell Playa Faus of Spain have also risen up the world rankings, leaping bests of 4.99m and 4.98m respectively last year.
Then there is Brazil's Paralympic champion Silvania Costa da Oliveira, who missed London 2017 after the birth of her son. The world record holder is also aiming for November's World Championships.
Still, Dedaj remains unperturbed.
"The other girls are quite young and I am 37, so to be close to them is key for my own motivation," said the Italian, who has a personal best of 4.72m. "If they do well it means I am motivated to do better myself.
"But the competitions will decide who is the best and for vision impaired athletes things are very unpredictable. It depends on a lot of factors – the wind, how you run up and so on."
Motivation is closer to home too.
"There is one extra reason now to compete and this reason is baby Leo. He is our first fan and an even greater motivation to get better, to stay focused and to fight hard."