Saudi Arabia's female athletes dream big
History-makers ready to take on the world after Grand Prix debut
08 Mar 2019
Imagen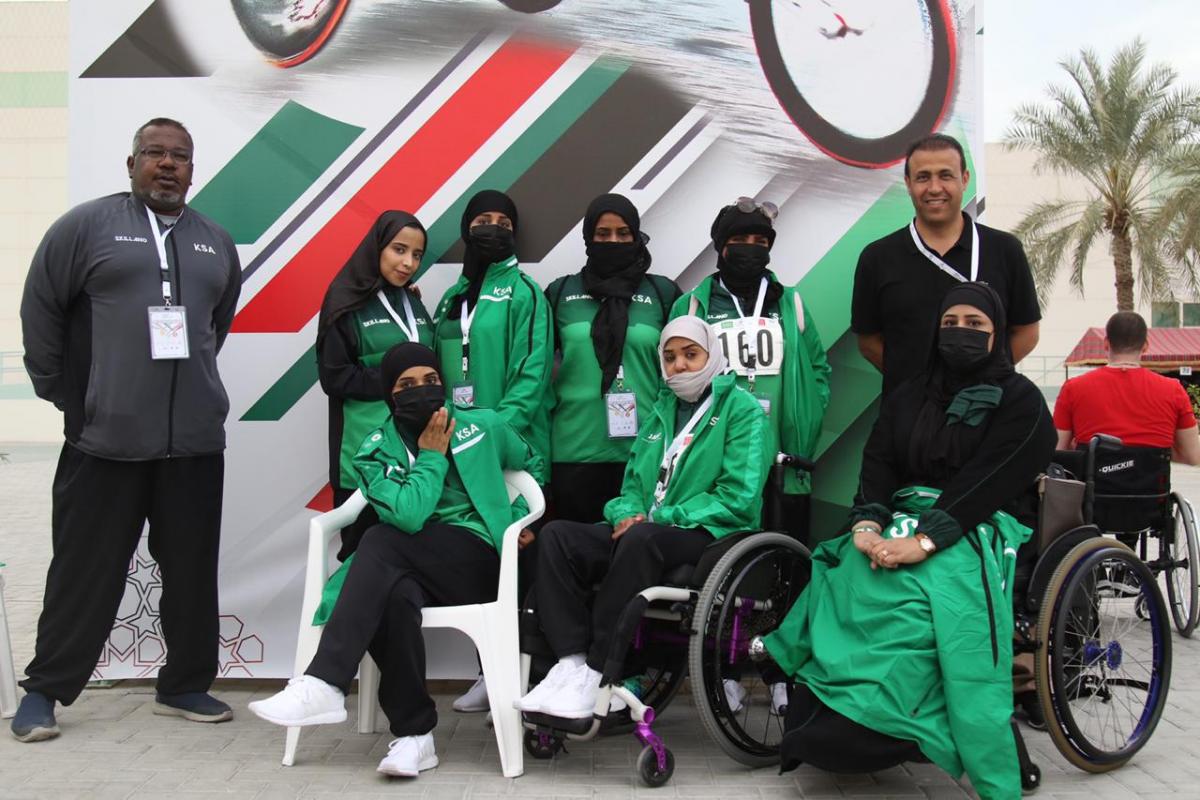 ⒸNPC Saudi Arabia
By Priyanka Sharma | For World Para Athletics and the APC
A unique feeling of anxiety and pride had gripped Saudi Arabia's Zahra Al Tala as she prepared to take her first attempt in the women's discus F52-54 final at the Dubai 2019 World Para Athletics Grand Prix last month.
History was made on 24 February when Zahra along with two others, Amal Alahmari and Sarah Aljumaah, became the first Saudi Arabian women to compete in an international Para athletics meet. So, jitters were quite normal.
Covered from head to toe, with her face concealed, Zahra ended without a medal, but she grew in confidence with each throw.
"Earlier I was a bit apprehensive about how it would be like to compete in such a big event. But it's an amazing experience. I feel confident and lucky to be here today and participate on behalf of all the women of Saudi Arabia," Zahra said after her round, where she finished fifth.
"I am also happy that I could overcome my own fears that if I will not be able to compete in front of so many people.
"I hope I can take part in more events in future. Here, I have made many friends from the UAE, Bahrain, Kuwait and Turkey etc. I want to meet them again," she added.
What was fascinating about Zahra was not just her indomitable spirit but her appetite to learn and excel. On the last day of the competitions, she hurled the javelin with just an hour of training. "And she did quite well," said their coach Abdullah Mashrawi. Zahra ended fourth with a throw of 4.24 metres.
"Thank You His Majesty King Salman"
A high-school graduate, the 33-year-old Zahra also has a diploma in computers. She aspires to take up a full-time job someday but for now, she is focused to improve her skills and technique in her new interest—javelin and discus events.
"I hope to work someday. But that's okay as I have a lot of work to do now. I have to work on my power and to get distance in my events. I hope to win a medal for Saudi Arabia one day," she added.
Like Zahra, Amal also aspires to bring home glory. The 42-year-old, as the oldest among the three women athletes in the team, was like an elder sister for both Zahra and Sarah. She hopes they can leave a legacy for women in their country.
"It's a proud moment for all of us. We want to thank His Majesty King Salman bin AbdulAziz Al Saud and his son His Royal Highness Crown Prince Mohammed bin Salman bin Abdulaziz Al Saud for allowing women participation in Para events. This will inspire and open opportunities for women athletes in Saudi Arabia," said Amal who competed in the shot put F35-37. Amal used to take up part-time projects of interior decoration before she became an athlete.
Role models
When asked about their plans for the future, Zahra added: "It's all about athletics now. I want to become a role model for the People of Determination and inspire more girls in my country to take up sports. Like me, they can also feel proud about themselves."
Coach Mashawi admitted that the exposure at the Dubai Grand Prix will do the athletes a lot of good.
"Zahra, Amal and Sarah are among the 10 women who have been training for the past three months in Riyadh under my supervision. They are improving but they have to improve a lot of to compete in international events," the coach said.
With Saudi Arabia easing the restrictions on women in sports recently, the interest in Para athletics is also growing.
"We are organising camps for female athletes and many youngsters are showing interest, which is very good. Next year, I hope we have more women athletes in our team."