Dubai 2019: Legnante completes grand double
'I'm absolutely happy, it's a medal that I was really strongly looking for'
12 Nov 2019
Imagen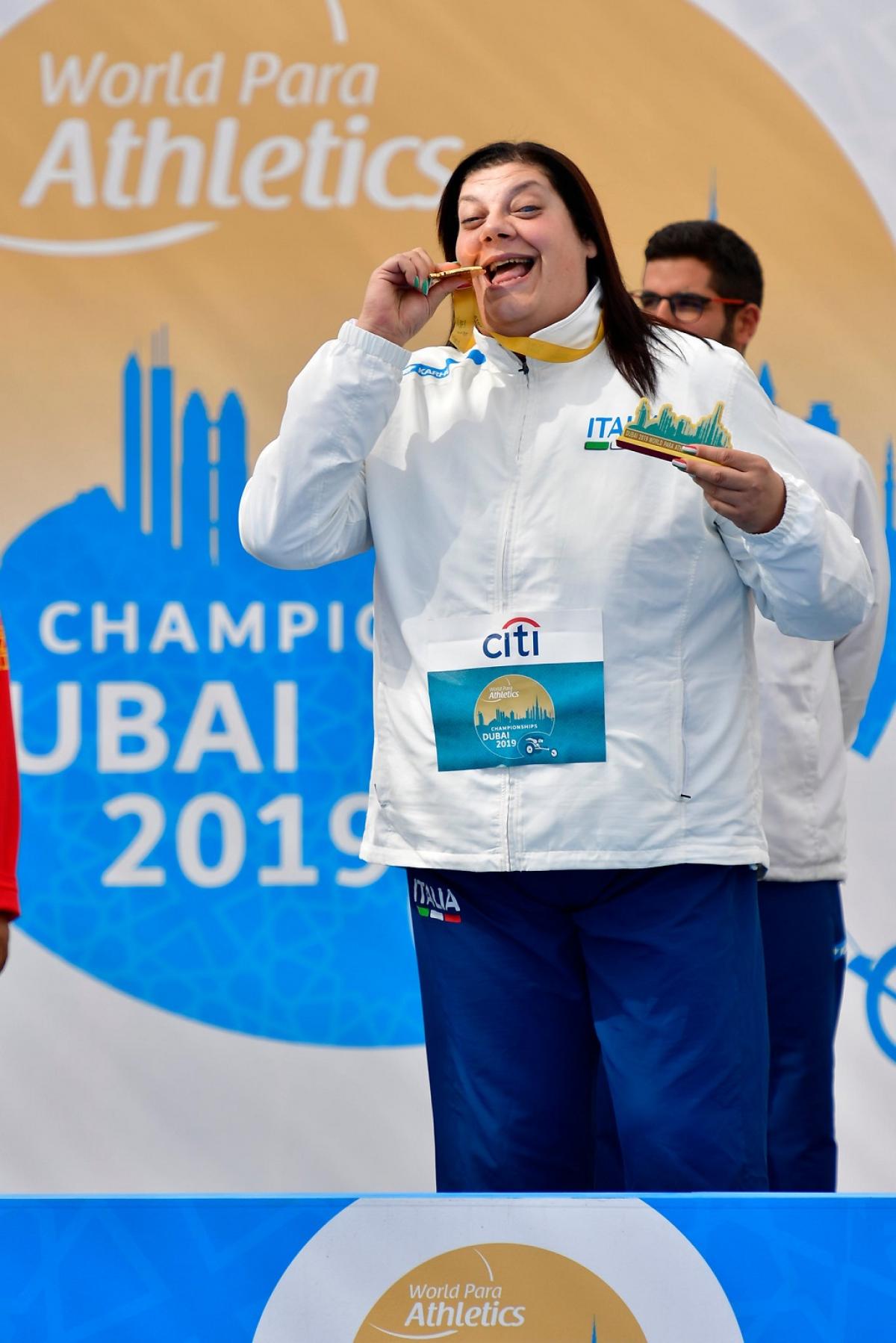 By Paloma Gutierrez | World Para Athletics
DUBAI: Italy's Assunta Legnante clinched her second gold medal in five days at the Dubai 2019 World Para Athletics Championships. Tuesday's morning session saw two more World records being broken.
Legnante had already won the women's shot put F12 on Friday and she carried on from where she had left. This time, the challenge was the women's discuss throw F11 facing China's World record holder Liangmin Zhang.
Zhang was leading (36.78) until the fifth round when a 37.89 throw put the Italian ahead and allowed her to complete a grand double at the 2019 Worlds. Brazil's Izabela Campos (34.28) took bronze.
With this triumph, Legnante has swelled her Worlds titles tally to five and this was Italy's second gold in Dubai 2019.
"I'm absolutely happy, it's a medal that I was really strongly looking for. I hope that next year in Tokyo I will break the World Record," said Legnante, who immediately heralded that she has set sights on her third Paralympic medal at Tokyo 2020.
"There are a few new young athletes and our results are similar, so that is making the event (Tokyo 2020) more competitive," the Italian added.
Two more gold medals and records for China
Though China had to settle for silver in the women's discus throw F11, they could still extend their lead in the medals table with two victories on Tuesday morning.
Pengxiang Sun (44.35) won the men's javelin throw F41 with a new World Record. Iraq took silver and bronze with Wildan Nukhalawi (43.96) and Kovan Abdukraheem (42.24), respectively.
World record holder Lijuan Zou could not better her mark but set a new championship record (8.79m) to win the women's shot put F34.
The silver was bagged by Saida Amoudi (8.09) of Morocco and Vanessa Wallace (7.66) of Great Britain took bronze.
Brazil's Petrucio Ferreira (10.42) also clocked the fastest time in 100m at a World Championships  in the morning heat.
Germany and Uzbekistan reap more titles
                                                           
Bekjon Chevarov (7.23m) gave Uzbekistan their fourth gold medal at Dubai 2019 in the men's long jump ahead of USA's Isaac Jean-Paul (7.18m) and Spain's Ivan Cano (7.04m).
 Germany's Birgit Kober (11.19) established a new championship record with her victory in the women's shot put F36. The silver went to Russia's Galina Lipatnikova (10.36) and bronze to China's Qing Wu (9.32).
Complete results, medallists and records from Dubai 2019 can be found on the Dubai 2019 microsite: https://www.paralympic.org/dubai-2019/
You can follow the competition live on World Para Athletics' website, Facebook  and Twitter pages.