Dubai 2019: Anrune Weyers takes South Africa's first gold
Family support is secret behind World Championships titles on Sunday
10 Nov 2019
Imagen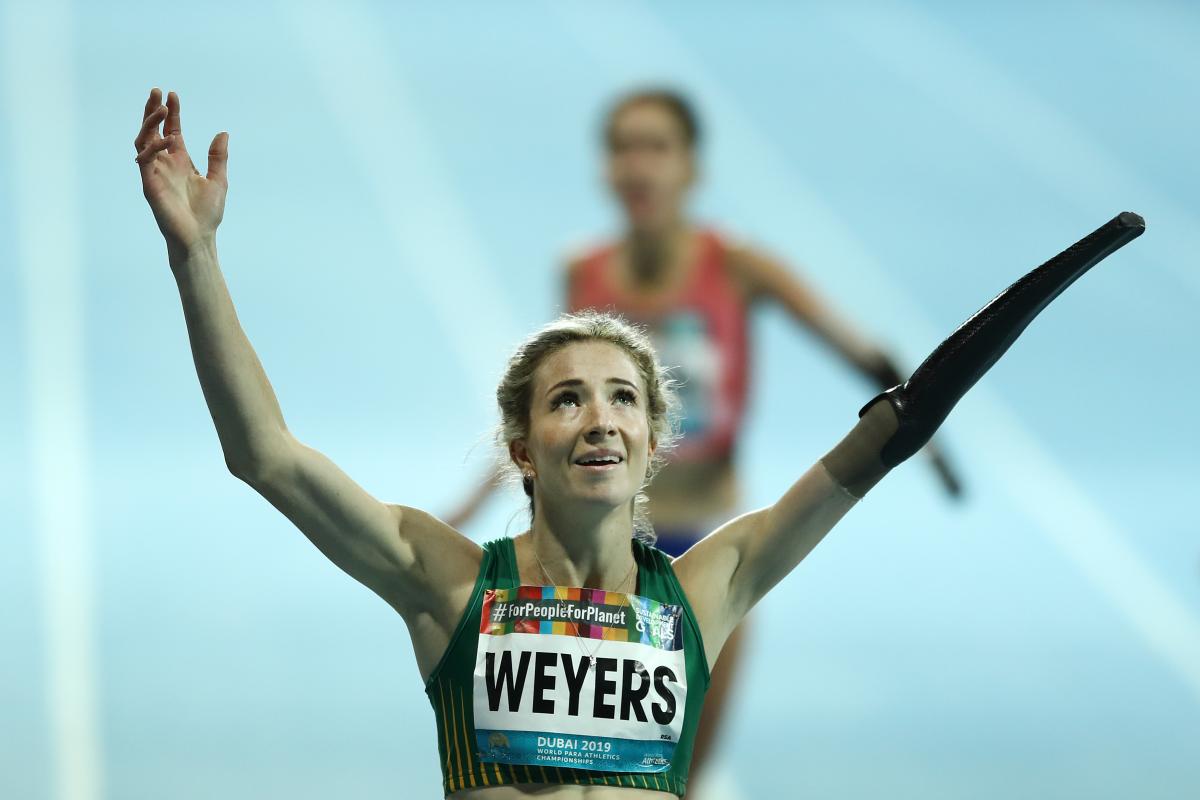 ⒸBryn Lennon/Getty Images
By World Para Athletics
DUBAI: South Africa's first gold medal at the Dubai 2019 World Championships came through a familiar face with a different name. 
Anrune Weyers won the women's 400m T47 with a championship record (55.79), something that not even the 27-year-old sprinter expected to achieve. 
"Last year was really tough because of injuries. It has been a miracle to run here, because I just had six weeks of training [after a surgery] so this is has been amazing. I'm really thankful to be injury free and run," Weyers said.  
It was her second world title. Four years after the first one in Doha. 
Back then, the name of the gold medallist on the screen was Anrune Liebenberg. But the South African said she decided to use her husband's surname because of the unconditional support she feels from her partner.   
"I am proud to have Weyers on my name now because it's kind of a part of him with me in athletics. He's the person who is always me."
China's Lu Li took silver (58.61) and Lisbeli Vera of Venezuela, bronze (58.98).
Great Britain's Aled Davies also had a lot to celebrate with his family. His fourth world shot put title was followed by a very special fan, his seven-week old daughter Phoebe.
"This was the toughest one yet [world title]. Me and my coach [Ryan Spencer-Jones] knew things haven't been clicking, they haven't been coming together and this was the hardest competition of my life," Davies said, with Phoebe in his arms.
On being a world champion father, he said:
"It's the only motivation you need. I don't do this for me now – I've achieved everything I've wanted to achieve. Golds at every tournament and world records, so if I can keep on dominating as long as possible and show that beautiful little girl how it is done then that's great."
Luxembourg's Tom Habscheid finished in second place (15.10) and Iran's Sajad Mohammadian in third (14.39).
Davies' was Great Britain's second gold in the evening session. The first came with Marie Lyle in the women's 100m T35.
Three new world records
Three new world records were set in an evening session of mild temperatures in Dubai following a rainy afternoon. 
James Turner of Australia broke the men's 100m T36 world record in 11.72. 
"I was always planning to be head [of the race], everybody is. I'm now thinking about the 400m and there is a lot of hard work to do. This is a really good preparation for me, this is a really good test event for me before Tokyo [2020 Paralympics]."
China's Yifei Yang took silver (11.79) and Malaysia's former world record holder Mohamad Puzi, bronze (11.97). 
China's Xiaoyan Wen smashed the women's long jump T37 (5.22) ahead of USA's Jaleen Roberts (4.81) and Poland's Marta Piotrowska (4.45). 
The third world record set on Sunday evening meant Jordan's first gold at Dubai 2019. Ahmad Hindi bettered his own mark with 12.17 meters. Iran's Mehran Nikoeimajd won silver (11.41) and Mauricio Valencia of Colombia took the bronze medal (11.35). 
China remain on top of the medals table with nine golds followed by Brazil with six. Thalita Simplicio in the women's 400m T11 (56.85) and Daniel Martins' third world title in the men's 400m T20 (47.62) bagged the Brazilian golds on Sunday.
First golds for Kuwait and Serbia
After finishing third in the 400m T13, Paralympic champion Leilia Adzhametova got her revenge in the women's 100m T13 giving Ukraine their fifth world title at Dubai 2019.
Wheelchair racer Walid Ktila grabbed his second victory in Dubai and Tunisia's third gold medal in the men's 100m T34. 
For Germany and India, Sunday brought the second gold. Indian thrower Sundar Gurjar's won the men's javelin F46 (61.22) while German jumper Leon Schaefer dominated the men's long jump T63 (6.90).
South Africa was not the only country to top the podium for first time on Sunday. Ahmad Almutairi was received with drums beating by Kuwait fans following his victory in the men's 100m T33 (17.08).
Zeljko Dimitrijevic gave Serbia their first win at Dubai 2019 in the men's club throw F51 (33.82). 
All medallists, records and results from the World Para Athletics Championships can be found on the Dubai 2019 microsite.
Competition resumes on Monday and you can follow live on World Para Athletics website, Facebook and Twitter pages.