Dubai 2019: Rosbil Guillen's medal hunt driven on by redemption
Victory at home Parapan Am Games makes athlete a household name in Peru and takes him to the World Championships
03 Nov 2019
Imagen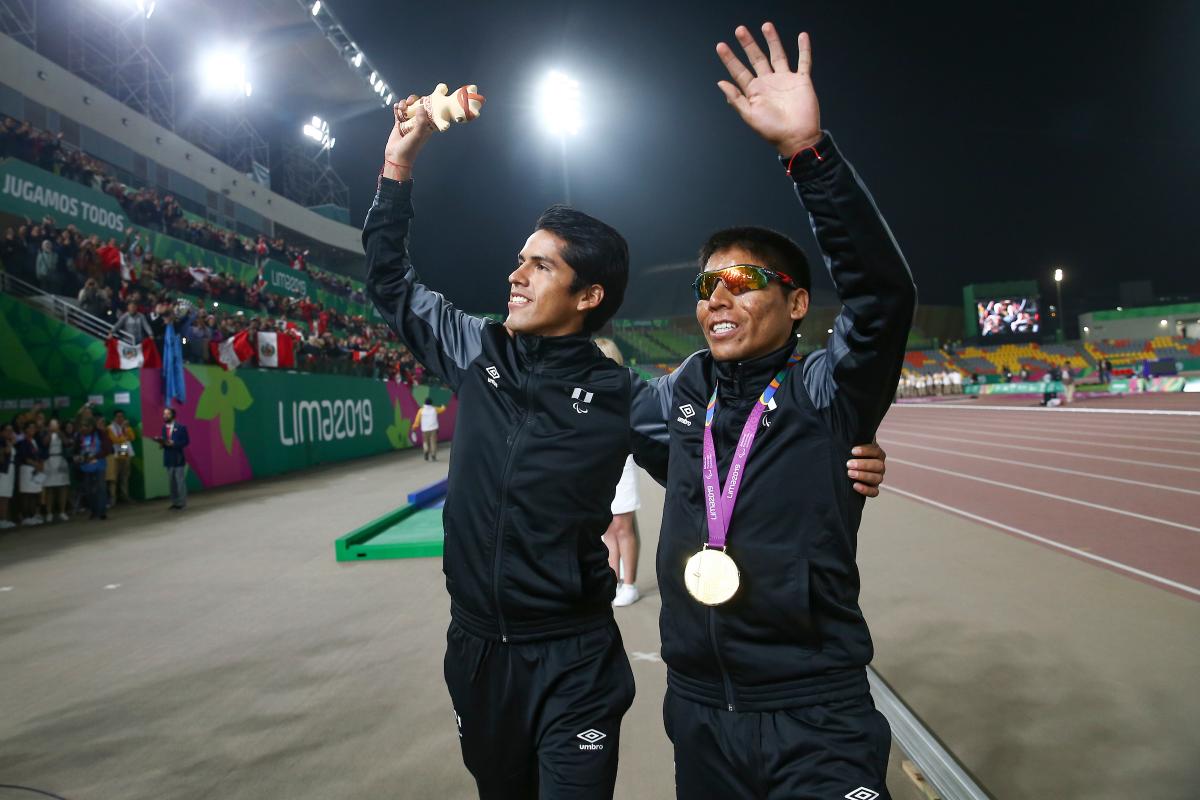 ⒸLima 2019
By Amp Media | For World Para Athletics
The life of the vision impaired Peruvian runner Rosbil Guillen has been changed forever over the past few months. A superb 1500m gold in the Parapan American Games in his home capital of Lima, in front of friends, family and thousands of cheering country-folk is a moment forever etched in his memory. 
Had he not succeeded, the pain of what happened just days before in the 5000m final might have haunted him forever.
Rosbil Guillen took up running in 2016. 
"The most important moment in my life before the Parapan Am Games was the moment I qualified, at last year's Barranquilla National Open Games," he said. 
It was, indeed, a life-changing moment. 
A year later, on the afternoon of Saturday 24 August, Guillen and his guide Carlos Guevera lined up for the chance to be crowned 5000m champion of the Americas. 
A medal that had to wait
It was the opening weekend of Lima 2019. Guillen's preparations had gone well and he knew he was in with a good chance of landing the host's first gold medal of the Games and setting the national team on course for a proud start to the event.
Guillen did indeed take the tape, finishing some 50m ahead of his nearest rival to the delight of the home crowd. Ecstasy turned to despair shortly afterwards, however. 
The competition jury announced that he had breached competition rule 7.9, that states: "The pair must keep the tether attachment from the start to the end of the race". 
The tether had loosened just before the line and Guillen was duly disqualified. Peru's first Parapan gold in 20 years would have to wait. 
Even through that pain, the indefatigable Guillen was not rattled. 
"Personally, I was satisfied to have left everything out on the track," he said, without a hint of bitterness over what happened. 
There would, he knew, still be a chance of redemption to come four days later.
"I still had the same desire as always and the knowledge that I had another chance to win in the 1500m final," he added.
This time, Guillen would not be denied.
Lining up once more with Guevera, he dug deep over the closing stages to triumph by under three seconds in a nail-biting sprint to the line with Ecuador's Jimmy Caicedo and Mexico's Alejandro Pacheco. 
This time there was no mistake. Guillen and Peru had their gold. 
"Giving that joy to my country was the most beautiful moment for me," recalled Guillen. "Singing my national anthem in that stadium was incredible. I felt the whole country was happy at that moment."
National hero
The win made Guillen a household name in a country that had been obsessed by the Pan and Parapan Am Games throughout August, and long before as it prepared to welcome two continents of sporting excellence. 
It also brought with it his place at the World Para Athletics Championships in Dubai and an opportunity to deliver even more glory. 
"The recognition has been special," said Guillen, "I can now prepare with same expectations and that is simply to give everything I have out in Dubai. Whether that will mean a podium I don't know, but what I am sure of is that I will leave everything out there in the competition."
For Guillen, it seems, any pressure he may feel is translated into an even stronger desire to continue to surpass all the hurdles. 
In the lead up to Dubai he has been training double time "demanding to improve, always overcoming the difficulties." 
One thing can be sure. If he and his guide are coming to the line later this month with a medal on the cards, they will be holding tighter than ever onto that tether
You can follow Rosbil and Dubai 2019 live on the World Championships website and World Para Athletics Facebook page.