Elena Semechin celebrates her 'small miracle' at Berlin World Series
Paralympic champion is the main star in the penultimate leg of the season with more than 450 athletes in action in the German capital
30 Mar 2022
Imagen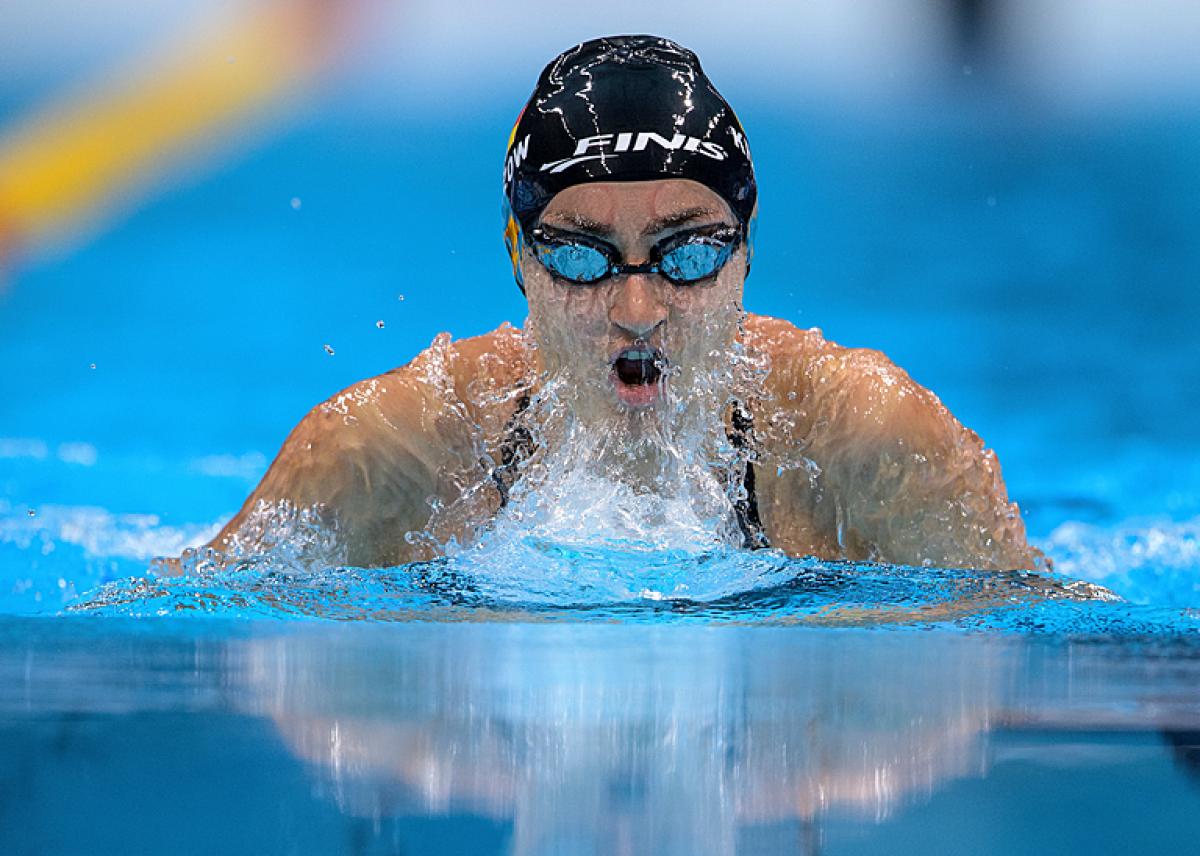 ⒸOIS/Joel Marklund
By Victor Pereira | For World Para Swimming
Elena Semechin is happy to be back to home waters and to her own bed as the penultimate Para Swimming World Series of the 2022 season kicks off on Thursday (31 March) in Berlin.
"Here in Berlin, I feel safe and confident and I am enjoying sleeping on my own bed", said the German swimmer, who will be joined by 455 athletes from nearly 50 countries during the next four days at the Schwimm-und Sprunghalle im Europasportpark (SSE Berlin).
The competition has a special taste for the German star. Not only because it is her first competition since last September when she grabbed her first Paralympic gold medal at Tokyo 2020. But mostly because it is a celebration of life.
BACK TO THE POOL
After Tokyo, Elena discovered a brain tumor, she had to be operated, and was undergoing chemotherapy until a few days ago. 
"My participation is a small miracle for me. I finished my second chemotherapy cycle last Sunday. Competing only four days later is a strong challenge for me. But as we all know, I love challenges," she said.
In Tokyo, she still competed as Krawzow. Now, the name on the scoreboard will be Elena Semechin as she got married in November. The event in which she will compete in did not change, her favourite 100m breaststroke – the same race that gave her a gold medal in Japan. 
"The new Elena, after all those horrible things, is more relaxed, thankful, and somehow enjoying much more the little things in life," added the Paralympic champion.
STEP CLOSER TO MADEIRA 2022
The four-day event is the fourth stop of Para swimming season. The first leg was in Aberdeen, Great Britain in February followed by Melbourne, Australia and Lignano Sabbiadoro, Italy. Berlin is known for having a fast pool and being a decisive event looking forward the World Championships in Madeira, Portugal in June.
The competition is organised in multi-class events with athletes from different classes racing together and results based in a point system. 
"It is definitely different. I appreciate a lot to have my whole Berlin Swimming team around me. I can really feel the support", said Semechin who is born in Kazakhstan and moved to Germany with her family at age 12.
Malte Braunschweig is another German swimmer who will be competing in familiar waters. Born in the German capital, he caught international attention last year as he made his Paralympic debut just a few weeks later his brother Ole competed at the Olympic Games. 
Braunschweig will race in the 50m backstroke, butterfly and freestyle, 100m butterfly and freestyle. 
"I've only been training for 3 to 4 weeks and I'm really looking forward to it. Finally, there are competitions again. We, Para swimmers, have been waiting for this for a long time. I'm excited to see where I currently am with my performance level," said the German athlete.
Berlin 2022 will be streamed live on the World Para Swimming website and on SportDeutschland.TV. Live results will be available here.