Great Britain's Natasha Baker makes all the right sounds as 'horse whisperer'
'Lottie is my sole focus. I devote all of my time and all of my energy into her, because we have to have a really deep connection'
25 Aug 2021
Imagen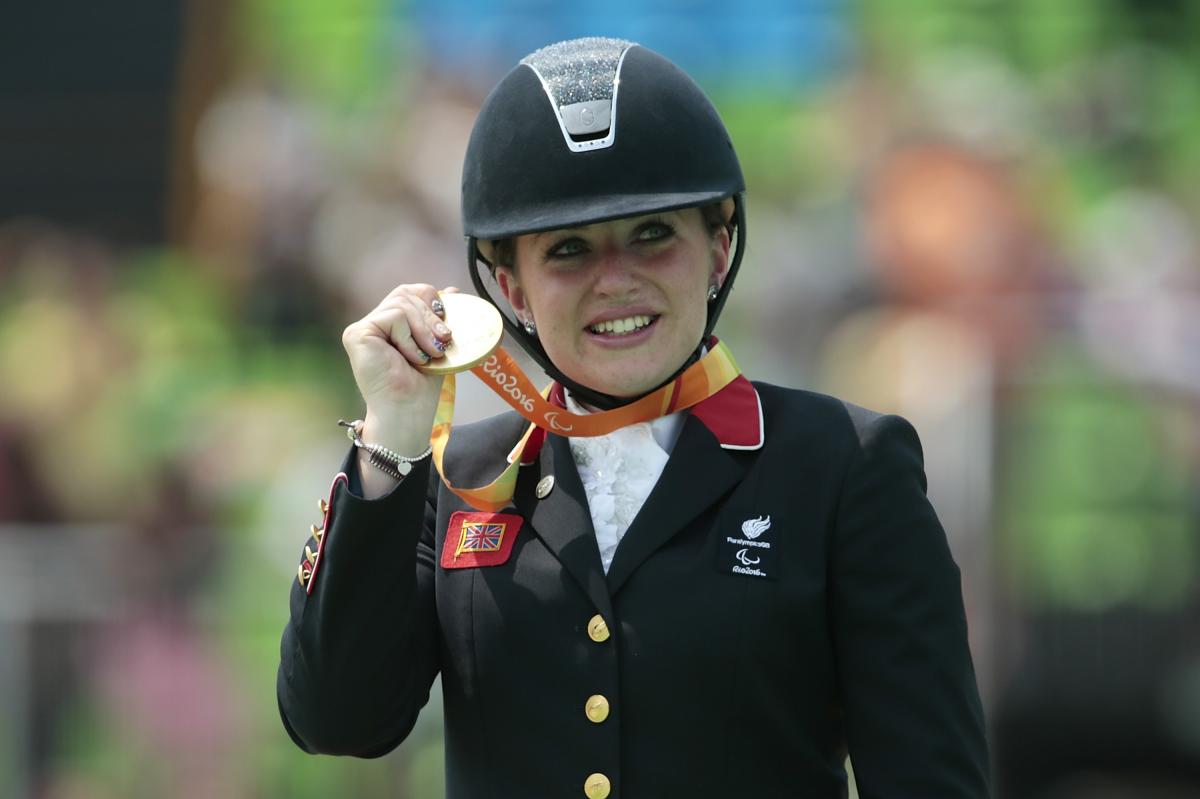 ⒸGetty Images
By OIS
In a sport where riders usually rely on a special language of squeezes and taps to cajole, encourage and instruct their horses, five-time Paralympic gold medallist Natasha Baker has mastered a unique method of communication.
Because she has permanent spinal nerve damage rendering her unable to use her legs, she communicates with Keystone Dawn Chorus, known as Lottie, by voice.
"Normally, an able-bodied dressage rider would use their legs a lot to ask the horse to propel itself forward, and I can't use my legs at all," Baker  told the Olympic Information Service.
"I'm pretty much useless from the hips down. So I've trained all of my horses to my voice. So where an able-bodied rider would squeeze their legs, I use a noise, a word or a sound. Because you can't communicate with the horse in a conventional way, you have to make it up as you go along, and find out what works for that horse."    
Baker feels her approach results in an even stronger emotional bond between horse and rider.
"Because Lottie has to understand me on that level, she's my sole focus. I devote all of my time and all of my energy into her, because we have to have a really deep connection.
"I'm sitting on nearly three quarters of a ton of animal that has its own thoughts, its own feelings, its own mind, its own emotions. If it gets scared of something, I'm going to be straight off the side door. So I need to be able to put all my trust into her."
Baker is one of Britain's most decorated Para riders, but the uncertainty surrounding Tokyo 2020 has been even more difficult as her immune system is compromised, making her especially vulnerable to Covid-19.
"I can't be vaccinated because of my disability," she said. "So I just have to be extra, extra careful and hope that everybody around me is vaccinated, so there's less chance of me getting it. Flying out here was quite daunting. I hadn't been on a plane since February 2020, but thankfully we were in business class with other athletes who had all been tested. If it had been a jam-packed plane, I'd have been petrified."
When the Para-dressage events start on Thursday, Baker will be channelling the mindset that has brought her so much success.  
"I feel like I've got like an alter ego, which I call 'athlete Natasha', and then at home you've got the real Natasha that doesn't bother doing her hair, (is) chilling in her jammies (pyjamas) indoors, wearing no make-up. But athlete Natasha is really ridiculously competitive, to the point where the first day we were here, we went to the swimming pool. And somebody mentioned the word race. And I was like, 'Yeah, I'm all over this'.
"So I am insanely competitive, really, really driven. I just want to be the best version of myself and to be able to give my horse the best experience as well."