Herbert Aceituno lifts El Salvador's hope
Powerlifting Parapan American champion promises to continue making history
30 Apr 2020
Imagen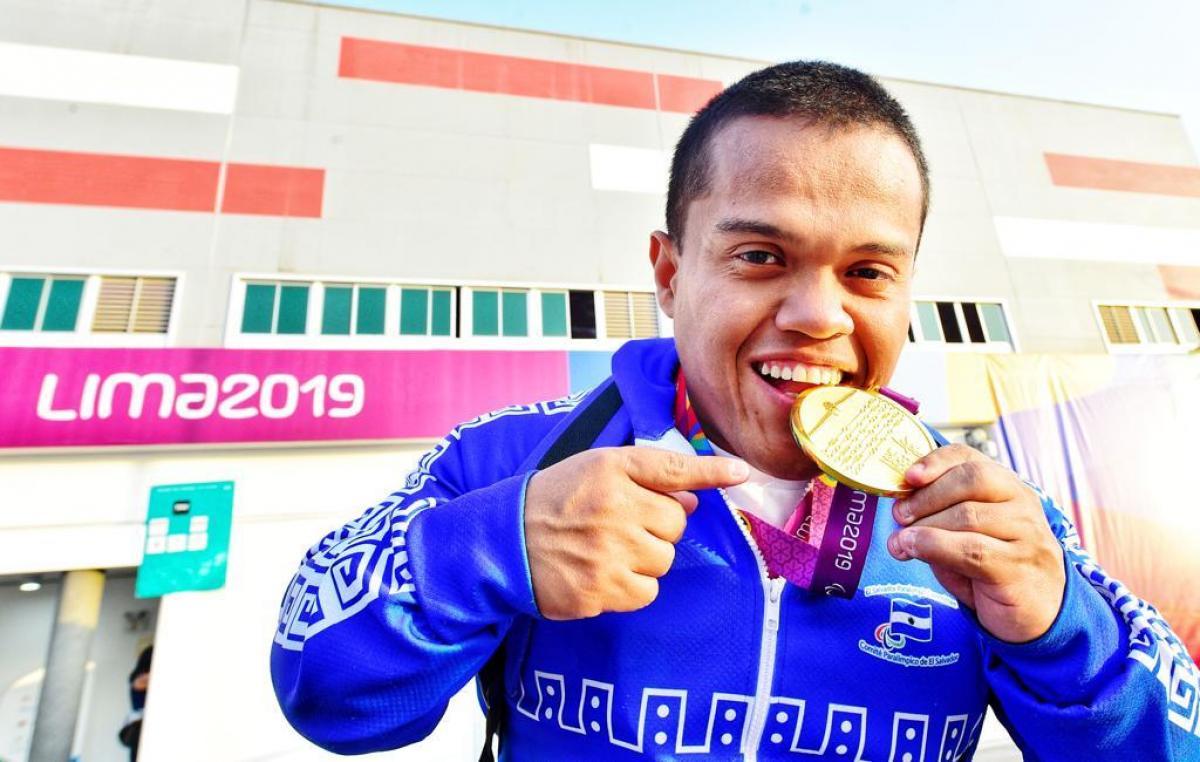 ⒸAlexandre Battibugli/Agitos Foundation
By Santiago Menichelli
Powerlifter Herbert Aceituno is undoubtedly one of the best Salvadoran athletes of all times. However, that was not always the case, as he suffered discrimination and isolation in his growing days.
"Why do they stare at me? Why do they mock and laugh?" were the thoughts that disturbed him. Born with achondroplasia and hydrocephalus, Aceituno recalled that in school, from the fourth grade on, he was marginalised by many people due to his disability. He wanted to be accepted, but they refrained from interacting with him.
"I didn't understand then 'why?' Only when I was a teenager, I realised that I was the same as everyone else," he said.
But the exclusion continued: "When I finished school, I graduated as a technical programmer and analyst. Because of the marginality surrounding disability, I was not given the opportunity to work. I would get up and see what I could do; doing small maintenance jobs or fixing computers."
His life would experience a break at 23, when a friend invited him to the gym to lift weights. There he found answers he had always looked for: "The Paralympic world opened my eyes in a different way and changed my life, completely. I am now independent.
"God only knows why he made me small. The barriers are always in the mind. I've always said, I wanted to do something and I try to live up to that. I wanted to represent my country no matter what. I used to want to be a footballer, but I'm proud to be representing El Salvador in powerlifting. No one is less than anyone in life.
Despite all the adversities, Aceituno holds no grudge against anyone and enjoys the sport that has given him an opportunity to carve his own identity. The highlight of his career came at the Rio 2016 Paralympic Games when his efforts were recognised and he carried the flag of El Salvador in the mythical Maracana Stadium.
The entire country watched in awe as he was the only Para athlete representing El Salvador at Rio. What followed next was unprecedented; something that he had never experienced before. For a change, there was an overwhelming support when he stepped in for his event.
Though Aceituno did not make it to the final round, after failing to lift 185kg in three attempts during the men's 72 kg category, he had already created history and etched a roadmap for fellow Para athletes.
Golden performance
The exposure of Rio 2016 was a huge shot in the arm of Aceituno and three years later, his best performance came at the Lima 2019 Parapan American Games – Gold in the 65kg category with a new Games Record.
"My first lift was null. But, far from being demotivated, I kept my cool. After that first round, Jorge Carinao of Chile was leading with 176kg. In other words, I had to break the Parapan American record to win," he recalled.
"Just before my second lift, when I was in front of the bar, many images flashed through my mind - the hours of sacrifice, hard training and the need to represent my country with dignity.
"I was not alone; more than six million Salvadorans were raising that bar with me. That gave me the momentum I needed. It was then that I lifted 180kg, a new Games record, and went on to take first place. With that record I would have won already, but I lifted 2kg more on my last attempt. My happiness was immense. Thousands of images ran through my mind," reminisced Aceituno.
"Celebrations back home were extraordinary. I was really welcomed in a big way and TV, radio and written media were waiting for my return," he said.
"Unfortunately, in my country everything is about football, only football. Therefore, I had no idea that so many national journalists would be receiving me and I didn't expect so many headlines about me. That motivates me even more when I think about being on top and getting good results."
Perseverance, key towards Tokyo 2020
At 34, Aceituno is now a seasoned athlete who feels perseverance is his most precious tool. He never gives his routine a skip.
His tight schedule begins at 3:30am in the morning. He starts with cooking his meal as per the nutritionist's plan and then hits the gym. A two-hour rigourous workout follows and then he also finds time to mentor fellow athletes.
"We support each other's training and I share moments with the kids who are involved in powerlifting. I have had the opportunity to leave El Salvador and compete at an international level and I give them my advise and experience, that I think helps a lot. I like to give them my point of view so they don't get injured."
During his free time, Aceituno enjoys playing online video games with the friends from across the globe. His passion also includes watching movies and listening to music.
"After the gold in Lima, I want to keep aiming higher. The pressure is always the same, I just get more and more committed. The preparation is focused on what I want to do. I keep asking why I want to keep competing? I would love to win a medal at the Tokyo Games. It would huge for the Salvadoran people."