Ice sledge hockey:10 things to watch in 2014-15
The first season on the road to PyeongChang 2018 has several new competitions in store for ice sledge hockey.
22 Oct 2014
Imagen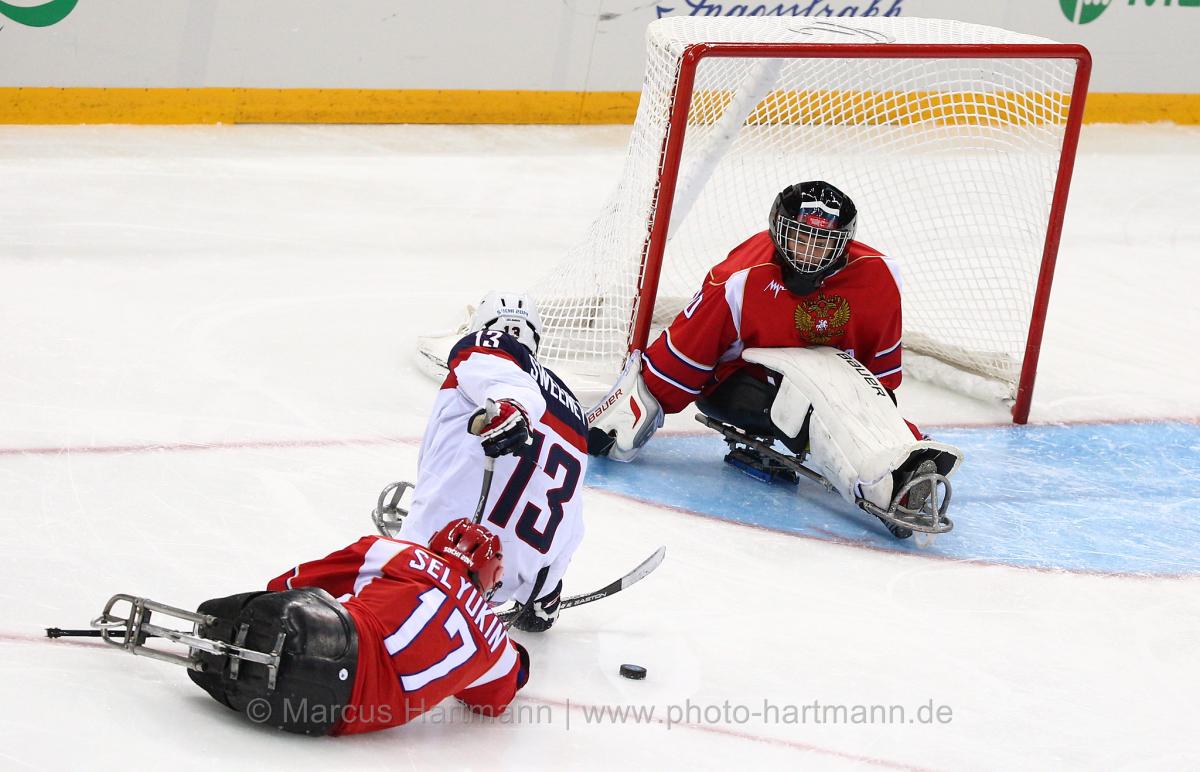 Ⓒwww.photo-hartmann.de
By Stuart Lieberman | For the IPC
Each of the past three seasons has seen a different sledge hockey player break through.
Last March, the IPC Ice Sledge Hockey season came to a close with the sport's biggest curtain-raising moment yet.
The USA defeated Russia 1-0 in the gold-medal game of the Sochi 2014 Paralympics in front of a raucous Russian home crowd and live on NBC's main network in America.
Coming off the sport's most successful season yet, and with plans in store for an inaugural World Series, here are the top storylines to follow on the ice for the 2014-15 season:
1. The IPC Ice Sledge Hockey World Championships A-Pool is headed back to the USA for the first time since 2008. This season's Championships will take place from 24 April – 2 May in 2015 in Buffalo, New York. Host nation USA will be captained by Josh Sweeney, a former US Marine Corps member who scored the game-winning goal of the Sochi 2014 gold-medal game. The B-Pool Worlds will take place in the month before in Ostersund, Sweden, from 15-21 March.
2. In order to formalise the sport's competition calendar, a World Series will launch this year to bring together games that currently take place between countries. A new structure for officiating and results is expected to be built around the World Series, bringing the sport to a whole new level of professionalism.
3. After missing out on a Paralympic place in Sochi, Germany will look to start the next Paralympic cycle on the fast track when they host the Four Nation's Ice Sledge Hockey Cup from 24-26 October in Langenhagen, which will be the first competition of the new World Series. European champions Italy, along with Sochi 2014 participants Czech Republic and Sweden will also take part.
4. Canada earned their third world title – the most of any country – at the last World Championships A-Pool in South Korea in 2013, but then fell to bronze-medal position at Sochi 2014. Greg Westlake and Brad Bowden's crew are certain to be a factor once again, but with the Canadians, it is always just a question of where they will finish.
5. South Korea are steadily becoming a consistent force in the ice sledge hockey world, and as the host nation for the next Paralympic Winter Games, the team is expected to kick it up another notch this season to better their seventh-place finish at the last World Championships.
6. Russia won Paralympic silver last season, less than five years after bringing a national team together. With four more years to further enhance their program before the next Paralympics, captain Dmitry Lisov and the Russians are expected to give the rest of the world a run for their money.
7. Sochi 2014 marked the first Paralympics that the Norwegians and veteran defenceman Rolf Pedersen – who has been competing at the Paralympics since Westlake was just six years old – missed out on an ice sledge hockey medal. Norway's season will give fans a good glimpse of whether the veterans are past their prime or still have more left in their tank.
8. Each of the past three seasons has seen a different sledge hockey player break through. In 2012, 19-year-old Per Kasperi had a team-high six goals to help Sweden claim silver at the World Championships B-Pool, and in 2013, Seung-Hwan Jung showcased his speed at his home World Championships A-Pool in South Korea. Last season, 16-year-old American Declan Farmer scored three goals and two assists in over 87 minutes of ice time at Sochi 2014, including two goals in the USA's semi-final win over Canada. Who will be the breakthrough star this season?
9. The first IPC Ice Sledge Hockey International Women's Cup will take place from 7-9 November in Brampton, Ontario in Canada. With an increasing number of women taking part in the sport, teams from Canada, USA and Europe will compete, and athletes will be classified prior to the event.
10. The International Paralympic Committee's development arm, the Agitos Foundation has supported the development of women's ice sledge hockey through funding for training camps in Canada, Europe and the USA.