Imagen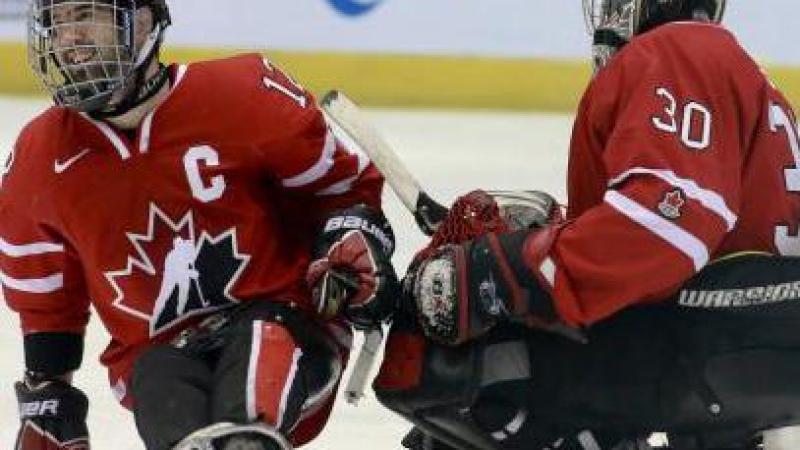 Greg Westlake
Para Ice Hockey
Having his legs amputated when he was 18 months old, Canadian team captain Greg Westlake started playing Para ice hockey in 2001 for the Mississauga Cruisers before being named to the national team in 2003 at the age of 17.
Now Westlake has certainly earned enough accolades to date to be classified as one of the best Para ice hockey players in the world.
The product out of Oakville, Ontario helped Canada capture a gold medal at the International Ice Sledge Hockey "4 Nations" Tournament in Sochi, Russia, in 2013 defeating Norway, 4-0.
Earlier in 2013, Westlake and Canada defeated the USA to win the IPC Ice Sledge Hockey World Championship A-Pool in Goyang, South Korea. At tournament's end, he was named the most outstanding forward.
But that was not his first gold medal at a World Championships.
Back in 2008 at the IPC Ice Sledge Hockey World Championships A-Pool in Marlborough, USA, a Westlake goal with 9.3 seconds remaining in the third period broke a 2-2 tie against Norway and helped Canada come out on top.
As captain of his team since 2011 and an avid golfer, Westlake provides an excellent leadership presence both on and off the ice.
In 2006, Westlake and Canada captured a gold medal at Torino 2006, defeating Norway 3-0. With Canada missing out on the medal rounds at Vancouver 2010, on their home ice, Westlake helped them to bring home a bronze medal from Sochi 2014, silver at the 2015 World Championships and the hallowed world title in 2017.
Biography
Impairment information
Type of Impairment
Limb deficiency
Origin of Impairment
Congenital
Further personal information
Residence
Oakville, ON, CAN
Occupation
Athlete, Media Professional
Sport specific information
When and where did you begin this sport?
He learned to skate at age three. He began playing Para ice hockey in 2001 with the Mississauga Cruisers in Ontario, Canada.
Why this sport?
"I grew up playing hockey. I learned how to skate when I was three years old on two artificial legs and I just love the game. I've played road hockey, ball hockey, mini-sticks in my basement. [I was] the youngest of four kids, so I was just trying to keep up and do whatever they were doing. It wasn't until I was about 15, 16 years old that I got involved in sledge hockey and fell in love with it."
Name of coach
Ken Babey [national], CAN
Preferred position / style / stance / technique
Defence
General interest
Nicknames
Hollywood ["I've never had a camera or a microphone I don't like. One thing I've always enjoyed doing is growing the game, not from an ego perspective but from a sense that I think the media is our friend. We need the media. We need to tell our stories as Paralympic athletes - the triumphs and tribulations that those guys in the locker room have gone through."] (OIS, 08 Mar 2022)
Memorable sporting achievement
Winning gold at the 2006 Paralympic Winter Games in Turin, and gold at the 2008, 2013 and 2017 World Championships. (Athlete, 07 Mar 2022; SportsDeskOnline, 07 Mar 2022)
Most influential person in career
His brother. (Athlete, 07 Mar 2022)
Hero / Idol
Canadian ice hockey player Mike Richards. (paralympic.org, 17 Jan 2013)
Sporting philosophy / motto
"You kind of have to find a way to help your team. I'm super passionate about winning, about playing for Canada, and I think the best way for me to do that is just to play a really strong two-way game. I love agitating. I love hitting. I love playing good defence. I'm not a big talker. I just love to compete." (torontosun.com, 27 Feb 2022)
Awards and honours
He and wheelchair curler Ina Forrest were named Canada's flag bearers for the opening ceremony of the 2022 Paralympic Winter Games in Beijing. (IPC Entries, 04 Mar 2022; paralympic.ca, 02 Mar 2022)

He was named Best Forward at the 2013 World Championships A-Pool in Goyang, Republic of Korea. (paralympic.org, 02 May 2013)
Other sports
In 2011 he set an arm-powered world speed record in handcycling. (paralympic.ca, 01 Mar 2014)
Ambitions
To win gold at the 2022 Paralympic Winter Games in Beijing. (torontosun.com, 27 Feb 2022)
Impairment
Both of his legs were amputated below the knee at 18 months old. "When I was born my feet were malformed and were never going to be fully functional." (discoverhumboldt.com, 14 May 2012; claytontheriault.blogspot.co.uk, 18 Apr 2012)
Other information
FINAL GAMES
He is competing at his fifth Paralympic Winter Games in 2022 in Beijing, where he is aiming for his second Paralympic gold medal. Going into the tournament, he was still reflecting on Canada's defeat to the United States of America in the gold medal match at the 2018 Games in Pyeongchang, despite the Canadians leading with less than a minute to go. "It's my fifth Games and I just want to lay all my chips down and go for it here. It's been really fun just knowing that this is the final one. We were 30 seconds away from having a perfect tournament in Pyeongchang. Unfortunately, in the Paralympic space, you've got to wait four years to kind of right that wrong. So it's been a long time chewing on that." (torontosun.com, 27 Feb 2022)

LONGTIME LEADER
He was first named captain of Canada's national Para ice hockey team in October 2010. (games.paralympic.ca, 2018; globalnews.ca, 13 Nov 2017; cbc.ca, 01 Oct 2016)

OTHER ACTIVITIES
He is the owner of Taylor and Colt, a chain of barber shops in Toronto, ON, Canada. He is a spokesperson for Jumpstart's Play Finds A Way Project, a programme to make sport and play accessible to all Canadian children. "It's kids with disabilities playing with able-bodied kids. It's everyone together, which is the way it should be and I just think it's an incredible programme." (globalnews.ca, 13 Nov 2017; LinkedIn profile, 2018)

EARLY DAYS
In 2005 he changed his position on the ice from goaltender to forward, which he admits led to some opposition and resentment from other members of the national team. "I think when I made the transition to go from being a goalie to a forward there was definitely some guys who could see themselves losing their job. I got a few phone calls from a few of the older guys on the team basically saying, 'This is a bad decision for you, don't do it'. But it was always in the pipeline for me, I always wanted to hit people, I wanted to score goals, I wanted to be more active." (The National Benefit Authority, 22 Feb 2017)