Ostersund 2017: Sweet victory for Sweden
Sweden jump from bottom of the table to finish third in qualifying tournament
14 Oct 2017
Imagen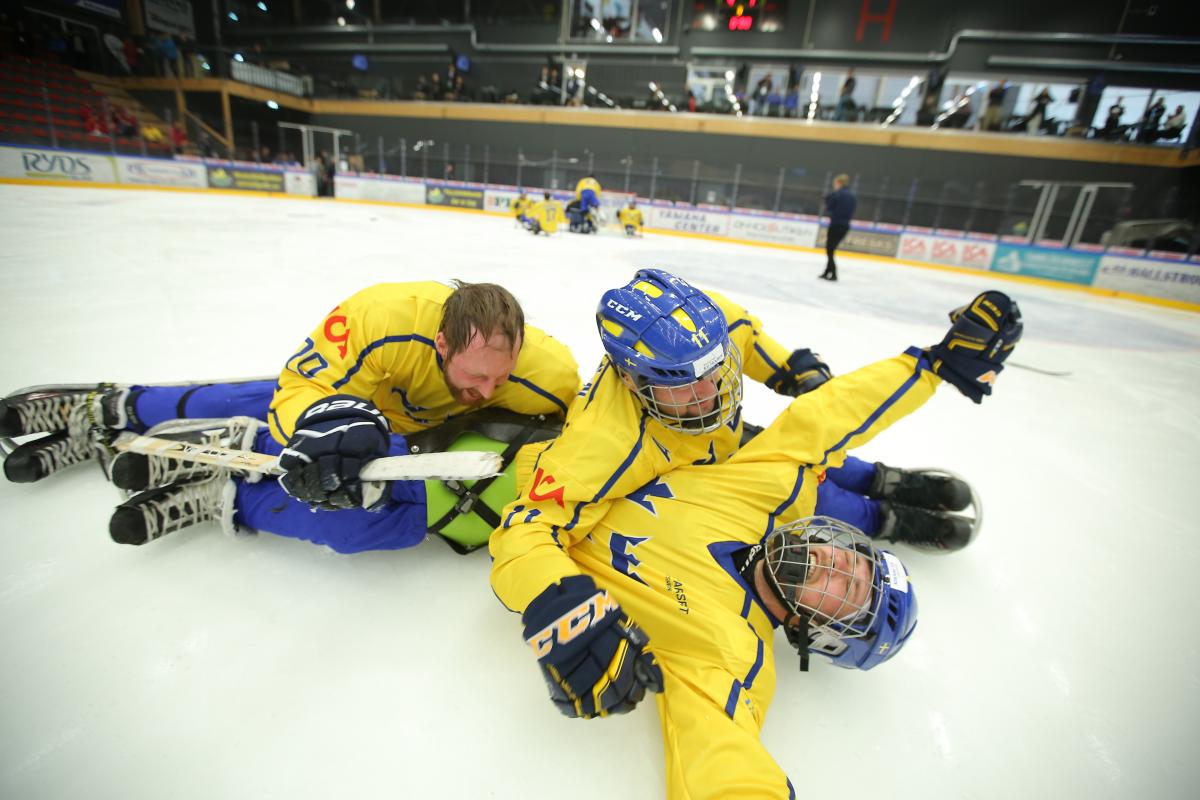 ⒸKarl Nilsson
Sweden have secured the last qualification spot available at PyeongChang 2018 after defeating Germany in their final game at the World Para Ice Hockey Paralympic Winter Games Qualification Tournament on Saturday (14 October), the last day of action in Ostersund.
The host nation join the Czech Republic and Japan, who faced each other in the final game of the tournament to decide first place. It was the Czechs who came out on top, finishing with maximum points to secure better seeding for next year's Paralympics.
Sweden 4-1 Germany
A tense atmosphere filled the Ostersund Arena, with the last place at PyeongChang 2018 on the line.
Germany were quick to press and held Sweden scoreless in the first period but themselves struggled to get the puck past Ulf Nilsson, who received the tournament's Best Goalkeeper award. Nilsson saved all five of Germany's attempts on goal in the opening period.
And Sweden punished their opponents early in the second period when Per Kasperi found Marcus Holm to slice through the German defense and record the game's first goal, much to the delight of the Swedish crowd.
But less than a minute later Germany killed the buzz. Joerg Wedde caught the Swedish side sleeping to steal the puck and passed to Christian Jaster, who equalised.
An interference penalty, however, hurt Germany in the third period, allowing Sweden's Niklas Ingvarsson to score over a diving Simon Kunst and give Sweden a 2-1 lead.
Germany pulled their goalkeeper with less than two minutes left in hopes of tying the game, but instead Kasperi scored twice more to put the game beyond the Germans' reach.
"It's a lot of tension getting loose now," Kasperi said. "We are very happy and emotional and this is what we have worked for, so it's awesome. It's beyond words."
"We kept our minds positive. It's all in the mind. We got stronger as the game was going," he added. "It is hard to realise right now [that we are going to PyeongChang]."
"We are of course disappointed that we lost this game," said Germany forward Bas Disveld. "The penalty that we got was not clear to us. We did not know why we received the penalty that way. Because of that we went down by a goal, and therefore our whole game plan went out the window.
"But overall of course our team is very disappointed. And me too I am disappointed."
Czech Republic 1-0 Japan
After a scoreless first period, Michal Geier woke up both sides with a rocket into the left corner of the Japanese net.
With under two minutes to go in the second period, David Motycka found Geier skating down the middle.
Surrounded by a host of white jerseys, Geier split his defenders to score the first goal with under two minutes left in the second period.
It was enough to seal top spot and sixth seeding at the Paralympic Winter Games.
"Our motivation was that Japan would be in the same group in PyeongChang, so we can see what the opponent is about and they actually improved since the World Championships B-Pool]," Czech coach Jiri Briza said. "We have to focus on ourselves to improve even more so that we would be able to win some games in PyeongChang and reach the semi-finals which we haven't been able to achieve yet."
Final standings:
Czech Republic – 12 points
Japan – 9 points
Sweden – 4 points
Germany – 3 points
Slovakia – 2 points
Best Forward – Michal Geier, Czech Republic
Best Defender – Wataru Horie, Japan
Best Goalkeeper – Ulf Nilsson, Sweden
Full results and statistics are available at the official Ostersund 2017 website.
Photos are available for media to download throughout the tournament on the IPC's Flickr account at www.flickr.com/photos/paralympic/.