Ostersund 2017: Germany dedicate win to team manager
Ian Wood missing tournament due to health issues
11 Oct 2017
Imagen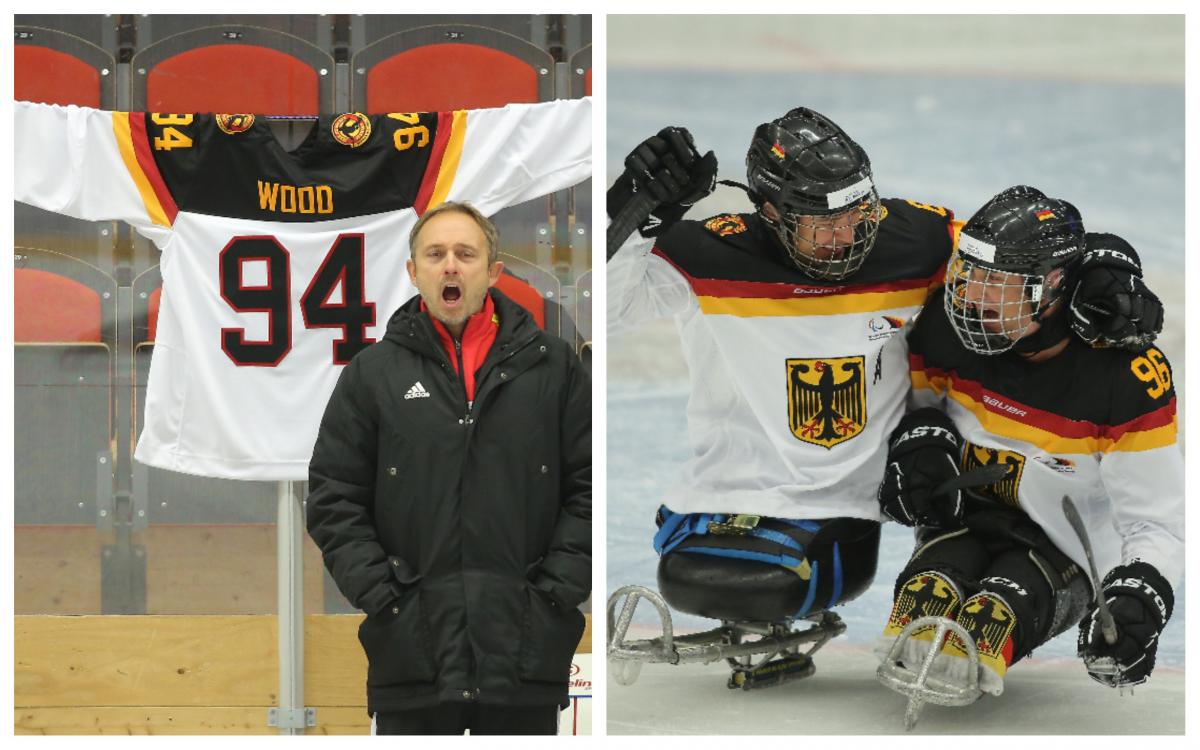 ⒸKarl Nilsson
By IPC
"He's a great guy. He was a hockey player for a long time. And loves and is living this game. And it's really sad he is not here. And the anthem, we didn't hear a long time ago, we dedicated to him."
It has been a while since the German Para ice hockey team heard their national anthem played in an arena. But when they did on Tuesday (10 October) after their 3-0 win against Slovakia, the players formed a line, holding a jersey with No. 94 with Wood engraved in the back.
Ian Wood has been the team's manager only about a year. But he was hospitalised last minute with liver issues, something German head coach Andreas Pokorny said Wood has been dealing with for a while, and could not make it to the Paralympic Winter Games Qualification Tournament, which runs until 14 October in Ostersund, Sweden.
It was Wood's work behind the scenes that helped Germany keep their PyeongChang 2018 hopes alive.
"For Ian [he is important like the players] too because he arranged everything with us, for us. And for the final tournament he's in the hospital," Pokorny said.
"It's more work for us, for the trainers, for the physio guys. But we work together and try our best [to finish the tournament].
Pokorny said he has known Wood for about 20 years. They both played hockey in various leagues in Germany, with Wood, 53, playing goalie. They played one season together in 1996—97 with the Iserlhon EC.
Wood joined the national team in July 2016 has been part of helping develop and professionalise the sport, such as setting up a website and keeping them active on social media and media.
His first major international competition with the team was at the 2017 World Championships A-Pool in April, where they had a disappointing showing finishing last.
But since then, the team looked back at their roster, added a few new players and have tried to put heart back into the team.
"He is very important because he played [hockey like our coach] and they know how this game works," said forward Udo Segreff. "Without them we're not here. We'd be in the C-Pool. I don't know but they're doing it."
The tournament is Germany's last chance to qualify for PyeongChang 2018, where the top three finishers advance. The last and only time they reached the Paralympic Winter Games was Torino 2006.
It was evident how much Wood meant to the German squad on Tuesday, as they chanted and celebrated briefly on the ice after their anthem finished. During the game, Wood's jersey was hung along their bench.
"He's a great guy," said Segreff. "He was a hockey player for a long time. And loves and is living this game. And it's really sad he is not here. And the anthem, we didn't hear a long time ago, we dedicated to him."
The team is 1-1 so far in the five-team tournament, and the victory on Tuesday kept their hopes alive as they sit third in the standings. They face the Czech Republic on Wednesday (11 October).
"I know him, he will do everything to come here," said Segreff.
The Paralympic Winter Games Qualification Tournament is taking place from 9-14 October in Ostersund, Sweden. The Tournament is the last opportunity for teams to qualify for the PyeongChang 2018 Games, in which the top three finishers will advance.
All games from Ostersund 2017 are being streamed live on the official event website and live statistics and results are also available.
Photos will be made available for media to download throughout the tournament on the IPC's Flickr account.
Related Videos