Ostersund 2017: Star of the future
Slovakian goalkeeper Eduard Lepacek impresses against Swedish veteran
13 Oct 2017
Imagen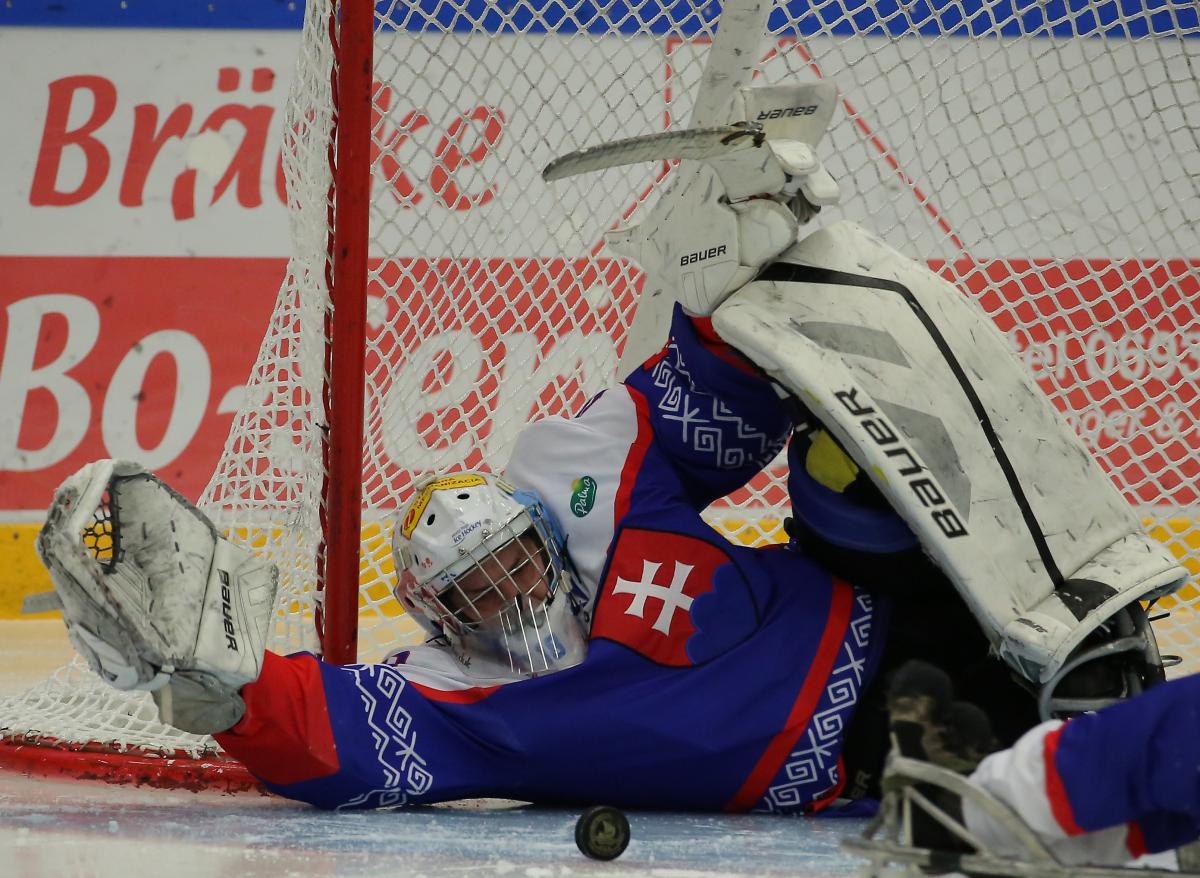 ⒸKarl Nilsson
By IPC
"This sport has given me a new chance, a new life and I am happy."
Eduard Lepacek's reaction time on the ice is smooth, snatching the puck out of thin air like he has played the sport for years.
But the 23-year-old Slovakian has only played Para ice hockey for two years.
He was huge in Slovakia's shock 2-1 overtime victory over host Sweden on Wednesday (11 October) at the Paralympic Winter Games Qualification Tournament in Ostersund.
The game was an interesting matchup between goalkeepers. Swedish veteran Ulf Nilsson had been a mood-killer, being a brick wall for opponents, allowing the first score that game in the third period.
Lepacek however matched Nilsson's performance that day, allowing only one goal – with about a minute left in the game – and took 16 shots on goal.
"This match for me was great because Sweden kept shooting against me and tried to make a goal, but I have good defenders as well," Lepacek said. "I'm really happy with my teammates."
While the victory gave underdog Slovakia a chance of reaching their first ever Paralympic Winter Games in March, his performance is promising for the development of the team.
"We must do everything we can and the other team must help us," Lepacek said with a laugh, as Slovakia currently sits in fourth of the five-team round-robin tournament, where the top three advance to PyeongChang 2018.
Lepacek was a product of the youth development camp in 2015, having only played the sport for a few months prior.
He was diagnosed with bone cancer at 14-years-old. After the first round of treatment, the cancer later came back and he decided to amputate his right leg above the knee at 19-years-old.
"The decision was easy for me because I was in so much pain," Lepacek said.
While in rehab, he was shown a highlights video of Para ice hockey players scoring goals, and was later asked if he wanted to try the sport.
"I didn't know what this was, and then they showed me the video and I said yes I am in," he recalled.
He knew immediately what position he wanted to play, which explains his play on the ice in Ostersund.
"Because I was a football goalkeeper, I knew I wanted to be a goalie," he said.
"This sport has given me a new chance, a new life and I am happy."
Slovakia faces Japan on Friday (13 October).
The Paralympic Winter Games Qualification Tournament is taking place from 9-14 October in Ostersund, Sweden. The Tournament is the last opportunity for teams to qualify for the PyeongChang 2018 Games, in which the top three finishers will advance.
All games from Ostersund 2017 are being streamed live on the official event website and live statistics and results are also available.
Photos will be made available for media to download throughout the tournament on the IPC's Flickr account.
Related Videos