Ostrava 2019: Watch out for Jack Wallace!
Paralympic champion ready to lead US to world title
27 Apr 2019
Imagen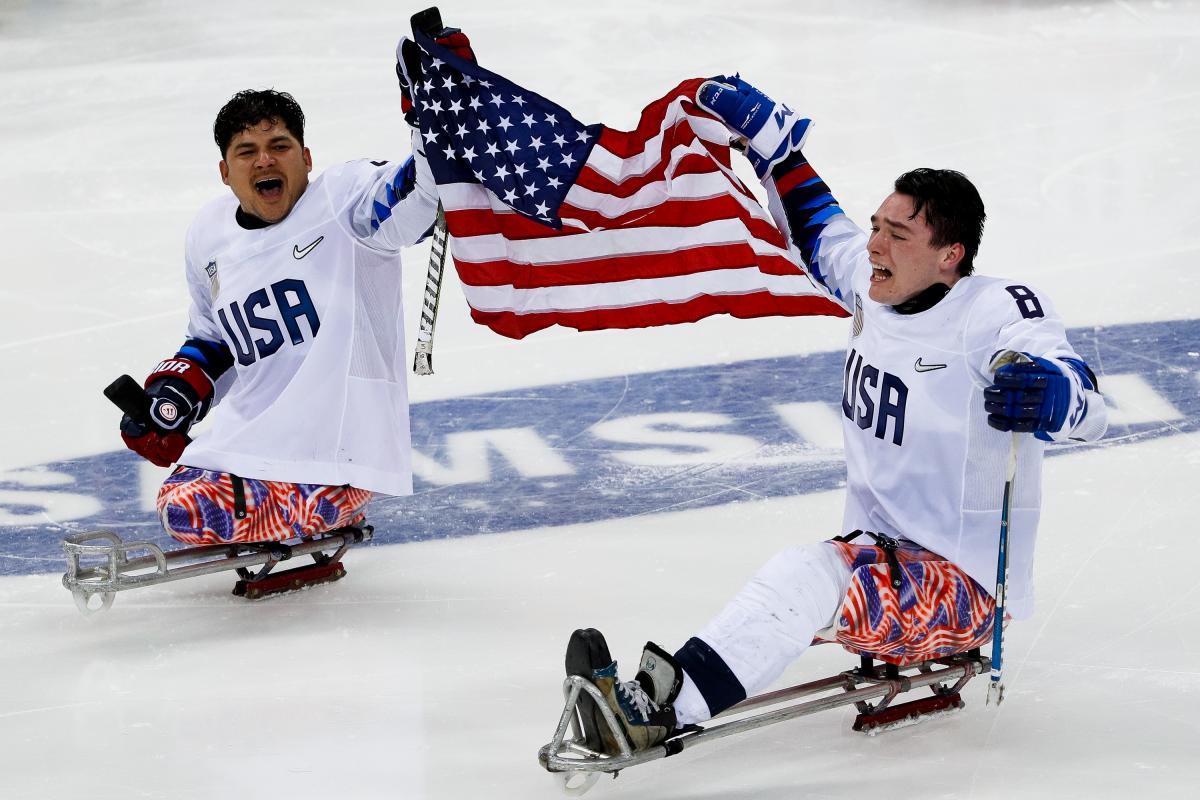 ⒸGetty Images
By Stuart Lieberman | For World Para Ice Hockey
"It's about proving that we're still on the top and that last year was not a fluke. It doesn't matter who we're going up against. We're going to be coming out flying regardless."
The USA has become a powerhouse in Para ice hockey, winning the last three consecutive Paralympic titles and three of the last five world titles.
Leading that success has been teenage forwards Declan Farmer and Brody Roybal.
But heading into this week's World Para Ice Hockey World Championships in Ostrava, Czech Republic, there is a third name who is being mentioned just as much.
Jack Wallace, a 20-year-old biomedical engineering student fresh off an appearance at NHL Network's studios this week, is coming into his own in his third season as a defender on the national team.
Wallace's name was mentioned often by World Para Ice Hockey officials in the stands at the last Worlds in 2017, which marked his first year with the national team, as a potential super star of the future. He notched a goal and an assist in 11 games his first season before going on to score eight goals and record 11 assists in 16 games last season.
Back to business
When he returned from helping USA win gold at the PyeongChang 2018 Winter Paralympics, his hometown threw him a parade and he dropped the ceremonial first puck at Madison Square Garden prior to a New York Rangers-Buffalo Sabres NHL game.
But once the celebrations settled, Wallace level-set himself and got right back to work.
"Coming off a win like that, a lot of teams can get complacent, but it's been the opposite attitude with this team," Wallace said. "We've realized we could've easily lost that game so we're making 100% sure we don't leave it to that amount of chance ever again.
"We have a great culture on this team in which we all have each other's backs and we don't let each other get complacent. Because if one guy is complacent then that can develop into the whole team."
On the fast track
Wallace, who lost part of his right leg to a boating accident in 2008, was introduced to Para ice hockey in 2009 while attending Camp No Limits in Maine. His trajectory in the sport was quick; he joined a local team, attended the USA Hockey Sled Select Camp and then was a member of the national development team from 2013-2016 before earning a roster spot on the national team.
"If you really want to find a way to do something, then you're going to find a way to do it," he said. "I want to graduate with a biomedical engineering degree and also be one of the top competitors in the world. If you have that drive and hunger that's great, and if you don't, you're probably not going to stay on this team very long."
Wallace, whose "ridiculous dream job" would be to become an astronaut, is realistically aiming to design and develop medical devices to make people's lives better and easier, whether that be prosthetics or something else.
His schedule looks downright intimidating; on Tuesdays alone he has three biomechanics lectures followed by two hours on the ice, a gym workout and then a three-hour physio lab.
However, he has been able to take lessons he has learned in class, including muscle mechanics, and how the human body digests and processes, and incorporates them into his training and diet as an athlete.
"It's kind of cool to have those realisations while you're learning it in class and be like 'wait a minute I was kind of doing that wrong before,'" he said.
Something to prove
Wallace has developed a lot on the ice since his last World Championship appearance and said he is now focusing on making better decisions with the puck instead of just rifling it at the net.
At December's Para Hockey Cup, he tallied four points and was named USA's Player of the Game in the championship tilt after scoring the game-winning goal.
The USA is out for redemption against Canada in their opening game in Ostrava on Saturday after losing to their arch rivals in the gold medal game of the last World Championships.
Wallace is looking forward to trying to match the speed of Canada's Tyler McGregor and Liam Hickey, but at the same time he said they will treat that game just like any other.
"It's about proving that we're still on the top and that last year was not a fluke," Wallace said. "It doesn't matter who we're going up against. We're going to be coming out flying regardless."