From Tokyo to Tbilisi: Sherif Osman
Egypt's Para powerlifting legend will seek redemption in Tbilisi after falling short of a Paralympic gold last August in Japan
16 Nov 2021
Imagen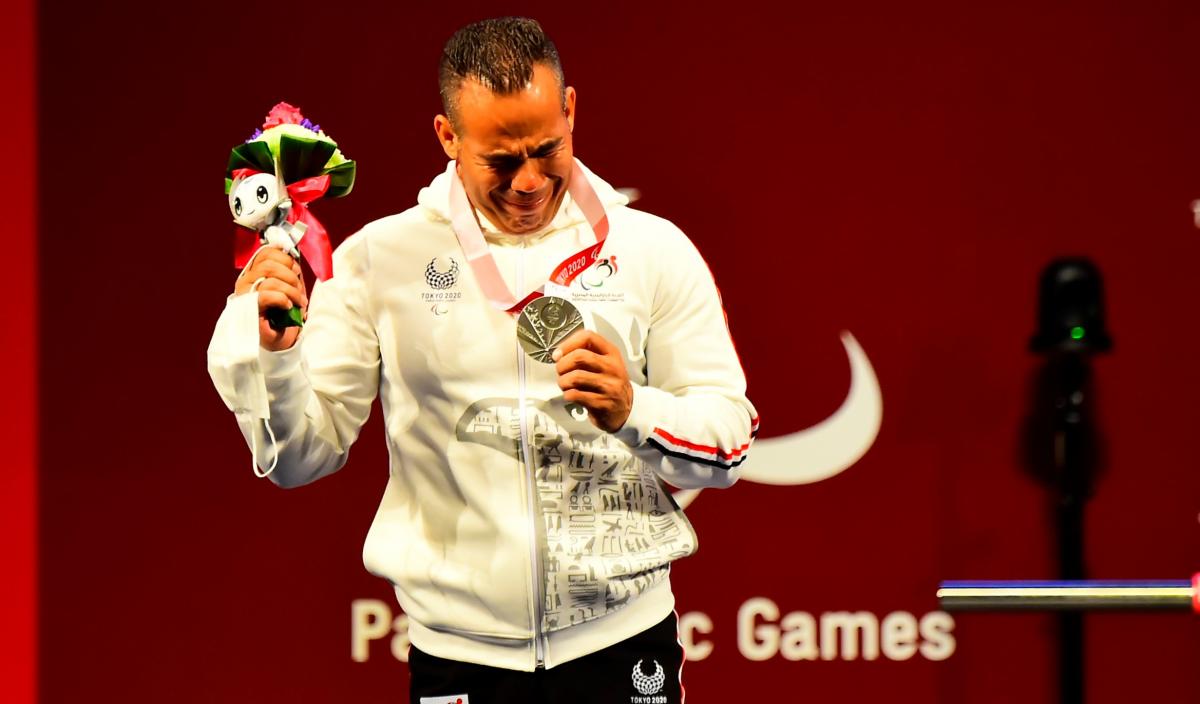 ⒸHiroki Nishioka/WPPO
By World Para Powerlifting
In the wake of the Tbilisi 2021 World Para Powerlifting Championships, From Tokyo to Tbilisi series continues to highlight the biggest stars coming to the Georgian capital.
Now it is time to look at Egypt's Sherif Osman, a three-time Paralympic and four-time world champion who took a silver medal at the Tokyo 2020 Paralympic Games in the men's up to 59kg category.
Tbilisi 2021 will be Osman's chance for redemption with the competition starting on Saturday (27 November) with a one-day World Para Powerlifting Junior Championships followed by the Senior Worlds finishing on 6 December with the Mixed Team Event.
Sherif Osman, Egypt
In Tokyo, the 39-year-old Osman experienced his first loss at a major international event since the silver medal at the 2006 World Championships in Busan, South Korea.
It was a big disappointment for the world record holder who was aiming high for Japan.
"My dream is to win six gold medals in six Paralympic Games," Osman said. "After I won my third gold medal in Rio, the media asked me how I felt, and I said, 'I feel like I am standing at the middle of my road'. I have a lot of road left, and it will be difficult, but it is not impossible."
Osman lost to China's Qi Yongkai in Tokyo, despite lifting 187kg in his third attempt, the same as the winner. Chinese took gold due to lower body weight.
The Egyptian Para powerlifter was not at his highest level in the Tokyo International Forum. He lifted 181kg and 184kg in his first two attempts and was constantly trying to catch up with Yongkai who took the lead after the first round and never gave it away.
Six golds still a dream
After the competition on the second day of Para powerlifting action in Tokyo, Osman revealed why he could not perform on his usual level.
"I was planning on winning my fourth gold medal, but I was injured two months ago and I've only been back to my training for four weeks before coming here. It's a big challenge to compete with only four weeks of training," said Osman who was very emotional at the podium ceremony and did not hold back his tears.
"I was crying because I had the big dream to get six gold medals, but now it's cut. But I will not stop. It's not over."
Osman immediately started making plans for the future after the Tokyo setback.
"We have the World Championships in three months in Georgia, beginning 27 November. Remember this day and remember this conversation. There, I will be back on top."
Major championships results
The 39-year-old Egyptian legend made his international debut in 2006, just one year after taking up Para powerlifting. He was encouraged to try the sport by Said Abd El Hafez, Egypt's first Paralympic medallist in powerlifting.
El Hafez soon became Osman's first coach with whom the athlete won his first international gold medal at the Arab Championships in Cairo, Egypt, in 2007.
From that moment on Osman did not look back and started his invincible streak that lasted until Tokyo.
In his first Paralympic appearance at the Beijing 2008 Games, Osman won gold and successfully defended the title at both London 2012 and Rio 2016. At the latter, Osman set new a world record in the men's up to 59kg with a 211kg-lift.
The Egyptian replicated his Paralympic dominance on the World Championships stage. He won four titles in three different categories starting in 2010 in Kuala Lumpur, Malaysia.
After claiming gold in the men's up to 56kg, Osman went down 2kg for the Dubai 2014 World Para Powerlifting Championships. The result was the same, a new gold medal for the Egyptian star.
At Mexico City 2017 and Nur-Sultan 2019, Osman competed in the men's up to 59kg topping the podium in both occasions. 
He also led Egypt to gold in the first mixed team event in the last World Championships in Nur-Sultan.
The 39-year-old also added three African Championships titles and eight World Cup wins to his long haul of success during 14 years of his international career.
Competition day in Tbilisi
For the Tbilisi 2021 Worlds Osman decided to change the category. He will compete in the men's up to 65kg on Wednesday, 1 December.
The Egyptian will start his quest for the fifth individual world title in the second competition of the day starting at 19:00 (local time).
With the four-time Paralympic champion Liu Lei from China retiring after Tokyo, the throne in the men's up to 65kg category is vacant.
Osman's main rivals in Tbilisi will be Algeria's Nur-Sultan 2019 silver medallist and Tokyo 2020 bronze medallist Hocine Bettir alongside Iran's Amir Jafari Arangeh, the silver medallist at Tokyo 2020 and Mexico City 2017.
Complete schedule, results, and records from the World Championships will be available on Tbilisi 2021 microsite.