Unified Korean Team pave path for peace
Meeting the history-making swimmers from Indonesia 2018
06 Apr 2019
Imagen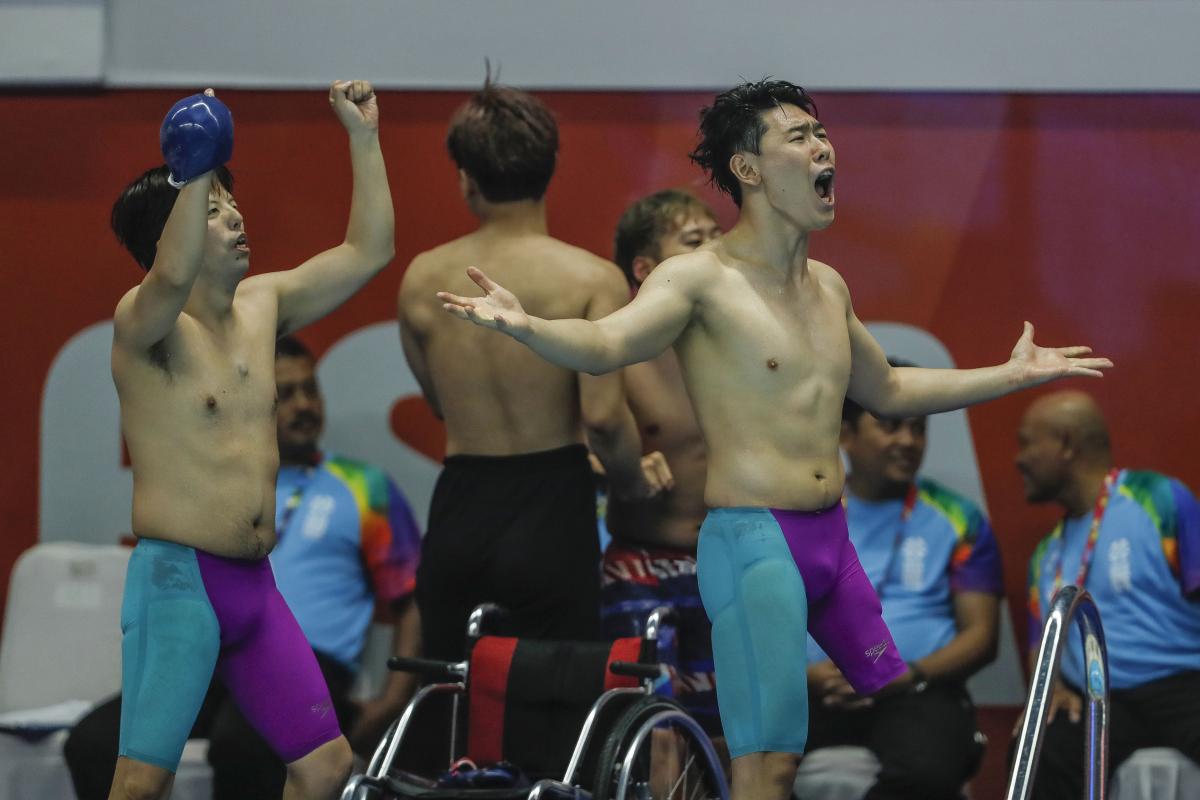 ⒸINAPGOC
By EJ Monica Kim | For the IPC
"When we greeted each other in the same language, I felt quite familiar with them like old friends. We had to wear a uniform and swimming cap with the Unified Korean flag for the first time. And finally, I realised that regardless of a medal, it was more memorable that we made it together to the end."
There is no denying the divide between North and South Korea. But through the power of sport at the 2018 Asian Para Games, athletes from both sides realised that, yes, they can work together to achieve a common goal. On the sixth International Day of Development Sport for Peace, we meet the Korean swimmers who broke down barriers in the name of Para sport.
Jakarta, Indonesia, saw history made when North and South Korea competed together for the first time as the Unified Korean Team. As if participation itself was not enough, the team won an unprecedented medal in Para swimming, claiming bronze in the men's 4x100m freestyle relay.
The team worked together to make it through the heats and into the final. The medal ceremony saw four South Korean swimmers (Sae-Hun Kim, Dong-Gu Lee, Hyun Kwon, Yong-Hwa Kwon); and two North Korean swimmers, Song Hyok Sim and Kuk Song stand on the podium together.
It was a rare scene, and one that could not have been possible without Para sports.
"After we finished our final race, all North Korea's coaching staff and swimmers told us that 'thank you for your hard work'," said South Korean Hyun Kwon.
First meeting of North and South
Kwon confessed that he did not know what to expect after being told of the plan to create the Unified Korean Team two months before Indonesia 2018.
"We took a lesson not only about their language and culture, but also about how to behave and speak in front of the North Korean team, before heading to Indonesia," he said.
"That's why I thought that it will be very awkward [to train with them]."
But he was to be surprised when the two sets of swimmers trained together for the first time a day before the Opening Ceremony.
"When we greeted each other in the same language, I felt quite familiar with them like old friends," Kwon said.
Fellow South Korean Dong-Gu Lee also has fond memories of that day.
"We focused on practising starts. When we stepped onto the starting platform, Sim and Jong helped me, and vice versa. We got close quickly, so I felt like we are one nation."
Historic tensions
When South Korea hosted the Incheon 2014 Asian Para Games, the country had a strained relationship with North Korea.
"At that time, the two Koreas' delegations tried to avoid any eye contact," Kwon explained.
"I remembered that I couldn't even say hello to a North Korean swimmer in the waiting area at the competition venue back in 2014," Lee continued.
"Therefore, I anxiously awaited to meet them again at the 2018 Games," the veteran who made his fourth Asian Para Games appearance, following Busan 2002, Guangzhou 2010 and Incheon 2014 said.
Under one flag
The Unified Korean team also competed in the men's 4 x 100m medley relay that they finished fifth.
"Personally, the medley relay was more meaningful for me," Kwon said.
"In the final, Jong swam the freestyle leg followed by Yong-Hwa Kwon, Woo-Geun Lim and me. After my race, I wanted to watch his performance and wait for him, because it was our last match," the-27-year-old said emotionally.
"Everything happened all of sudden. We had to wear a uniform and swimming cap with the Unified Korean flag for the first time," he continued.
"And finally, I realised that regardless of a medal, it was more memorable that we made it together to the end."
Looking to the future
Lee and Kwon stressed the need of improvement for the Unified Team's long-term future.
"As the first Unified Korean Team, it was very symbolic. But the next team should be more than that. We should be competitive."
"For a win-win strategy, we definitely need to train jointly more often in order to strengthen not only our teamwork but also performance level, particularly North Korea's techniques," said Kwon.
Lee hopes the Korean Paralympic Committee will help pave the way for more exchanges with North Korean Para athletes.
"I wish that that many young talented athletes from North and South Korea become healthy rivals as well as good friends." he said.
"It will bring an amazing synergy like a symbiotic relationship. Furthermore, it will show a great expectation to achieve peace on the Korean peninsula."