#WorkoutWednesday: Great Britain's Hannah Cockroft
Unbeaten in seven years, here is what the world's best T34 wheelchair racer does on an average day.
09 Jul 2015
Imagen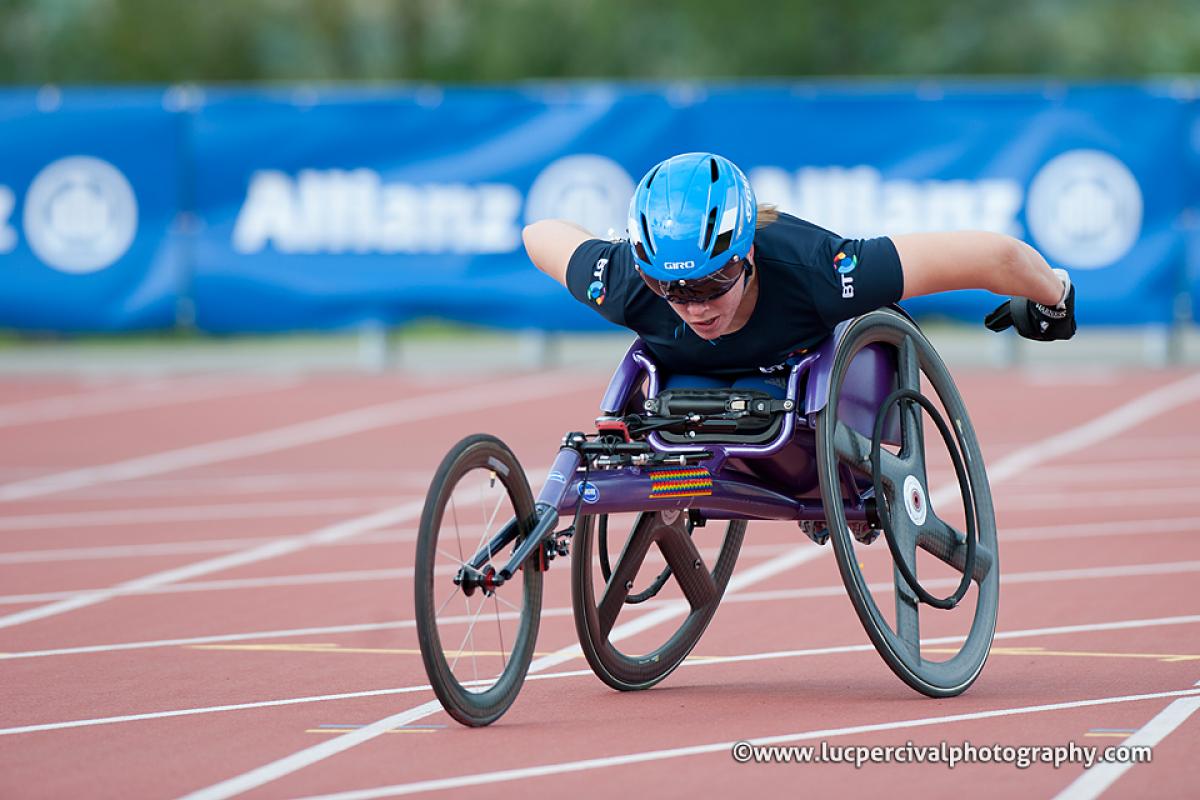 ⒸLuc Percival
By IPC
Great Britain's Hannah Cockroft will he heading to October's IPC Athletics World Championships in Doha, Qatar, determined to continue her seven year winning streak.
The Yorkshire born athlete became a household name when she clinched two Paralympic gold medals in front of an 80,000 capacity crowd nearly three years ago at London 2012.
After those memorable victories, the 22-year-old went on to win gold in the 100m and 200m T34 at the 2013 World Championships and followed that with 100m and 800m T34 gold at the European Championships in Swansea, Wales, 12 months later.
Tthere is still no stopping Cockroft in 2015 either – more recently, the Briton broke her own 200m T34 world record, crossing the line in 30.51 in Arbon, Switzerland in June.
Here she talks us through her 'Workout Wednesday' – providing a fascinating insight into what makes her the number one T34 racer in the world.
Hannah Cockroft's #WorkoutWednesday
Normally when I'm on a double-session day I set my alarm for 06.30 because I'm terrible at getting up, so if I set my alarm then I can snooze for a bit and get up around 07.15. Otherwise if I set my alarm for 07.15 I'm not going to get up until 08.00 and then I'll be late!
I very slowly wake up – I hate getting out of bed - then I go and get my breakfast. Normally that's scrambled egg with pitta bread and spinach, and I'll sit and watch 'Big Bang Theory' on the television while I eat my breakfast in bed. Then I have to rush because I'm always running late after that.
I'll pack my gym bag and get in my car – which, annoyingly, is often parked quite a distance away – then I drive the hour up to Loughborough where I train at the High Performance Athletics Centre (HiPAC).
I meet my gym coach and we're in the gym for about two hours. We could be doing speed stuff, so using lighter weights and doing more reps. Then I normally meet my boyfriend Sam at the HiPAC and we'll go have lunch - he lives only a short walk away from where I train. We might have to drive to the supermarket to get something – and we might end up with pie and vegetables because it's always on offer!
If I have time then I'll go for a nap before heading back to the track for my chair session. Usually after morning gym we do sprint work, so some longer sprints, building on what we've been working on in the gym – that usually take about 1.5 hours. Usually it's just me and my coach Jenny – apart from Wednesdays when I train in Coventry near my home. Then it will be an easy jog in a big group, but in Loughborough Jenny will ride on her bike in front or next to me. She motivates me to keep going, or races against me. When that's over I always drink chocolate milk and then I'll get in my car and drive the hour back home.
Then it's time to cook dinner – but on a 'double day' I might try making something the day before that I can just heat up – something like spaghetti bolognaise; something easy. I'm not very good at cooking – in fact I hate it. The trouble is, after I've done all that training, to then have to stand up and cook in the kitchen – well, I just want to sit down as my legs are tired from being screwed up in the chair, so it's a bit of nightmare.
I constantly seem to watch 'Big Bang Theory', it just makes me laugh. It's always on E4 and that's the channel I automatically tune in to. I like watching something funny that you don't have to think about while you're watching it, you just laugh along with it. I've normally watched them all before so I know what's going to happen – so if I turn off half way through I'm not that bothered.
Then I shower and go to bed. I normally read – at the moment I'm reading Sophie Kinsella, but anything chick-lit like that I enjoy.
Normally I turn my light off about 23.00, which is way too late, but once you've cooked, washed up, cleaned up after yourself – I live in a student house so I can't leave anything on the side or it'll be there for a year – it's a really late night.
I'm quite a restless person so it will take me a while to get to sleep, then I always seem to wake up about 04.00 in the morning, wide awake, and I have to force myself back to sleep. I am a terrible sleeper, unless I'm absolutely exhausted – which I might be after a race – then I'll be out like a light, every night.
Cockroft will be one of 1,400 athletes competing at the IPC Athletics World Championships in Doha, Qatar, between 22-31 October.
The IPC Athletics Grand Prix final takes place on Sunday 26 July.