World Para Ice Hockey Championships A-Pool set to begin
Seven countries, including defending champions the USA and hosts South Korea, will go for gold and Paralympic qualification between 11-20 April.
10 Apr 2017
Imagen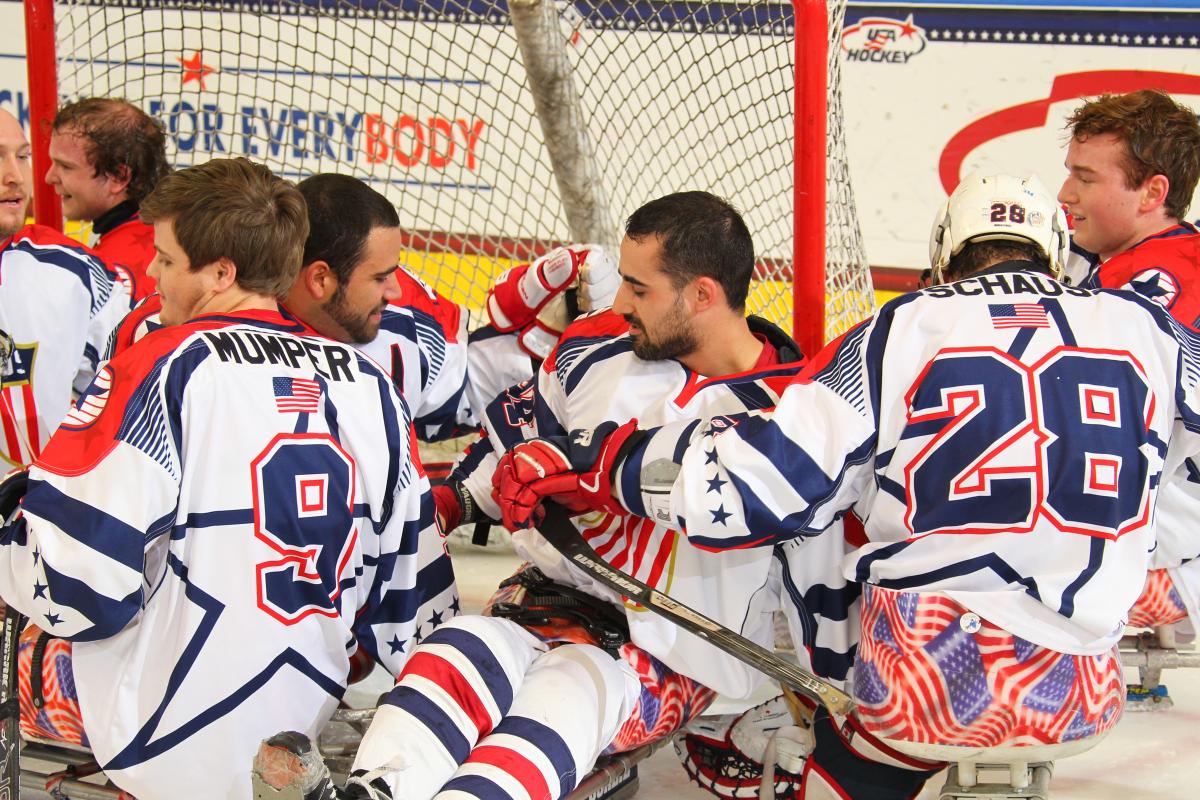 ⒸBill Wippert
Seven countries are poised to take to the ice for the 2017 World Para Ice Hockey Championships A-Pool, which opens in Gangneung – the ice sports venue city for the PyeongChang 2018 Paralympic Winter Games in South Korea - on Tuesday (11 April).
As well as going for the coveted gold medal, defending champions USA, 2015 silver medalists Canada, Norway, Sweden, Germany, Italy and host South Korea can directly qualify for PyeongChang 2018 if they reach a top five finish.
All games will be shown live, alongside live results, the rosters, and a full schedule, at Gangneung2017.com. The livestream may be blocked in some areas – please visit the website for more information.
A clash between European silver medalists Italy and Sweden, who were promoted to the A-Pool in 2015, kicks off the 2017 World Para Ice Hockey Championships on 12 April.
Five-time Paralympian Niklas Ingvarsson returns to the ice having helped his team back to the top flight two years ago. He was named Best Defenceman during the silver medal performance that secured Sweden's promotion at the B-Pool Worlds.
Italy will be hoping to improve on their fifth place finish, and best ever result, from the last edition of the Worlds A-Pool in 2015. They will have the help of experienced forward Florian Planker, competing at his sixth consecutive Championships.
Canada will aim to overcome the dominant forces of the USA having lost the world title to their North American rivals last time out. Five players are making their World Championships debut (Rob Armstrong, Dominic Cozzolini, Tyrone Henry, Liam Hickey and Corbyn Smith).
Canada's opening match is against European bronze medallists Norway, who will attempt their first podium finish since 2009. They are relying on established players such as quadruple Paralympian Rolf Pedersen. They are also fielding the youngest player of the tournament, 17-year-old forward Emil Vatne.
Germany has had some positive results this season, including their first win over Norway for nearly 20 years during a friendly match. In that game Bernhard Haering and Joerg Wedde led the scoring.
The Germans will face South Korea in their first game. The host has a guaranteed slot for PyeongChang 2018, but they will aim to show their strength by reaching a top five finish.
Seung-Hwan Jung was named Best Forward at the Worlds B-Pool in 2015, when South Korea was promoted alongside Sweden. He led all players with 13 goals, nine assists and 22 points and will once again be a key asset for his team.
The USA will begin their campaign to retain the world title on 13 April.
Josh Pauls was named Best Defenseman at his home World Championships A-Pool in Buffalo, USA, in 2015 where he recorded four goals and three assists in seven games. His team has had a tough few months after their coach Jeff Sauer, who guided them to Worlds gold as well as the Paralympic title, sadly passed away.
"Losing such a great coach in Jeff Sauer has been tough," said Pauls, who has been with the national team since the 2008-09 season. "It's been tough adjusting to life without him. But we all know Guy Gosselin, who's worked with us the past few years, and is a great coach. He's going to be a great fit to finish up the year with us. He focuses more on the little things, such as puck retrieval off the boards, which helps us fine tune our game."
Among the 17-strong roster representing their country, 12 players return from their 2015 title win. Joining Pauls is Adam Page who set a new team record of 11 points (5-6) in 2015 – the most in a World Championships.
Declan Farmer tied former teammate Taylor Lipsett's record for most goals in a single Worlds with six. Goaltender Steve Cash broke the team record for goals against average (0.27), save percentage (.970) and shutouts (4).
The World Para Ice Hockey Championships marks the end of a run of 28 Test Events for PyeongChang 2018 ahead of the Olympic and Paralympic Winter Games. PyeongChang 2018 has hosted five Paralympic Test Events since March which have provided a good learning experience for the staff and a chance for the athletes and officials to experience the venues and facilities ahead of the Games.
President of the PyeongChang Organising Committee for the 2018 Olympic and Paralympic Winter Games (POCOG), Mr. Lee Hee-beom said, "We are delighted to welcome all competitors to the 2017 World Para Ice Hockey Championships in Gangneung and we are looking forward to an exciting week of action on the ice.
"We are set to end our busy season of test events on a high as these seven nations are battling it out for their place at PyeongChang 2018 Paralympic Winter Games. The Para athletes always show so much passion for their sport and the Games and I am sure the people of Korea will really show their support and enjoy the experience of a World Championships."
All games will take place at the newly built Gangneung Hockey Centre. The Worlds will double as the Test Event for the PyeongChang 2018 Paralympic Winter Games. This offers teams and players the chance to try the venues ahead of next year's Winter Paralympic Games.
Pictures and athlete quotes will be available each day at: http://showcase.hkstrategies.co.uk/136d
Ends